With lots of new faces, defending champion Ravens still hungry
Ravens could have as many as nine new starters and even more new faces as the defending Super Bowl champions reload.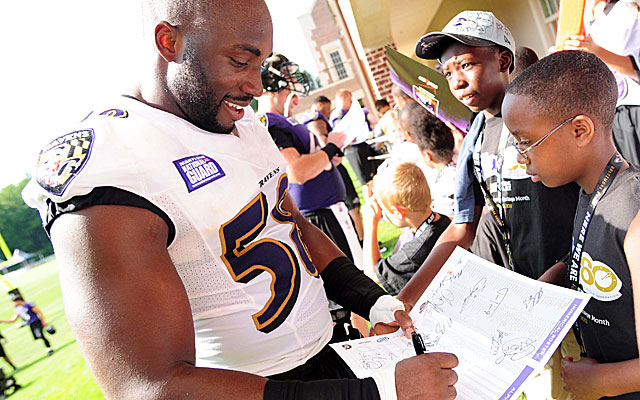 The Ravens are the world champions but you would never know it when you watch them walk around their facility and see them practice.
With all the leadership changes this team is operating like a hungry, young emerging squad looking for its first Super Bowl. I wouldn't call it a sense of urgency but more like a team that left last year behind and is forging a new beginning with opportunity for new players.
As many as nine new starters will take the field for Week 1 as compared to the team that took the field in the Super Bowl, but it still feels like the Ravens.
I spent a lot of time with owner Steve Bisciotti discussing everything Ravens. I sat down with head coach John Harbaugh and players Joe Flacco, Ray Rice, Torrey Smith, Jacoby Jones, Haloti Ngata, Bernard Pierce and Matt Elam. I will say that upon Owings Mills, Md., after my visit that Ravens fans don't have to worry about a rebuilding project or some kind on major setback.
This team will be in the hunt right to the end and as Bisciotti said, "We just want to be one of the 12 teams to get to the postseason and see what happens."
Storylines to follow
1. Who will replace Ray Lewis, Ed Reed, Paul Kruger and Dannell Ellerbe on defense? For now Darryl Smith is in Lewis' spot, but sooner or later rookie Arthur Brown or Albert McClellan could be the long-term answer. Reed is replaced by Michael Huff, a veteran with corner skills. Kruger was a good player, but Elvis Dumervil is better and Ellerbe is soon to be replaced by Brown. The transition will be bumpy, but it will be a success.
2. Who replaces Anquan Boldin? It may take years to find a guy that catches 22 passes and four touchdowns in the playoffs like Boldin did last year. I'm sure the Ravens, with $6 million of cap space, will not hesitate to bring in a veteran if the young players don't step up.
3. Does the no-huddle offense go away now that Dennis Pitta and Boldin are gone? Not according to Flacco, who said it is alive and well and will be instrumental this season.
4. Can the team get Rice and Bernard Pierce on the field at the same time? The Bills are expanding their package with Fred Jackson and CJ Spiller on the field together and the Ravens will do the same with their two backs. Both Rice and Pierce assured they are willing to block for each other if need be.
5. How will the club make up for the injury to Pitta? Keep an eye on the rookie from Harvard, Kyle Juszczyk. He came to Baltimore as a fourth-round fullback but he has great hands and is smart. I think he takes on a role that resembles some of the things Pitta did so well.
6. Where is there great roster depth? Take a look at the defensive line if you want to see quality depth. Ngata is one of the best defensive linemen in the NFL and can play any spot. Arthur Jones is emerging as a fine player, and the team brought in two massive veterans in Chris Canty and Marcus Spears. Rookie Brandon Williams could be the strongest lineman on the team. Pernell McPhee is working at linebacker but can play down in a moment's notice, and Terrence Cody is still on the roster. At any time the Ravens could have a front three averaging 6-foot-5 and 335 pounds.
7. Former center Matt Birk coordinated this offensive line, so who takes over? Gino Gradkowski was a surprise draft pick in the fourth round last year but and has walked right into the job. Ngata says he has already tough to beat in pass rush and Flacco says he can make the line calls. Time will tell, but the Ravens think they have their answer.
8. Prediction. The AFC North may be tougher than even the NFC West and I think there's a chance three playoff teams could come out of the division. The Ravens return to a 10-6 season as a wild card in the playoffs and as Bisciotti said, "We have one of the top 10 quarterbacks in the NFL and anything can happen."
Things I saw or heard at practice
1. Ngata told me he hasn't felt this healthy in years and hasn't missed a practice yet, adding that the practices have been plenty physical.
2. Rice was drinking a bottle of beet juice while we talked and grimaced with every swallow, but pointed out, "You gotta take care of your body." We talked about him being even more involved in the passing game, which is hard to imagine since he caught 61 passes last year, tops for a running back in the AFC.
3. Elam, the rookie first-round safety, is closing in on a starting position. When I sat down with him I could see why he's headed in that direction. Just like the way he approached doing his own contract and saving $200,000 in agent fees this guy is organized and well prepared. He is still adjusting to the speed and accuracy of Flacco's passes in practice, but as I watched him on the field there's little doubt he will crack the lineup.
4. Jacoby Jones is going to have to step up from the third wide receiver into the No. 2 spot now that Boldin is gone. Even though he originally failed the fitness test to start the season he looked good on the practice field. He also told me, "People don't know Deonte Thompson yet but they will very shortly and not just because he has 4.3 speed. The guy can play."
5. Torrey Smith is the Ravens' No. 1 wide receiver and he assured me he and Flacco are wired and not just on the deep go routes. He believes he has developed as a route runner for the whole route tree. He did talk about how teams use cut coverages on him with a man underneath and a guy over the top, but said he and Flacco know how to combat the coverage.
6. I had a chance to really talk about a number of offensive issues with Flacco. He likes the young receivers Tandon Doss, Thompson and David Reed working to win a starting spot. He said Doss is a natural hand catcher with some yard-after-catch skills. Thompson is an explosive guy who can fly and Reed is a combination of both. He added, "Until the lights go on in a contested situation we will not know but right now it looks good."
7. Bisciotti on the Flacco contract. I asked the owner to address the idea that the Flacco contract restricted the club from building a complete roster. He said that's nonsense. "I spent three years changing quarterbacks every year and without a good one you are going nowhere," he said. "In regards to the $120 million all it meant was we passed on Dannelle Ellerbe, but I pay a scouting staff a lot of money to find the Ellerbes."
8. John Harbaugh and I talked on many subjects, but it was curious when we talked receivers. He said he was giving the young receivers most of camp to develop and win a starting job but if they didn't reach expectations a veteran is not out of the question.
9. Harbaugh did a smart thing hiring Juan Castillo and Steve Spagnuolo as consultants. Two extra sets of eyes at practice and games. Two coaches who will spend time with the young players who need extra coaching while the staff gets ready for games. I already saw the benefit of these hires as Castillo worked with rookie offensive linemen after practice on their footwork in pass protection.
10. Terrell Suggs looked great at practice down 20 pounds and taking over a leadership role with the defense.
The Chargers are hoping that Philip Rivers can play on Sunday

This is the biggest showdown of the week in the NFL

The battle between the Rams' offense and Vikings' defense will be waged in the middle of the...
An 'inappropriate' comment by the Cowboys' owner was caught on video in 2013

Here's every official injury designation for each NFL team for Week 11

The Chargers can't seem to avoid controversy this year