With plenty of new faces, Ravens offense looks out of sync
The questions about how Baltimore will overcome the loss of Anquan Boldin and Dennis Pitta will likely continue into the regular season, it seems, following a disjointed performance vs. Carolina.
• 6 min read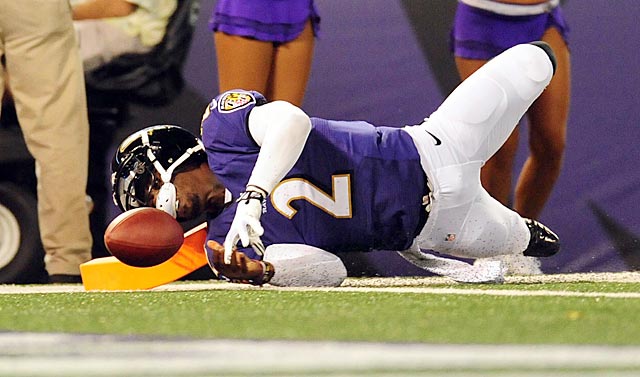 BALTIMORE -- The Super Bowl champion Baltimore Ravens shut up their critics ... for about five minutes. With a majestic drive. And then the offense went into self-destruct mode.
The questions about how they will overcome the loss of Anquan Boldin and Dennis Pitta will likely continue into the regular season, it seems, following a disjointed performance in a 34-27 loss to the Carolina Panthers at M&T Bank Stadium. In their third preseason game, in what's generally considered the final tuneup for the starters with the season opener at Denver now only two weeks away, the Ravens offered an initial glimpse of what they might be, and succumbed to the kind of turnovers they pray they'll avoid.
After slicing through the Panthers at will -- on the ground and through the air on a perfect opening drive run at a fast pace -- to take a 7-0 lead, the Ravens imploded and trailed 24-7 at the half. They allowed Ted Ginn to return a punt for a touchdown; young receiver Tandon Doss, who has yet to emerge since being taken in the fourth round in 2011, didn't read the play correctly and it was returned to the house. Running back Bernard Pierce saw his fumble returned for a score and, after seeing an interception negated by a penalty, Panthers stud linebacker Luke Kuechly promptly stripped him again (this game-changer also forced the fumble).
Baltimore coach John Harbaugh kept the majority of his starters in deep into the third quarter, and while the Ravens continued to move the ball, they failed to put up points. Harbaugh, upbeat afterward, praised the offense overall. "I just didn't like the four returns for touchdowns," he said, in the understatement of the night, adding that "the passing game was good, except when we threw it to their guys."
The good news was that when the Ravens wanted to run the ball, they did, with Ray Rice picking up yards in chunks and also powering into the end zone to cap that first drive. And newcomers Brandon Stokley and Visanthe Shiancoe made key catches and seemed to fit in well. (Stokley will be their key seam/slot presence, it certainly seems.)
"He runs great routes," Harbaugh said of Stokley.
"I think we're starting to put this together," Shiancoe said, another player not signed until camp was already under way.
Another newcomer at tight end, Dallas Clark, dropped balls and seemed hesitant overall, not unexpected given how recently he signed here. Of the bevy of young receivers jockeying for position behind Torrey Smith and Jacoby Jones, Marlon Brown -- an undrafted free agent who missed most of last season at Georgia with an ACL tear -- remains a name to watch out of this hodgepodge of unproven pass catchers. Brown, who caught a touchdown pass, has a rare blend of size and speed, and Flacco has been impressed with him since OTAs.
Harbaugh recruited Brown "like crazy," but he opted to sign with Houston first after not being drafted, and when he ended up available again, the Ravens pounced. "He jumped off the tape," in college, Harbaugh said, and I wouldn't be surprised at all if he is on the field quite a bit when these games start counting.
After opening the game 5 of 5 for 45 yards, Flacco finished the half in an 8-for-14 rut for 69 yards and two interceptions. However, this isn't really about him. Virtually everyone in a pass-catching role around him, -- and some blockers -- either have been around here a week or are guys still trying to show they even belong in the league. Flacco has been picked off in every preseason game, but Harbaugh seemed nonplussed about that, as well.
"He's probably still trying to get a feel for guys," Harbaugh said.
None of this should be a cause for panic, not by a long stretch. Pro Bowl guard Marshal Yanda returned from injury, Rice and Pierce will be a handful and this team knows how to win, and win in different ways. But I also wouldn't be surprised if this transition extends into the regular season, and beyond, with so many new parts still clearly trying to get in sync.
Observations
• Kuechly is an absolute beast, and as much heat as former Panthers general manager Marty Hurney took before he was let go last season, new GM Dave Gettleman made a great point to me before the game. The Panthers did an excellent job of hitting on their first-rounders, and Kuechly was the last of Hurney's home runs.
• Gettleman's first pick with the team, defensive tackle Star Lotulelei, looks like he will make a significant impact right away. He was piercing through the backfield in obvious run situations, made his presence felt and looks like an anchor (the signing of veteran Dwan Edwards to help show him the ropes will help his development, too). Gettleman believes the way to build a team is from the inside out, and it showed in his draft and should pay some immediate dividends on the defensive side of the ball. However ...
• You have to worry about the Panthers on offense. Nothing much worked well there. DeAngelo Williams didn't have burst and was wrapped up too easily, everyone was dropping balls and I have a hard time thinking this team won't be running a healthy dose of read option and pistol, regardless of whether the staff really wants to. I'm not sure they'll have a choice; Cam Newton's athleticism is their best weapon. His accuracy was an issue tonight.
• To that end, when they do run that stuff -- and ain't no way they would risk injury in the preseason with it -- look for rookie running back Kenjon Barner to be involved. They trust him in pass protection -- vital for any young back -- and he played in a spread system at Oregon. He and Newton together could be pretty interesting. Barner suffered a foot injury and left the game in the second half, however.
• Was a little surprised how much I saw of Ravens fullback Vonta Leach, whom they cut and then later re-signed at a reduced rate. Of course, all of the injuries to their tight ends caused a rethink and, especially in the preseason, having a stout fullback in pass protection is key to keeping Flacco safe. But even in some hurry-up situations in the opening drive, he was on the field a lot. I will be interested to see if that continues in the regular season.
• Baltimore's defense is going to be much better. They sagged badly against the run in critical junctures last season but boast a massive rotation this year, and can run three or four new bodies out in short-yardage situations, as they did tonight. And linebacker Daryl Smith will more than replace what Ray Lewis gave this past season. He was comfortable shooting the gap and commanding the defense. Overall, their pass rush should be more effective and less reliant on scheme. Even holding back their best stuff, you get the sense their swagger is back on that side of the ball.
• With the Panthers still looking for pass catchers of their own, fourth-year receiver David Gettis could get more run with the starters soon enough. He has impressed some within the organization during camp while Brandon LaFell was dropping balls and struggling.
• The Ravens got a big boost by getting their best corner, Lardarius Webb, back playing for the first time since tearing his ACL early last season. His snaps were being monitored closely, and he remains on target for Week 1. Webb said he "felt good" overall, but is still trying to get back to top form.
• Ravens back-up quarterback Tyrod Taylor, who was having a strong showing overall this preseason, left the game after a hard blow to the head and was being evaluated for a concussion. Harbaugh did not have an update in time for when he met with the media.
But the race isn't over yet

CBS All Access allows viewers to stream every NFL on CBS game in their local market

CBS All Access allows viewers to stream every NFL on CBS game in their local market
CBS All Access allows viewers to stream every NFL on CBS game in their local market

CBS All Access allows viewers to stream every NFL on CBS game in their local market

CBS All Access allows viewers to stream every NFL on CBS game in their local market