Women's group wants sponsors to sever ties with Peyton Manning
A national women's group is calling for several national companies to suspend their relationship with Peyton Manning.
A national women's group is urging companies that sponsor Peyton Manning to cut ties with the Broncos quarterback. UltraViolet, a group made up of over 700,000 people, specifically called out Papa John's and Nationwide Insurance as two companies that should suspend ties with Manning immediately.
The group would also like the NFL to investigate the 1996 incident at the University of Tennessee that took place between Manning and former Volunteers trainer Jamie Naughright.
Manning has maintained that he was mooning Naughright. However, Naughtright strongly disagrees with that story.
In court documents filed by her legal team in 2003, Naughright claims that Manning went way further than a simple "mooning" and stuck his "gluteus maximus, the rectum, the testicles and the area in between the testicles" in her face.
Manning was also mentioned in a recent lawsuit against Tennessee.
Six women filed a lawsuit against the school on Feb. 9, in part because the school allegedly created a "hostile sexual environment" that favored student-athletes.
Manning's 1996 case was mentioned in the lawsuit, although he's not being sued for anything in relation to the newest lawsuit.
UltraViolet co-founder Nita Chaudhary pointed to the lawsuit as the reason that national companies need to rethink their business ties with Manning.
"When institutions like the University of Tennessee tacitly condone violence against women by ignoring cases of sexual assault by student-athletes, it perpetuates a dangerous culture of violence that ultimately hurts women everywhere," Chaudhary said in a statement. "While it is outrageous that the University of Tennessee chose to turn a blind eye to sexual violence by student athletes like Manning, it would be flat out unacceptable for the NFL and major companies like Nationwide Insurance and Papa John's Pizza to continue to stand with Manning in light of emerging evidence."
Chaudhary wants the NFL to investigate the incident and get to the bottom of what happened.
"The NFL should thoroughly investigate this incident before allowing Manning to play or work in NFL again," Chaudhary said. "Nationwide Insurance and Papa John's Pizza must show their customers that they will never stand for sexual violence -- and suspend their relationships with Manning pending further investigation."
Since the incident happened 20 years ago and Manning was never charged with any wrongdoing, it's unlikely that the NFL would even consider looking into it.
As for Manning's sponsors, none of them have commented on the situation yet. Manning hasn't been dropped or suspended by any company either.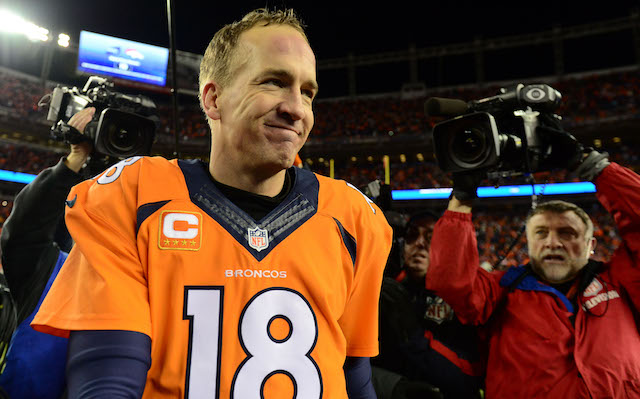 CBS All Access allows viewers to stream every NFL game on CBS game in their local market

CBS All Access allows viewers to stream every NFL game on CBS game in their local market

CBS All Access allows viewers to stream every NFL game on CBS game in their local market
The Steelers' rookie wide receiver returns ahead of Sunday's matchup against the Patriots

The union is concerned that Kaepernick's visit will incite violence against guards from in...

Salary deferrals make identifying most lucrative contracts from year-to-year complicated