You may be regretting drafting Rob Gronkowski in fantasy at this point
Rob Gronkowski is fantasy gold when healthy. But he hasn't been healthy this season. See what that means for owners that drafted him.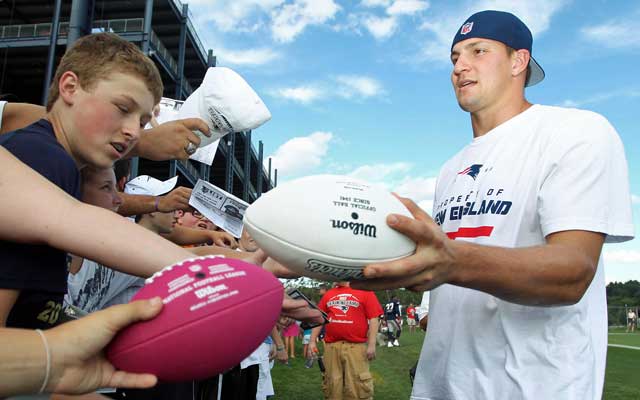 To Gronk or not to Gronk. That was one of the big questions heading into fantasy war rooms in August.
We knew Rob Gronkowski would be injured, and out for a bit. But we, the collective fantasy brotherhood, can't resist his groin-grabbingly good stats when active.
He was rated the third-best tight end by our friends at FantasyPros.com, an aggregrate ranking site and 58 percent of experts had him going higher than No. 1 Jimmy Graham and No. 2 Jason Witten.
So being bullish on Gronk was a thing way back when.
And odds are it crossed your mind to draft ol' Gronk. Maybe you bit. And maybe you're thinking, "why the hell did I bite on him when guys like Jordan Cameron are performing oh so well?"
Great question. Want to know if it was worth it?
Well, if you have Gronk there's better chance you're winless than a perfect 4-0. Here are the stats -- as always, mined from the deepest crevices of our single Apple IIGS fantasy mainframe computer -- on what having Gronk on your team means. 
4-0: 5%
3-1: 20%
2-2: 35%
1-3: 30%
0-4: 10% 
For the mathematically challenged, the above numbers tell us that there's a 40 percent chance you're sub-.500. There's just a 25 percent chance you're typically happy come Monday Night Football's final gun. 
Of course, Gronk's return is around the corner, and with 35 percent of owners keeping their ship even keel, they're probably OK with that. 
Then there's this. 
That aforementioned Jordan Cameron fella? He of Hoyer-to-Cameron fame? If you have him on your team there's roughly a 75 percent chance you're 4-0 right now. 
And without comment, I present to you the most common players on CBSSports.com fantasy teams in head-to-head leagues that are 4-0.
Jimmy Graham
Jordan Cameron
Seahawks D
Julio JOnes
To further salt the wounds of Gronk owners, a little further down that list is a familiar name: San Diego Chargers tight end Antonio Gates. I, like many others I imagine, vowed never to draft him again after his 2012 campaign, proving that making vows is for suckers (my wife stopped reading this story at least four graphs ago).
---
Previous entries:
Interested in a fantasy trend? Drop a comment below or hit me up on Twitter at
@ekaycbs
with any suggestions. 
---
More on fantasy football from our friends at 60 Minutes Sports:
Everything you need to know about the Packers-Panthers game on Sunday afternoon

The Lions will be wearing their Color Rush uniforms for the first time on Thursday

The Lions look to maintain playoff positioning while the Bears attempt to play spoiler
The Panthers have hired an outside law firm to conduct the investigation

Here's every official injury designation for each NFL team for Week 15

Bennett was one of the few players who escaped punishment after Sunday's melee in Jacksonv...