Young D-line star Wilkerson becoming just what new Jets want
The Jets are changing course and their identity. Young D-line star Muhammad Wilkerson looks like just the man to lead the way.
• 5 min read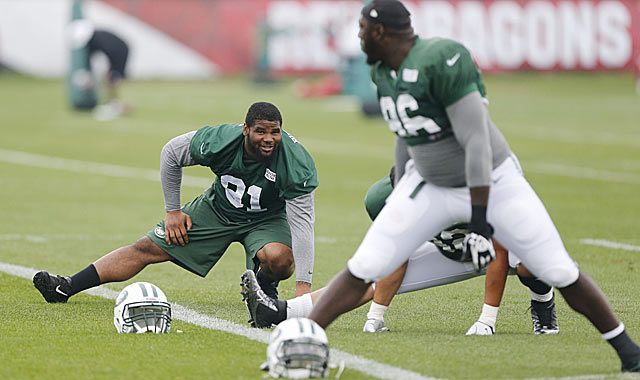 CORTLAND, N.Y. -- Muhammad Wilkerson is the embodiment of the Jets' vision for the future. A young, dynamic and cheap (at least for now) defensive end who symbolizes the organization's goal of rebuilding from the trenches out under new general manager John Idzik and holdover coach Rex Ryan.
This outfit was defined by outspoken leaders like Bart Scott and big personalities like Darrelle Revis and annual boasts of Super Bowl rings or sideshow contract holdouts and a general circus-like atmosphere. Now Wilkerson, an understated but budding superstar, personifies what the team's brass hopes it means to be a Jet moving forward. He is, for them, one of their rare recent high draft picks to pay immediate dividends, he is becoming the leader of what could be an outstanding defensive line, and he's built for the long term; Wilkerson is entering his third-season but won't turn 24 until Week 8.
If Wilkerson, who has freakish ability at 6-4, 315, has the type of breakthrough season I expect -- and, for those paying close attention, he was quietly stellar for this floundering team in 2012 -- then by this time next year he will be the face of this franchise, the focus of much more attention, and I figure, the benefactor of a fat new contract with something like $40 million guaranteed. He is that good, and those around here know it.
"I knew my assignments my rookie year, but I wasn't playing too fast, though," Wilkerson said, "where I could say last year I really was comfortable, and I knew what I was doing and I was playing fast. I was setting people up with moves -- making them think I was going to do one thing; then doing the opposite. It wasn't really my rookie year, it was last year me being more comfortable and playing faster."
Without the fanfare that has surrounded his fellow 2011 rookies -- and it should be noted that guys like Miller and Smith are in schemes that allow them to regularly attack the quarterback and are surrounded by some premier talent in their front seven, luxuries Wilkerson hasn't enjoyed -- Wilkerson has been beyond effective.
His role is more akin to what Watt does, what Haloti Ngata does in Baltimore (Ryan was with the Ravens when they drafted Ngata), what Calais Campbell does in Arizona -- guys who are 3-4 defensive ends in hybrid schemes that will move them around. He compares very favorably, as according to various statistical references, he had an almost identical number of snaps as a run defender and pass rusher last season (455/472), had just three missed tackles and his 11 third-down tackles were as many as Ngata and Campbell combined.
Watt is obviously the best when it comes to batting down passes, but Wilkerson had five "big plays" in 2012 -- three forced fumbles, one blocked kick and one TD return, while Watt had four forced fumbles but did not register the other categories. Watt was ridiculous, with 76 combined sacks, hurries, and quarterback hits, though Wilkerson's 37 compares very favorably to Campbell (39) and Ngata (38), players who both average $11 million or more a year.
"I do feel like those are the guys who are always mentioned -- the J.J. Watts, Aldon Smith, Von Miller," Wilkerson said. "Some of those guys have a different game from me, but I feel like overall I have everything I need. I can stop the run and get after the passer.
"Those guys definitely have more sack numbers than me, but there's so much other than sacks, and I think I'm neck and neck with those guys. I know I'm up there with them. I really don't care about not being mentioned with them. I know the style of play I'm capable of doing, and I just have to put it out there on the field."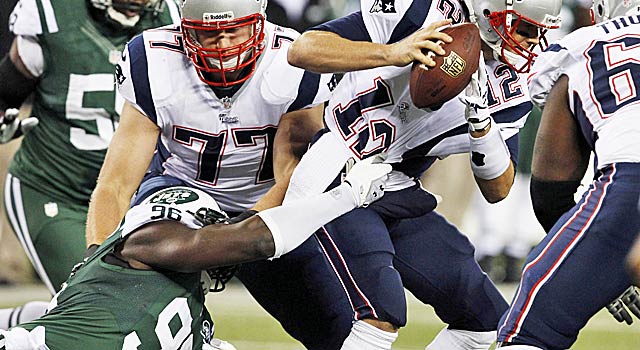 This defensive staff believes there are more sacks to be had by Wilkerson, and the combination of scheme and talent around him should help. Sheldon Richardson, 22, the Jets first 2013 first-round pick, looks like he could be a transcendent player as well, already, perhaps a Geno Atkins in the making. So imagine Seymour and Atkins in their prime in their mid-20s, playing side-by-side, and then factor in that nose tackle Kenrick Ellis, 25, battling some back issues in camp, wedged between them, a 365-pound anchor Ryan is very high on, and you can see the potential for greatness. That should help sustain a pedestrian linebacker group a secondary very much in transition for Revis and LaRon Landry gone.
"Right now we feel like the D line is the strength of our team," Thurman said, "and with the guys we've added the last three years it should be. If they stay together they could be really, really special."
And Wilkerson's focus is on the entirety of his group, its youth and potential. "It's about all of them as group, and that's the way he wants it," Ryan said. "Obviously, Mo is going to get a ton of attention and accolades and all that stuff, but he's all about his guys. That's kind of neat about this young man; he doesn't seek it."
Undoubtedly, it runs counter to the brash Jets of the recent past, a past that Idzik's steady hand has helped usher out and gain distance from. The torrent of bad contracts and cap problems the general manager inherited will be behind him as well, come 2014 when Santonio Holmes and Mark Sanchez could well be gone, and guys like David Harris won't be making $11 million a year anymore.
It stands to reason that the first significant contract Idzik executes with the Jets will be a long-term extension for Wilkerson next year, and given the understated tone this organization is now taking, there would be no better place to start.
"I think Mo will be that face-of-the-franchise guy for them," said Bills defensive line coach Anthony Weaver, who worked with the Jets defensive line in 2012. "And I think he has the confidence to be that guy and he works hard every day and the people around him listen to his voice and they respect how he works and what he says.
"Mo is great, so great to coach. He puts in the work, he's such a tremendous talent and the way he moves for a guy his size is unreal. He has such a high football IQ. He's a very good player, and as the years pile on and he gets even more knowledge of the game he's going to be truly great."
The Chargers are hoping that Philip Rivers can play on Sunday

This is the biggest showdown of the week in the NFL

The battle between the Rams' offense and Vikings' defense will be waged in the middle of the...
An 'inappropriate' comment by the Cowboys' owner was caught on video in 2013

Here's every official injury designation for each NFL team for Week 11

The Chargers can't seem to avoid controversy this year