If it's May, it's getting warm -- and it's getting warmer for some people than it is for others.
Introducing 10 coaches I wouldn't trade places with. Some of these guys have to win now or else; others are just in awkward, difficult or uncomfortable spots ... or in Oakland.
Anyway, they're in places you don't want to be. So welcome to May and the beginning of offseason workouts, where it's not just players trying to prove something. It's these 10 guys.
Five guys on the front burner
1. Lovie Smith, Chicago: Smith has two years left on his contract, but let's be honest: He has one season to prove he should stay. Another year of missing the playoffs won't cut it, and for those doing the math, Smith's record since reaching Super Bowl XLI is 23-25. Sorry, that won't cut it, and Smith knows it. So he went out and hired Mike Martz, his former head coach at St. Louis, to oversee the offense ... er, Jay Cutler. Cutler hasn't had a winning season since high school, and it's time he looked like someone other than Jeff George. Cutler has a great arm, but there is more to quarterbacking than throwing the ball through a plate glass window. So he can throw it a zillion yards, too. Big deal. So can Kyle Boller and JaMarcus Russell. He needs to act like a team leader, and having Martz as a tutor should help. Martz's offenses are high-octane, high-risk units, and pairing him with Cutler could be just what this underachieving quarterback needs.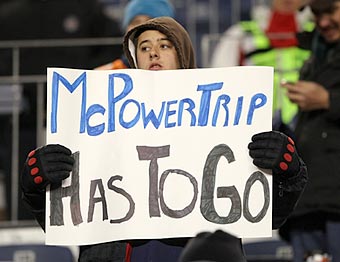 Smith made Rod Marinelli his defensive coordinator, too, which is a good idea because the last one == oops, it was Smith == flunked the final. I heard Smith dispute that characterization at the annual scouting combine, but, sorry, Lovie, I witnessed the meltdowns against Cincinnati and Arizona. The Bears allowed touchdowns on the Bengals' first four possessions, then two weeks later did the same thing against Arizona. That isn't Bears' football; it's barely football. Maybe Julius Peppers makes things better, but I still think the Bears look like the third-best team in the division. It's up to Smith to prove me wrong.
2. Tom Coughlin, New York Giants: If there was anything more memorable than the Giants' second-half collapse last year, it was co-owner John Mara's post-mortem. "When you have that many games where you get blown out," he said, "something is wrong. I am not pleased with anybody right now." Granted, the Giants had a passel of injuries that helped hasten their decline, but Mara preferred to talk about a "lack of effort" and said the 8-8 finish "felt more like 2-14." A day later, the Giants fired defensive coordinator Bill Sheridan, and the message was clear: No more screwups, otherwise the shakeup goes straight to the top, and, yes, that means Tom Coughlin. It wasn't enough that the Giants lost down the stretch; it's that they were embarrassed, and that infuriated Mara. For years, the Giants were known for their defense, but they were known last season more for their defensive lapses, with the club hemorrhaging 109 points in its last three losses. There were missed tackles, broken plays and busted assignments, and they were commonplace. Someone had to go, and it was Sheridan. But conventional wisdom says that once a coordinator is canned, the head coach is next in line, and the shoe fits here. Over Coughlin's past 21 games he's 9-12. Worse, he was erased from the 2008 playoffs in one game. Coughlin is a no-nonsense guy who promises to return the Giants to respectability, and that's good. Because if they don't, he's next out the door.
3. Josh McDaniels, Denver: Say this about the 34-year-old McDaniels: He's not afraid to act on his convictions, and you have to admire a coach who knows what he wants. Look, I didn't like spending a first-round draft pick on Tim Tebow any more than some of my colleagues, but if Tebow does for the Broncos what he did for the University of Florida, McDaniels looks like a genius. The only certainty here is that McDaniel's career is tied to Tebow, and talk about taking a king-sized risk. I had too many personnel directors, GMs and coaches question Tebow's mechanics not to be skeptical. All I know is that Denver hasn't made the playoffs in three consecutive seasons and lost eight of its last 10 in McDaniels' first season as head coach.
So this is how you get better, by burning a first-round draft pick on a quarterback who might not be able to play this season? And doing it after you just traded for another young quarterback? I don't follow the logic, but I'll give McDaniels the benefit of the doubt. A year ago, he was ridiculed for dumping Jay Cutler, but McDaniels decided he was better off with draft picks and Kyle Orton ... and he was right. He won one more game with Orton than Cutler did with the Bears. Now, McDaniels has pushed the envelope by getting rid of Brandon Marshall, his top receiver and a pain in the keister. I have no problem getting rid of headaches. In fact, I'm all for it. But what does McDaniels have to work with? Tebow,Brady Quinn, Eddie Royal, Knowshon Moreno and Demaryius Thomas? Good luck, Josh. You're going to need it.
4. Eric Mangini, Cleveland: When Cleveland president Mike Holmgren decided to keep Mangini, he made the right move. Mangini last year inherited a bad club that had to be stripped down and rebuilt from the basement on up. He not only did it, he did it in one season, with the Browns winning their last four starts. OK, so they were 5-11. Go ahead and snicker. All I know is the Browns had a better second-half record than the defending Super Bowl champion Pittsburgh Steelers. The club could've have pancaked and mailed it in to the finish, but it didn't. Instead, it responded to its head coach and found a way to win, which tells you Mangini's message got through.
But that was then, and this is now, and now Mangini is getting squeezed again. That happens when you have a new team president and new GM, neither of whom hired you. Now it's win or else, and, frankly, I don't see how he wins with Jake Delhomme at quarterback. Then again, Mangini somehow managed to find five wins last season, even though his QBs had a combined 33 completions in those victories. This time, the odds might be too steep for Mangini to overcome, but cut the guy some slack. He wasn't supposed to survive Holmgren, either, and he did. The deck is stacked heavily against him, with some people predicting that Jon Gruden is waiting to take his job. Maybe, but I'd like to see the guy get a fair shake. I just don't know how it happens when he's short of playmakers and plays in a division with Baltimore, Pittsburgh and Cincinnati.
5. Jack Del Rio, Jacksonville: Bad enough the Jags haven't had a winning season in two years, but they can't put people in the seats, and that will get an owner's attention more than a 23-17 loss to Cleveland. It's one thing to flop. But to be bad and boring is no way to go through a football season. In 2009, Jacksonville lost five of its last six. In 2008, it lost six of its last seven and eight of its last 10. Second-half collapses are not what you want on your résumé, and it's up to Del Rio to put a stop to them. Otherwise, he can start looking for a new address.
Bottom line: He's another guy who must win now, but tell me how that happens when David Garrard is your quarterback and Indianapolis, Houston and Tennessee your competition? One suggestion is to resurrect a defense that once was one of the best in the league. A year ago, the Jags ranked 23rd overall and had a league-low 14 sacks, and that's a sure way to get spliced, diced and sliced by Peyton Manning. Jacksonville never has been dynamic or innovative on offense, so I don't expect that to change. But at least it kept opponents close with a suffocating defense == and if that doesn't return, neither will Del Rio.
Five other guys who could feel some heat
1. John Fox, Carolina: Normally, coaches don't enter the last years of their contracts without something going on. Negotiations. Talks. Deliberations. Something, anything that addresses an extension. But that's not the case with John Fox, and now it's apparent why: The Panthers are counting their money, with owner Jerry Richardson trimming his payroll in advance of the expiration of the collective bargaining agreement. So the Panthers let Julius Peppers walk, cut Jake Delhomme, traded away Chris Harris and didn't extend Fox's contract. Is this any way to improve a football team?
Don't ask Fox, because he's been asked to do the unimaginable, which is to take a less experienced and, frankly, less talented team to the playoffs in a division where Atlanta and New Orleans should battle for the top spot. Fox is a solid head coach with a proven record, but he's about to enter the Twilight Zone == entering the last year of his contract with Matt Moore or Jimmy Clausen as his quarterback, no Julius Peppers and no guarantee there's life beyond this fall. Fox deserves better. I don't see how he gets it.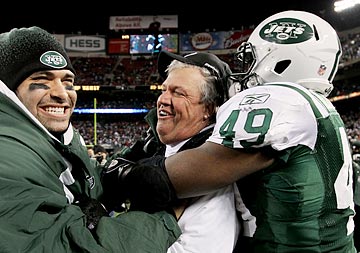 2. Mike Singletary, San Francisco:
Life is good for Singletary. He's a head coach. His team is talented. And Kurt Warner just retired, opening the door for the 49ers to reach the playoffs for the first time since 2002. But that's the problem: Life is so good, Singletary is expected to do what nobody in San Francisco has done since Steve Mariucci was cashiered, which is win the NFC West. At least that's the thinking in the Bay Area now, and maybe it's because the team recently completed its first non-losing season in seven years. But mostly it's because people figure Arizona wilts without Warner, and maybe it will. But all that means is that the job description just got tougher for Singletary.
Once upon a time, it was to make the 49ers respectable. Now, it's to make them playoff worthy. Some people in the business believe Singletary is more of a motivator than he is a head coach, and I guess now we find out. All I know is that the 49ers never, ever, ever will have a better opportunity to return to the playoffs than now. Look, I think the Cardinals will do just fine with Matt Leinart, but their chances of repeating as division champions aren't as good without Warner. That doesn't mean it can't happen. What it does mean is that San Francisco, a club that beat Warner and the Cards twice last season, is in the right spot at the right time to make a move.
The feeling now is that Singletary has the players to win, so the heat isn't on them or the front office. It's on the head coach.
3. Mike Tomlin, Pittsburgh: If there's one job you want in pro football, it's coaching the Pittsburgh Steelers. The club changes head coaches about as often as Indianapolis changes quarterbacks, which means job security is not an issue. But this isn't about job security; it's about happiness, with Tomlin in charge of a ballclub that suddenly looks like a subject for the next Law and Order episode. Super Bowl hero Santonio Holmes is gone, dumped after too many run-ins with the law. Quarterback Ben Roethlisberger is on double secret probation after two complaints of sexual misconduct, and color him gone for four to six games. He returns when NFL commissioner Roger Goodell ends his suspension, and that, folks, is when the fun begins.
I think back to what Hines Ward said last season when Roethlisberger missed the Steelers' first game with Baltimore, and, in essence, questioned Roethlisberger's commitment. I was critical of Ward then, but now I wonder if he wasn't telling us something. Roethlisberger has more than Pittsburgh's fans to win back; he might have a locker room that doesn't trust him. In the middle of it all stands Tomlin, and don't tell me Roethlisberger won't be a distraction. No matter what he does or doesn't do, he becomes the focus of attention. Welcome to the real world, Mike Tomlin.
4. Rex Ryan, N.Y. Jets: OK, so the Jets are loaded. The team that finished one victory short of a Super Bowl added a Super Bowl MVP in Santonio Holmes, an NFL Defensive MVP in Jason Taylor, the league's single-season touchdown record holder in LaDainian Tomlinson and a former Pro Bowl performer in Antonio Cromartie. Now, there is almost as much talent as there is hype to pump up a team most New Yorkers expect to challenge == no, unseat == New England in the AFC East. But that's the problem, people. Rex Ryan raised the bar so high in his first year with the Jets that now nothing but a Super Bowl will do == and that's a tall order when you live in a division with New England and Miami.
In short, Ryan has become a victim of his own success. But forget about expectations. What about a club that not only added a slew of stars but a slew of egos to a locker room that had just the right chemistry a year ago? People tell me Ryan is the perfect coach to handle a potential pressure cooker, but I'm not so sure. I think back to when I was pumping him for the head-coaching vacancy in Baltimore, and people close to the club told me it wouldn't work. The reason: While Rex was enormously popular with players, there was a feeling he might not be tough enough to handle them. So what happens if the Jets crash after takeoff? I hope we never get to find out. Ryan is one of the most refreshing, candid and likeable coaches to come along in years, so you hope he succeeds. But succeeding might not be enough anymore. Now it's all about domination, and check your scorecards, people. New England still is the team to beat in the AFC East.
5. Tom Cable, Oakland: I don't care who coaches the Raiders, I feel for the guy. First of all, you get to run a team that dropped 11 or more games in each of the past seven seasons. Second, you have to coach JaMarcus Russell. Third, you have to watch JaMarcus Russell. Fourth, you play in a division with San Diego, a club you haven't beaten in 13 games. And, finally, you get to have your future questioned, dissected and debated daily by a media who are as tired of watching your team flounder as you. That would bother me. It doesn't seem to bother Tom Cable, and more power to him.
More power to him for benching Russell last season, too, with Cable acknowledging what others would not, which is that Russell is a mess. I don't know that Russell is finished in Oakland, but having five quarterbacks with starting experience speaks to the confidence the Raiders have in him, and who can blame them? There is talent on this team, but there isn't a qualified quarterback. Maybe Jason Campbell changes that, I don't know. What I do know is that the Raiders are remarkably consistent, producing a 29-83 record the past seven years, with no season better than 5-11. There might be pride, but there's no poise and there certainly is no commitment to excellence.