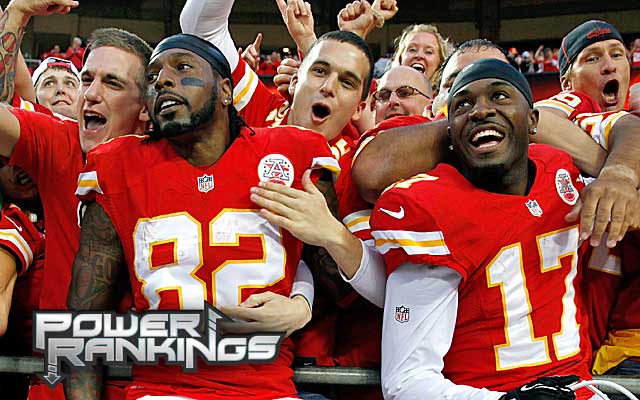 With only one unbeaten NFL team left -- the team that drafted first overall in last April's draft no less -- it's time again to ask the question we always seem to ask at this time of the year:
Is anybody any good?
Thanks to the Denver Broncos' 39-33 loss to the Indianapolis Colts on Sunday night, the last remaining unbeaten team is the Kansas City Chiefs, a team flawed on offense and without a signature victory through seven weeks.
So again I ask: Who is good in this league?
That's what the next six weeks are all about, finding the contenders and exposing the pretenders. Late October and November is when it all starts to shake out, and December is the month to make a playoff push.
The Seattle Seahawks, fresh off their impressive road victory at Arizona, might be the most complete team, but they lost two weeks ago at Indianapolis.
The Colts are getting praise as the NFL's best for beating Seattle, the 49ers and the Broncos, but didn't they lose to the San Diego Chargers just over a week ago?
The 49ers are getting it going, but they have two losses. The New Orleans Saints lost the last time out. The New England Patriots lost to the Jets on Sunday.
Denver might have been exposed some at Indianapolis in losing for the first time.
The Bengals? Are you a believer?
The Chiefs take over as the top team in my Power Rankings, but I think they are great on defense and limited on offense. You don't win titles that way in these wide-open offensive times. Kansas City is 26th in passing.
Ouch.
So as we head to the end of October, I ask this question again: Who is a good team?
Anybody?