A closer look at Prisco's top 10
| | | |
| --- | --- | --- |
| 1 | Aaron Rodgers, QB, Packers | |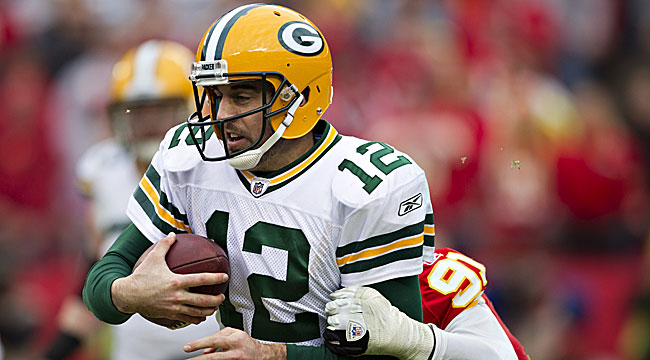 Rodgers led the Packers to a stellar regular-season record en route to MVP honors. (Getty Images)
Why he's in this spot:
He won his first MVP last season when he threw 45 touchdown passes and only six interceptions to lead the Packers to a 15-1 regular-season record. The Packers appeared on their way to a second consecutive Super Bowl title by riding his right arm before being upset by the New York Giants in an NFC divisional round playoff game.
2012 numbers that stand out: His 9.2 yards per attempt tied for 12th all time and is the highest since Peyton Manning averaged 9.2 in 2004. Since 1990, Manning, Rodgers and Kurt Warner are the only three passers to average at least 9 yards per attempt.
Strengths: Ability to scan the field and make pinpoint throws with an arm as strong as any.
Weaknesses: Sometimes holds the ball too long to make a play (he took 36 sacks last season). Of course, that's nitpicking.
Stock up or down: It's going up if you can believe that. Rodgers will be in only his fifth season as a starter. That means he's hitting his prime. That has to be downright scary for the other teams in the NFC, especially the NFC North.
Did you know: Rodgers is the all-time leader in passer rating in the regular season and the postseason.