A closer look at Prisco's top 10
| | | |
| --- | --- | --- |
| 8 | Julius Peppers, DE, Bears | |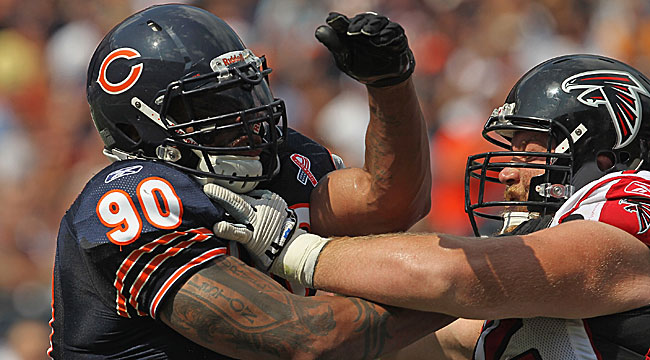 Peppers gets double-teamed a lot, yet he still yields solid sack totals. (Getty Images)
Why he's in this spot:
Peppers had 11 sacks and forced three fumbles in his second season with the Bears. It was the seventh double-digit sack season. But it was better than that. With little help, he faced constant doubles. He was also very good against the run. His sack numbers might not be among the best from 2011, but he played better than those numbers might indicate.
2012 number that stands out: He only had one sack in the fourth quarter, which has to be a concern. Did he wear out from all the doubles?
Strengths: He is a big, strong fast player who can beat a tackle with his speed or his power. At 6-6, 290 pounds, he is one of the league's bigger pass rushers. Yet he can be an explosive edge rusher showing off great quickness.
Weaknesses: There are times when he seems to lose focus or drive. Maybe all the doubles he faces have an affect. Doesn't always play to his wonderful abilities.
Stock up or down: Down. At 32, his best football might be behind him. That doesn't mean he can't be a double-digit sack guy for another three or four seasons.
Did you know: Peppers was athletic enough to play on the University of North Carolina basketball team, which isn't exactly a JUCO team.