2013 NHL Draft Prospects Big Board: Seth Jones is No. 1
Texas native Seth Jones is the No. 1 prospect on the mid-season NHL Draft Prospects Big Board.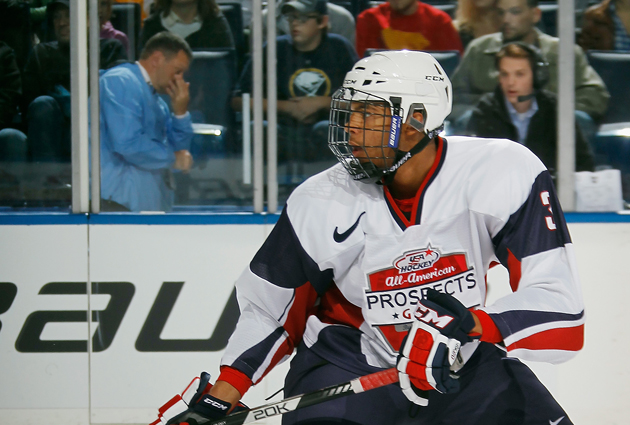 Texas native Seth Jones is No. 1 on the midseason CBSSports.com NHL Draft Prospects Big Board. (Getty Images)
While the NHL was away, the 2013 NHL Draft class was putting on a show in leagues around the globe. At midseason, this class of prospects looks incredibly strong, making a top-50 list really difficult to compile. There are a lot of player names on the cutting room floor that have solid arguments to be on this list.
Everyone has become well aware of the top two guys in Seth Jones and Nathan MacKinnon, but Jonathan Drouin has thrown his name into the hat to make for a pre-draft "Big 3." But it's Jones who has been rising to No. 1 on a lot of lists, including NHL Central Scouting's mid-term rankings.
There is an inherent risk with drafting a defenseman. Forwards are, by and large, easier to project and also typically have a smoother transition to the NHL. They don't take as long as to develop and, therefore, are safer bets. Jones, however, might be that rare can't-miss defenseman. The native Texan is the type of guy you can build a team around. While drafting defensemen is going to bring risk, guys like Jones don't come around every draft. Heck, maybe not even every five drafts (or more).
MacKinnon and Drouin, teammates at Halifax, are both going to make whoever drafts them very happy. They're as exciting as any of the forwards selected in the past three or four years and could both be impact players at the next level for a long time to come.
This might be one of those years in which if your team doesn't make the playoffs, you shouldn't freak out too much. There is a plethora of elite talent that will available to teams with lottery picks. There's a good mix of highly skilled forwards, high-upside defensemen and those project-type prospects teams seem to love taking chances on.
Here's a look at the top 50, but first, read this explanation …
This list was compiled based on personal viewings (many on video) combined with the opinions of NHL and junior scouts consulted on each player. Rankings and reports from reputable scouting services were also taken into consideration.
2013 NHL Big Board by Chris Peters
1. Seth Jones - D - Portland Winterhawks (WHL) - 6-4, 206 - Previous Rank: 1

Jones has been finding himself at No. 1 on more rankings, and it's not a real surprise. With size, mobility, elite defensive skills and sound offensive capabilities, he looks like he could jump into an NHL lineup quickly. His biggest asset, however, is his hockey sense, which is at an elite level. A Western Conference scout called Jones the clear No. 1 choice.

2. Nathan MacKinnon - C - Halifax Mooseheads (QMJHL) - 5-11, 179 - PR: 2

An explosive skater with high-end offensive skills, MacKinnon has shown potential to be a game-breaking player at the next level. With 60 points in 35 games, he has been making a mockery of his junior competition and should be able to find his way into any NHL lineup next season. His skating is what gives him separation from the rest of the forward pack.

3. Jonathan Drouin - LW - Halifax Mooseheads (QMJHL) - 5-11, 176 - PR: 8

An absolute magician with the puck, Drouin has the skill that will get fans out of their seats. His ability to manufacture offense in a variety of ways has a lot of scouts excited. One NHL scout said he wouldn't be surprised if Drouin leapfrogged MacKinnon because of his ability to do things with the puck that most others can't. 

4. Aleksander Barkov - C - Tappara (SML) - 6-2, 205 - PR: 4

Barkov has done nothing but solidify his status as a top-five prospect. Playing in the SM-Liiga, he has been near a point-per-game player. He was arguably Finland's best forward at the World Junior Championship and showed his solid scoring ability. Barkov is tremendous on draws and seems to have high-end hockey sense. He looks like a low-risk pick.

5. Elias Lindholm - C - Brynas (SEL) - 6-0, 188 - PR: 6

One of the best playmakers in this draft year, Lindholm is a crafty player who makes everyone around him better. With good speed and some tremendous puck skills, Lindholm is a guy who can create offense with ease. What makes him a top prospect, however, is his well-rounded game. He plays at both ends of the ice at a high level.

6. Sean Monahan - C - Ottawa 67's (OHL) - 6-2, 193 - PR: 3

A good two-way game, size and speed all highlight Monahan's package. There's a good chance that he leapfrogs both of the Europeans ahead of him on this list come draft day. Considering the offensive dominance he has displayed at the OHL level, his all-around value is very high. He doesn't have many noticeable weaknesses.

7. Valeri Nichushkin - C - Traktor (KHL) - 6-4, 196 - PR: 10

Though size is the first thing that jumps out at first glance of Nichushkin, it doesn't take long for the rest of his game to do the same. Despite the big frame, he has speed and skates with power. He has good puck skills and finishes as well. The 17-year-old got called up to the KHL, has been holding his own and stood out for Russia's bronze-medal squad at the World Junior Championship.

8. Rasmus Ristolainen - D - TPS (SML) - 6-3, 207 - PR: 7

Ristolainen's mobility and puck-moving skills really stand out with his pro-ready frame. He has shown improvement in his second professional season and looks to have another gear to get to. With such a strong forward class, Ristolainen could drop on draft day, but his wide array of tools on the back end might be too attractive to pass up.

9. Hunter Shinkaruk - LW - Medicine Hat Tigers (WHL) - 5-10, 161 - PR: 5

Making the Canadian junior team would have helped his somewhat sliding stock, but Shinkaruk is a high-end offensive player who has a nose for the net and the skill to get there. His quick hands and feet should easily translate at the next level, making him a potentially productive player down the line. His size is a bit of a concern, but his offensive ability can't be overlooked.

10. Ryan Pulock - D - Brandon Wheat Kings (WHL) - 6-0, 209 - PR: 11

Though Pulock has been injured, his stock has held pretty steady from the beginning of the year. He has good two-way capabilities, and his offensive upside is truly an attractive trait. He has a good all-around game but could use some smoothing out over time. Scouts like his character and hockey sense.

11. Darnell Nurse - D - Soo Greyhounds (OHL) - 6-3, 185 - PR: 25

The physical game always stands out with Nurse. He's not going to be an offensive guy at the next level, but he has shown improvement in that side of his game. He is relentless on defense. One scout said every team wants a guy who plays like Nurse, citing his aggressiveness and abrasiveness. 

12. Nikita Zadorov - D - London Knights (OHL) - 6-5, 229 - PR: 17

The behemoth defenseman has all the qualities that NHL scouts drool over. His size is unrivaled among blueliners in this draft. For a big guy, he moves really well and has sound defensive awareness. One scout said he would like to see Zadorov show more consistency in his physical game and bring the same compete level every night, but the pro upside is evident.

13. Adam Erne - RW - Quebec Remparts (QMJHL) - 6-1, 196 - PR: 16

In 20 fewer games, Erne has already matched his point total from a season ago. He can score goals as easily as he sets them up, and his skating has improved to a degree where it could be considered near-elite. A goal-scorer's shot and a sturdy frame will stick out to scouts, but it's the skating that could put him over the top.

14. Max Domi - C - London Knights (OHL) - 5-9, 193 - PR: 14

Despite a smaller frame, Domi hasn't been hindered by it one bit. With 61 points for the OHL's best team, Domi has been an offensive dynamo. The son of Tie Domi has high-end speed, puck skills and a goal-scorer's release. The skill set is quickly making concerns about his size melt away.

15. Arturri Lehkonen - LW - KalPa (SML) - 5-10, 152 - PR: 12

Though undersized, Lehkonen has pure goal-scoring ability. His size certainly hasn't made him any less effective while playing pro. He has nine goals this year after dominating the U20 level in Finland last year. He might be a riskier pick in the top half of the first round. But if a team puts a premium on goal scoring, he's a very good option.

16. Frederik Gauthier - C - Rimouski Oceanic (QMJHL) - 6-5, 209 - PR: 34

Gauthier might be the total package. He has tremendous size and combines his muscle with touch. He has been a dominant force in the QMJHL and can play at both ends. Gauthier is a good skater, which is always a concern with big guys, and he has shown a knack for scoring.

17. Josh Morrissey - D - Prince Albert Raiders (WHL) - 6-0, 183 - PR: 24

Morrissey might not have the best size for a defenseman, but his skating is at an elite level and is a big reason why he has gotten so much first-round buzz. He has solid offensive tools, and his defensive game has improved in his draft year, which is helping improve his stock.

18. Alexander Wennberg - C - Djugarden (Allsvenskan) - 5-11, 157 - PR: 31

With good two-way capabilities, Wennberg has shown an improved offensive game in his first full pro season. He also looked solid in a bottom-six role for Sweden at the World Junior Championship. He has really strong puck skills and high-end hockey sense.

19. Andre Burakowsky - LW - Malmo (Alssvenskan) - 6-1, 178 - PR: 8

Burakowsky's stock has been falling a bit since the preseason. Getting cut from Sweden's World Junior team didn't help matters. Burakowsky has good two-way skills but hasn't been producing at a terribly high clip in the second division of the Swedish pros. He still has a lot of offensive upside to him with his high level of skill.

20. Anthony Mantha - LW - Val-d'Or (QMJHL) - 6-3, 200 - PR: NR

One of the hot names on draft charts of late, Mantha has taken a big step forward in his offensive game this year. He has tremendous size and is a good skater. Mantha has some edginess to his game and is able to find the net. He already has 34 goals this season after just 22 all of last year. He might continue to climb.

21. Anthony Duclair -- LW -- Quebec Remparts (QMJHL) - 5-11, 180 - PR: 20

A highly skilled forward, Duclair has some really strong goal-scoring ability and is a good distributor of the puck. Having battled some injury troubles already this year, Duclair now will be without regular linemate Mikhail Grigorenko. His offensive instincts to go along with high-end speed should help him overcome losing an elite linemate.

22. Kerby Rychel - LW - Windsor Spitfires (OHL) - 6-0, 185 - PR: 15

Rychel is an interesting player to rank. He has all the toughness and grit of a bottom-six banger, but he seems to have enough touch to perhaps have something bigger ahead of him. He's in his third full season of junior hockey and isn't quite at the same offensive pace as last year, but his physical game gives him a big edge.

23. J.T. Compher - C - U.S. National U18 Team (USHL) - 6-0, 165 - PR: 19

An early season injury cost him most of the first half, but Compher has been at a near point-per-game pace since his return. He has an edge to his game and has shown an ability to play at both ends. A good shot and high motor have helped make him a scout favorite.

24. Curtis Lazar - C - Edmonton Oil Kings (WHL) - 5-11, 194 - PR: 13

Lazar has taken a step forward in his second full season of junior hockey but hasn't shown the same type of offensive production that he did in last year's WHL playoffs. Scouts were hoping to see a little more, but Lazar is an elite skater with enough offensive upside to keep teams very interested. 

25. Jacob de la Rose - LW - Leksand (Allsvenskan) - 6-2, 183 - PR: 18

A good two-way forward with tremendous skating ability, de la Rose can fit a variety of roles. He was more of a checking-line wing for Sweden at the World Juniors and performed well in that role, but he has enough offensive upside to suggest he can fit a scoring need. His size, commitment to defense and skating make him stand out more, with the skill an added bonus.

26. Jason Dickinson - C/W - Guelph Storm (OHL) - 6-1, 170 - PR: 39

A versatile forward, Dickinson has spent time at center and wing this year. He has shown the ability to play a good two-way game and knows how to use his body in puck protection and pursuit. One scout said he would like to see a little more production out of Dickinson but felt that he has clear first-round upside. 

27. Robert Hagg - D - Modo (SEL) - 6-2, 201 - PR: 21

A smooth-skating defenseman, Hagg has some high-end offensive tools to go along with a steady defensive game. He was a late addition to Sweden's World Junior team and ended up being one of the Tre Kronor's best defensemen. Hagg is poised with the puck on his stick and is a sound skater. Playing in Sweden's top division a bit this year will likely improve his stock even more.

28. Steven Santini - D - U.S. National Under-18 Team - 6-2, 207 - PR: 27

Santini's game has really grown a lot over the past year, and scouts seem to really like his physical game. One scout said Santini has the potential to be a good all-around defenseman and liked the improvement in his skating. He still has some smoothing out to do, but he has a lot of potential.

29. Ryan Hartman - C/W - Plymouth (OHL) - 5-11, 187 - PR: 29

The World Junior Championship showed Hartman's versatility. He's better than a point-per-game player in the OHL, but he was a defensive stalwart for Team USA en route to gold. With his good physical game and sound hockey sense, he can impact the game in all zones, which is obviously a very attractive trait.

30. Pavel Buchnevich - F - Cherepovets (KHL) - 6-0, 157 - PR: 23

With some high-end offensive tools, Buchnevich is one of those highly skilled guys that teams might take a chance on in the first round. He dominated at the Russian junior level but has yet to score since getting called up to the KHL, which is a big jump in competition. His offensive tools are too good to sleep on.

31. Marko Dano - LW - HC Slovan Bratislava (KHL) - 5-11, 183 - PR: 44

Though he has struggled to produce offensively at the KHL level, Dano showed at the World Junior Championship just how deadly he can be. The Slovakian sniper has a nose for the net and has a good mix of speed and strength that helps him to create offense. He also might not be terribly far from NHL-readiness.

32. Bo Horvat - C - London Knights (OHL) - 6-0, 194 - PR: 35

Among the two-way forwards in the draft, Horvat has a lot to give offensively. One NHL scout said Horvat's stock is rising quickly because of that. He's a strong skater with a good shot and solid distribution skills, but his commitment to playing at both ends is garnering him extra attention.

33. Nicolas Petan - C - Portland Winterhawks (WHL) - 5-9, 165 - PR: NR

The WHL's leading scorer has been a revelation this season. Through just 47 games, Petan has put up 81 points. This is easing concerns about his less-than-ideal size. Petan has terrific speed and isn't afraid to go to the tough areas or drive to the net. His numbers are great, and the skill has scouts excited. 

34. Juuso Ikonen - RW - Espoo (SML) - 5-9, 170 - PR: 30

Another smallish-but-dynamic forward, Ikonen's stock has been falling a bit. His creativity and shiftiness make him intriguing, however. Playing in Finland's top pro league, he's doing better than holding his own and should be able to produce at the next level. He has potential to be an exciting player down the line.

35. Shea Theodore - D - Seattle Thunderbirds (WHL) - 6-2, 154 - PR: 37

A high-end offensive defenseman, Theodore has some very projectable skills. He needs to grow into his frame a bit more and round out the defensive elements of his game, but his skating and puck skills make him stand out. A little more production in the second half could lead to a big jump in stock.

36. Ryan Fitzgerald - C - Valley Jr. Warriors (EJHL) - 6-2, 176 - PR: NR

With a good two-way game, Fitzgerald has been turning heads since being named MVP at the All-American Prospects Game in September. He has good offensive tools and is a solid skater. His vision is evident as is his good puck management and hockey sense. He has a good shot and gets to the net well.

37. Zachary Fucale - G - Halifax Mooseheads (QMJHL) - 6-1, 176 - PR: 35

Fucale is a first-round pick on a lot of scouting lists. And while stats aren't everything, a goaltender with a sub-.900 save percentage seems like a risk going as early as some project. That said, he has good athleticism and the skills are there for him to be a solid netminder at the next level.

38. Ian McCoshen - D - Waterloo Black Hawks (USHL) - 6-3, 207 - PR: 26

With great size and a very steady, simplistic game, McCoshen never really jumps out at you. He's dependable in all zones, making good decisions with the puck and good reads defensively. One scout likes what McCoshen brings but has concern about his upside. Despite that concern, McCoshen's style makes him a safe bet to get to the next level and contribute defensively.

39. Anton Slepyshev - LW - Salavat Yulaev Ufa (KHL) - 6-2, 194 - PR: 50

Passed over in the last draft, Slepyshev has first-round talent. But the ever-present Russian concern is looming. Uncertainty surrounding his interest in coming to North America is the only thing holding him back from being a relatively high selection. His production rate has been underwhelming in the pros, but he has noticeable offensive skill and upside. He was very good for Russia at the WJC.

40. Hudson Fasching - LW - U.S. National U18 Team (USHL) - 6-2, 214 - PR: 22

With a pro-ready frame and power-forward capabilities, Fasching will remain on a lot of radars. But scouts want to see more offensive production out of the big man. He plays with strength and has added some real edge to his game. Fasching has the skills to produce, but the numbers haven't been there this year.

41. Ryan Kujawinski - C - Kingston Frontenacs (OHL) - 6-2, 205 - PR: 41

A hard-working centerman, Kujawinski's defensive value puts him higher on other lists. Concern about his ability to produce at the next level persists according to one NHL scout, but there's a lot worth watching. The work ethic won't go unnoticed, nor will his size.

42. William Carrier - C - Cape Breton Screaming Eagles (QMJHL) - 6-1, 198 - PR: 42

Though he has been a solid point producer at the QMJHL level, Carrier might end up projecting a little more conservatively as a bottom-six guy with scoring pop. He plays a physical brand of hockey and is solid on the forecheck. The skill level is good, but consistency issues have made some scouts more cautious.

43. Valentin Zykov - RW - Baie-Comeau Drakkar (QMJHL) - 6-0, 207 - PR: NR

Zykov has been shooting up draft charts as he is breaking out in the QMJHL with 29 goals and 56 points as a rookie. This comes as a surprise since he was not a point producer in the Russian U20 league last year and hasn't shown much offense in international competitions. The skill is there, he has good muscle to him and the numbers are popping out, but there might be some risk still.

44. Morgan Klimchuk - LW - Regina Pats (WHL) - 5-11, 180 - PR: NR

A highly productive winger, Klimchuk has good offensive tools that should translate at the next level. His lower ranking here is more a testament to the strength of the draft, but he has shown over two WHL seasons that he can put up the points. Good speed and a nifty release make him intriguing.

45. Keaton Thompson - D - U.S. National U18 Team (USHL) - 6-0, 185 - PR: 46

Thompson has shown a very strong defensive game in addition to displaying some offensive potential. He's a very smart player, skates well and makes a good first pass. One scout I talked to would like to see more toughness, but the physical tools are in place for him to be a solid two-way defender.

46. Mirco Muller - D - Everett Silvertips (WHL) - 6-3, 187 - PR: NR

Coming to North America was a great decision for the big Swiss defender. He has shown that he has high-end defensive capabilities. And with his size and skating, he's a prospect on the rise. Muller has some physical elements to his game and makes a good first pass. He appears to have sound defensive awareness, as well.

47. Bogdan Yakimov - C - Dizel Penza (VHL) - 6-4, 201 - PR: 28

This big forward has loads of skill for a player of his size and appears to have some really strong pro upside. His skating could use a little work, but he has an ability to impact games offensively. He has done well in Russia's second pro division and has been a standout in international play. Not making the Russian WJC team cost him a key evaluation point, though.

48. Linus Arnesson - D - Djugarden (Alssvenskan) - 6-2, 190 - PR: 45

A highly mobile defensive defenseman, Arnesson has a smoothness and maturity to his game that could lead to him rising up the charts. He hasn't produced much by way of offense, but he seems to have some good puck-moving skills. He isn't always noticeable, but he plays a very effective brand of defense.

49. Chris Bigras - D - Owen Sound (OHL) - 6-0, 174 - PR: NR

Bigras has been a recent riser up many draft rankings. One NHL scout told me that he likes Bigras' upside and offensive potential, calling him a good manager of the puck. Areas in which Bigras must improve are his defensive aggressiveness and physical game, but there's some potential in there.

50. Justin Bailey - C - 6-3, 190 - Kitchener Rangers (OHL) - PR: 36

Slowed a bit by injuries, Bailey's stock has been trending down, but scouts haven't soured on his skills. He's more of a long-range prospect as his game is still developing, but Bailey's upside is evident. He's a very good skater and has good size. A healthy second half with some production could give Bailey a big jump.
For more hockey news, rumors and analysis, follow @EyeOnHockey and @chrismpeters on Twitter and like us on Facebook. Also, subscribe to our YouTube Channel.
Saturday's showdown will serve as a rematch of one of the NHL's first-ever regular season...

Stacia Robitaille says Donald Trump told her in an elevator that she was coming home with...

Vladislav Yeryomenko was the Teddy Bear Toss goal scorer for the Calgary Hitmen
The Golden Knights are finally getting their No. 1 goalie back after a 25-game absence

Washington has won four straight, and the Kings are also on a tear right behind the Lightn...

The NHL says it's only interested in expanding to Seattle, but here's a look at all the moving...