2014 Olympics: Roster deadline pushed back a week to Jan. 7
The IIHF pushed back the deadline for teams to submit Olympic rosters on Wednesday to Jan. 7, though the US is still expected to announce its roster at the Winter Classic.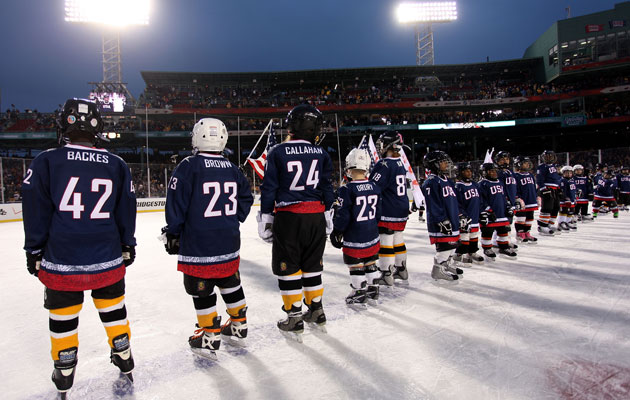 More NHL: Scores | Standings | League Leaders | Odds | Injuries | Power Rankings
The deadline for Olympic team rosters to be announced was pushed back by a week on Wednesday by the IIHF at the request of a number of nations.
Originally the deadline was Jan. 1 for the rosters to be submitted, something that was agreed upon in the NHL and NHLPA's negotiations with the IIHF about participating in the Olympics. However the concern for many nations was that the deadline coincided with the World Junior Championships (where the USA will defend the gold), which won't end until Jan. 5.
Finally, after some discussions over the past week, the NHL and NHLPA agreed and as a result the deadline for Olympic rosters to be submitted is now Noon ET on Jan. 7. That's an extra week to help countries further figure out who they want and could prove crucial in some cases.
Even with the extra week, don't expect this to change the plans for USA Hockey, however. The plan has called for the team to be announced at the conclusion of the Winter Classic and our Chris Peters says that remains the plan.
New deadline for Olympic roster announcements won't change Team USA's plans. Rosters unveiled at Winter Classic for men's and women's teams.

— Chris Peters (@chrismpeters) November 27, 2013
WHile the USA won't use the extra time, every other country like will, including Canada. When you have as many quality players to choose from as the Canadians do, that extra time helps. It's a reasonable expectation that the US might be the first roster to be unveiled (start with the best then on to the rest, right??).
The first Olympic matches will be held at Noon ET on Feb. 12 in Sochi. The Czech Republic will face Sweden in one while Lativa and Switzerland will battle in the other game. The USA will open the tournament with Slovakia at 7:30 am ET on Feb. 13, Canada will face Norway at Noon that day.
Buffalo is in the midst of contract extension talks with Jack Eichel, and the payout could...

Los Angeles isn't rushing to sign the 45-year-old forward any time soon

The University of Denver star and Hobey Baker Award winner is drawing interest
Intrigue is high in Arizona after a wild offseason, but expectations should still be tempe...

Players are set to give personalized messages for Adidas' former hockey equipment brand

The 40-year-old center is returning to the Wild after a successful run in Pittsburgh