2014 Winter Classic: Good sign? 'No complaints' about alumni games ice
While the alumni games are being played in Detroit, the players on Tuesday had no complaints, saying the ice was excellent, a good sign for the ice in Ann Arbor.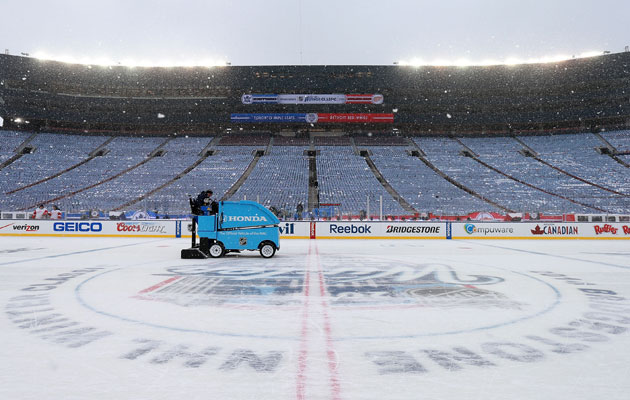 More NHL: Scores | Standings | League Leaders | Odds | Injuries | Power Rankings
DETROIT -- While the Alumni Showdown events are going on in downtown Detroit, some 45 minutes or more away from the Big House in Ann Arbor, there's one big positive to come out of Tuesday's festivities: the ice good.
Perhaps that's even understating matters. The ice is about as good as you could possibly expect for an outdoor rink. Considering the elements are just about the same between Detroit and Ann Arbor, that can only be a positive in regards to the Winter Classic Wednesday at the Big House.
There was nary a complaint to come out of the Alumni Showdown's first game on Tuesday.
"I thought the ice was great. It's got a little different feel to it outdoors but it feels a little harder and a little slipperier," Leafs alum Tom Fergus said. "I was looking forward to today and it didn't disappoint."
Red Berenson was just as complimentary and he knows a thing or three about outdoor ice. He has coached the University of Michigan in four games outdoors over the years and he was impressed.
"I think the temperature was perfect, the ice was excellent," Berenson said. "I've been involved in four outdoor games, I have to say this was the best ice that we've had. There were no complaints, it was FAST."
Again, this doesn't mean that we will see the same exact ice conditions in Ann Arbor but it's a pretty good sign and a point for optimism. The Winter Classic is a great scene and a heck of an atmosphere but doesn't always produce the best hockey with a lot of times the ice conditions to blame. With temperatures well below freezing this week in Michigan, that shouldn't be as big of an issue this time. At least in Detroit, it hasn't been.
All indications out of Ann Arbor have the ice there being up to the same standard. Red Wings coach Mike Babcock said on Tuesday after the team praciticed at Michigan Stadium that he wasn't worried about the elements one bit. Maple Leafs goalie Jonathan Bernier, who will get the start for Toronto, also saw no issues with the Big House ice.
Ice was "better than the ACC (is sometimes" Bernier said of the Big House surface. #Leafs #Wings #Winterclassic

— Rob Longley (@longleysunsport) December 31, 2013
In other words, it might be a best case scenario with the playing surface, assuming at least it doesn't snow too much.
NHL fans from all over seem to agree on one thing: Hating Kid Rock

The team tweeted on Monday that Shaw would be re-evaluated in 7-10 days

The Montreal forward was hospitalized after taking a Zdeno Chara slap shot to the head
Tampa Bay is still No. 1 and Vegas is still up there, but a few others are finally catching...

Army filed an opposition to the use of 'Golden Knights' on the last day that it was permitted...

The NBC rinkside reporter is hoping to return in time for the 2018 Olympics