2014 Winter Olympics: Canada, Russia co-favorites for hockey gold
The Canadians and Russians have been made co-favorites to win gold in men's hockey at the 2014 Winter Olympics; USA is fourth with 6-1 odds.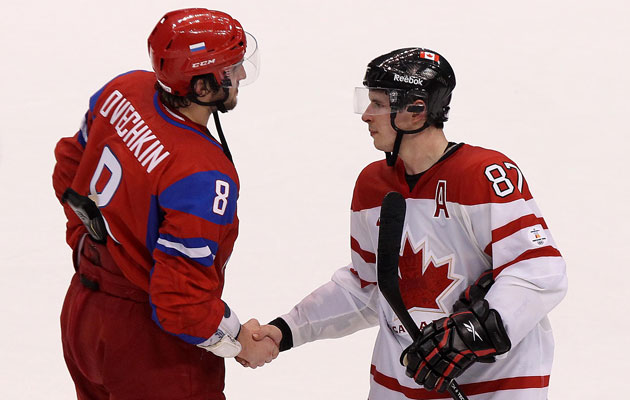 More NHL: Scores | Standings | League Leaders | Odds | Injuries | Power Rankings
The start of the Olympics is getting closer and closer, meaning the excitement level is getting higher and higher for the game's greatest international tournament with the revelry of the Olympics as a perfect backdrop.
At this point the rosters haven't even been set but when has that ever stopped odds makers from setting lines no who will take home the gold? That's what the folks of Bovada have done for both the men's and women's tournaments set to take place in a little less than three months' time.
Let's dig in:
Men's gold medal
Canada, 11-5
Russia, 11-5
Sweden, 9-2
USA, 6-1
Czech Republic, 9-1
Finland, 12-1
Switzerland, 25-1
Slovakia, 33-1
Norway, 200-1
Latvia, 400-1
Austria, 900-1
Slovenia, 900-1
Well, not a lot of love for the Fighting Kopitars of Slovenia or Thomas Vanek's Austrian squards now is there?
Of course it's no surprise at the top to see the Canadians and Russians set as co-favorites to win the gold. As usual Canada is going to have a roster absolutely stacked with elite talent from top to bottom (and they could make a second gold-medal contender with players who don't make the cut). The Russians meanwhile are always blessed with tremendous talent and in this case they have the home-ice advantage, something that helped Canada to gold in 2010.
Despite their silver medal showing in 2010, the American squad isn't in the top three of the gold favorites, indicating they aren't seen as a medal favorite by the odds makers. The Americans should have an excellent team but they have always strugged outside of North America at the Olympics (but the same can be said for Canada).
There are also odds for some individual players to make the rosters. We'll just take a peak at a couple of the Americans on the list:
Will Brandon Saad make team USA's 2013 Olympic hockey roster?
Yes: -200 (1-2)
No: +150 (3-2)
Will Seth Jones make team USA's 2013 Olympic hockey roster?
Yes: EVEN (1-1)
No: -140 (5-7)
Will Alex Galchenyuk make team USA's 2013 Olympic hockey roster?
Yes: +150 (3-2)
No: -200 (1-2)
Will Kyle Okposo make team USA's 2013 Olympic hockey roster?
Yes: +150 (3-2)
No: -200 (1-2)
Those are four names that are going to be hotly contested all the way until the rosters are announced. Saad has continued to play very well for the Blackhawks while we know that Seth Jones is one of 12 defensemen being keyed in on for the likely eight available spots. Galchenyuk is interesting given his experience on the international ice and his great speed and burgeoning play-making ability. Okposo meanwhile has just had a terrific start to the season.
Lastly, the ladies.
Women's gold medal
Canada, 4-5
USA, 1-1
Finland, 16-1
Russia, 22-1
Sweden, 25-1
Switzerland, 40-1
Germany, 100-1
Japan, 150-1
Considering every international tournament in the women's game seems to come down to Canada vs. USA, those odds should be of little surprise. The Canadians won gold in 2010 on the women's side too.
It seems it's all as wild as it sounds, with Canadian actor Zack Ward heading a 'West Coast...

Lots of moving parts may be the biggest hurdle for Carey Price and Co., a defensively geared...

The Penguins have some fun with the names of some Ducks linemen
Rookie Tyler Wong scores a hat trick to lift the NHL's newest team in its exhibition debut

Depth is a concern, but Edmonton is all in on its young, speedy stars with Stanley Cup pot...

The longtime Olympics enthusiast and Capitals standout releases a statement on the 2018 Ga...