24/7 Q&A: HBO senior producer talks debut episode, what's in store
HBO's acclaimed series '24/7: Road to the Winter Classic' has begun, following the Red Wings and Maple Leafs up to the big game. The show's senior producer, Dave Harmon, spoke with CBSSports.com.
More NHL: Scores | Standings | League Leaders | Odds | Injuries | Power Rankings
Nothing signifies the approach of the NHL's most ballyhooed regular-season game, the Winter Classic, more than the airing of HBO's acclaimed series 24/7: Road to the Winter Classic. This is the third installment of the show -- it debuted for Capitals-Penguins in 2010-11, followed by Rangers-Flyers in '11-12.
With the game in Ann Arbor, Mich., this season between two Original Six foes Detroit and Toronto, the series keeps tabs on the Red Wings and Maple Leafs. The first episode -- which you can see in its entirety above if you missed it, sans swearing -- debuted on Saturday night on HBO.
In setting up the second episode, here is a little teaser for what lies ahead in terms of what you'll see.
Toronto savors their win over the reigning NHL champion Chicago Blackhawks as the competition between Maple Leafs goalies Jonathan Bernier and James Reimer picks up. Detroit heads to Tampa where Red Wings legend Steve Yzerman is now the general manager of the Lightning. Both teams are challenged by a busy mid-December schedule that features four games in the span of six days.
After the first episode ran and before the second debuts this Saturday night on HBO (Sunday night in Canada on Sportsnet), the senior producer of 24/7 at HBO Sports, Dave Harmon, spoke with CBSSports.com about the series and where it is headed.
Q: Have you been working on 24/7: Road to the Winter Classic since the series began?
A: I've worked on every 24/7 from the boxing to the hockey that's ever been produced here.
Q: What exactly does your job entail, what are your roles on the show?
A: I'm the senior producer of 24/7. So the structure of the show is that before we ever shoot anything we have meetings with the line producers of the show who are the ones that then go out and interview the players, get all the beauty shots and wind up doing one team per producer. So we have a producer for the Maple Leafs, one producer for the Red Wings and I oversee both of them making sure that it all comes together coherently.
Q: So then you see all that comes in from both producers or do you talk it out with them to figure out how to best put it all together?
A: There are too many hours of footage for any one person to see everything that comes in from these two teams. I have the ability to see anything that I want but there are times where all I'll see is the first edited things and sometimes I'll see raw footage if we're not sure if this is worthy of being on the show and we have to make a decision on it. It's kind of on a scene-by-scene basis whether we watch all of the raw footage.
Q: How tough is it then to decide what makes the cut? What goes into that thought process? Is it simply just looking for the most compelling?
A: The philosophy with 24/7, both in hockey and in boxing, is that we are a documentary-style reality show. So the premise of the hockey show for this coming week, for instance, will be: what was the week like for the Toronto Maple Leafs? What was it like for the Detroit Red Wings? We try to have at least a little bit of footage from every day. Are they practicing today? Is it a day off? Do they have a game? Each thing gets chronicled in some way in the show. So No. 1 is giving people that. Then No. 2 is within those days, what's the most interesting thing? What would make someone at home say 'Wow! I can't believe they got access to that. I didn't know that." That would be No. 2.
Q: Do you run into a lot of restrictions in dealing with the NHL, things you would love to use but you can't or is that not an issue at all with the league?
A: Not an issue at all. The NHL has been great. The teams, whether we're talking about the Penguins and Capitals, or the Rangers and Flyers and now the Maple Leafs and Red Wings, all of them have let us shoot whatever we want. I would say this past week when there is a suspension hearing, that's the kind of thing where, at some point, someone in the room says "We'll let you show the players going in and out of the hearing but the hearing itself is not for entertainment purposes, we're not going to let you shoot that." That is totally understandable, we have no issue with that. A player's livelihood is at stake, there are injuries and different things like that that can happen. That's the only time that anyone ever draws a line with us.
Q: One memorable scene from two years ago for me was when the cameras had access inside the referee's room after a controversial hit. Is that something you guys can do again?
A: Yes, we can and plan on doing it again. You can't force it though, it needs the situation that warrants showing it. So we won't just be proving "Haha, we got this access!" It will be a situation like that Flyers-Rangers series in order to warrant it and airing it.
Q: What kind of response did you get from the first episode?
A: Episode 1 we got a great response. There is nowhere else that you can see behind the scenes like this for these two teams. The greatest response certainly was in Detroit and Toronto but hockey fans throughout the country have been very into what they're seeing here. Then when you get to people who aren't hockey fans, we've gotten some response from them too. There's a little bit of crossover and all of a sudden you get to see Elisha Cuthbert, who is with Dion Phaneuf. So you have a little something for everyone in Episode 1.
Q: Is it a little tougher doing that first episode because you have to do a little bit of scene setting for those who aren't as initiated with hockey?
A: I would admit that in Episode 1 there is a certain amount of time that needs to be taken explaining things like "What place in the standings are these teams in? How has their season gone so far? Who are these guys?" Randy Carlyle was an unbelievable defenseman before becoming a Stanley Cup-winning coach. These are the kinds of things that need to get communicated in Episode 1. After that we do tend to treat it a little more like a series where Episode 2 can stand on its own. But at the same time if you saw Episode 1 you might have a different appreciation for it.
Q: When looking at that first episode, there seemed to be a concensus that the Maple Leafs were really fun and an easy team for you guys to work with because there is a lot they have to offer where as with the Red Wings, it just seemed tougher. Is it challenging to work with that team this year? They have that repuation as a model franchise and sometimes that doesn't always lead to the most transparency.
A: That is our job as producers. If you don't get one thing, you find another. So I think for the Red Wings, one of the things we'll be able to do in response to maybe, you know we certainly don't have anyone who's as fiery as John Tortorella from last season. If Mike Babcock is not going to be like that, that's OK! We're still going to show him, he's still a highly respected coach and just because he doesn't go into the locker room and scream and yell at his players like that, we'll still show it. But at the same time, if then because he's not John Tortorella, we are forced to find other things. We're not going to show every in-between period speech he gives. We'll put more mics on the players this week during the game. We're planning in the future to also shoot at the replay center in Toronto if there is any controversy over a goal. We'll be able to do more of that in a Red Wings game and find different ways to get people interested in the Detroit Red Wings.
Q: One scene that stuck out for me was in Florida when a few of the Red Wings went out for dinner. It begged the question: Is there any kind of prompting that goes on? The conversation very well could have been organic but it felt slightly contrived with the way they were talking about Pavel Datsyuk in such gushing terms.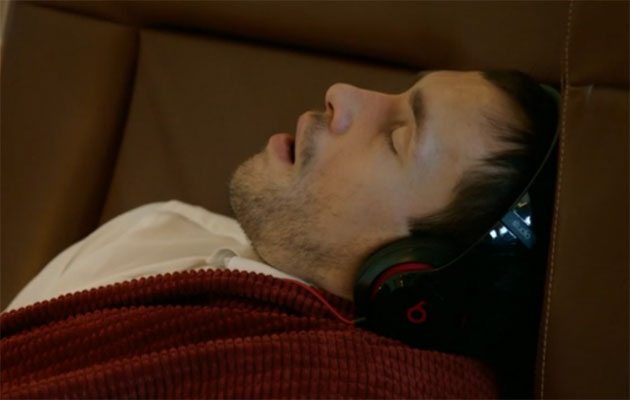 A: I really can promise you that what you're seeing is what really happened. We do not interfere. When we train our producers in the field and our camera crews in the field to go out there, one of the first things we say is one of the first things I told you, it's a documentary-style reality show. This isn't an entertainment show where it's like Big Brother. I actually don't know whether Big Brother has prompting or not, but what I'm saying is that we're not under those pressures, they don't call themselves a documentary-style reality show on CBS. We do. So when they started talking about Pavel Datsyuk, that's what they were actually saying. The reason you saw it in the show last week was because we were amazed that that's what these young guys were talking about. It might feel contrived to you because what are the odds that they're talking so glowingly about a teammate? When we got the footage back, that's how we felt. That's why we do things. It was like, "Wow! Guys don't usually talk about their teammates like that."
Q: Speaking of Datsyuk, this is a guy who has developed a reputation as a very interesting character. His absence in Episode 1 was definitely noticed. You don't have to give away too much but can we expect some kind of coming-out party for Datsyuk in the upcoming episodes?
A: Yes. There are decisions that have to be made in an hour-long show that with so many characters both teams to develop that when you know someone is going to be good the next week. Let's say he has promised us that we'll go home with him on a day then we're not as likely to do as much with him as we would in the episode where we already know we're going to be going home with him. So yes, without getting specific because we haven't shot the scene yet, but we will this week. You will be seeing more. Red Wings fans can rest assured we'll see plenty of Pavel Datsyuk.
Q: Looking at the first episode, what was your favorite moment of the show?
A: That's not that hard, I'm going to say what anyone else is going to say. Getting to see Elisha Cuthbert at home with Dion Phaneuf is good for me. Then seeing her skate in the family skate, that she knows how to skate. I know she's Canadian but still, I want to see her stickhandle. To see that kind of stuff, I live in New York, it's not the kind of thing I see every day. It might the kind of thing people in Toronto see but I'm sorry, for me that was the thing that I thought was pretty funny.
Q: One of the most underrated aspects of this series and that helps put it a cut above the other documentary series that are done is (narrator) Liev Schreiber. What's the process of getting him to do this? He does a great job with setting this up.
A: Liev Schreiber has been the voice of HBO Sports for about 25 years. He started with us on History of the AFL and has done every documentary, every 24/7. The writing team of him and Aaron Cohen, who is our 24/7 writer and documentary writer, who works with Liev on every one of these shows, is something I agree is totally different and unique and is a major part of what makes this so great.
Q: We'll leave with this: Is there anything that you want to communicate to the viewers?
A: I just think that while each episode of this series stands on its own, there is a plan for each of the four episodes. So it's kind of interesting to me that when someone is worried when their favorite player or something isn't in a single episode. They can trust us, it will be in a future episode. We're as up on what we need to be up on as you think we are. So when you watch all four, then you realize "OK, now I see what they did what they did." I think the previous two NHL 24/7 series bore that out. You can access something you never saw before like with the officials, I think that aired in Episode 3, you wouldn't have been asking that question after one or two episodes into the series. So when you look at it as a whole, these things are even better than individually.
Q: We all are excited to watch the last few episodes. The only complaint I have is the series is too short.
A: You and I both.
The former Boston Bruin was the first black player to play in the NHL

Inclement weather led to the Charlotte Checkers and Bridgeport Sound Tigers playing in front...

The NHL chose the Detroit rocker as its All-Star Game entertainment and not everyone is th...
NHL fans from all over seem to agree on one thing: Hating Kid Rock

The team tweeted on Monday that Shaw would be re-evaluated in 7-10 days

The Montreal forward was hospitalized after taking a Zdeno Chara slap shot to the head