50 things things to watch for and ask in the 2013-14 season
The 2013-14 season is right around the corner, the first full season under the new CBA. There's a ton to watch in what should be an intriguing season.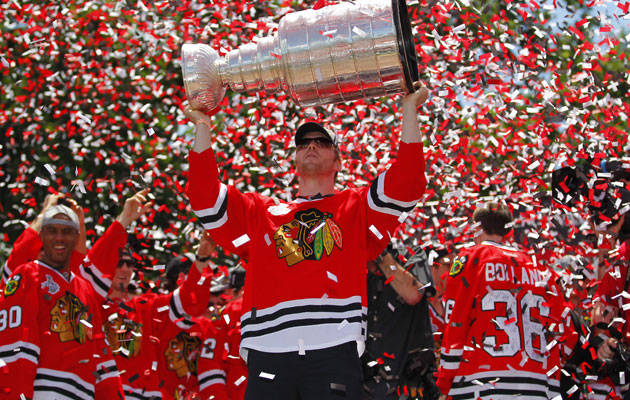 NHL previews: Atlantic Division | Metropolitan Division | Central Division | Pacific Division
1. Realignment: For the first time in a long time, the NHL looks different. Gone are the days of six divisions of five teams, divisions that weren't always equal in stature (goodbye Southleast, so long Northworst). Now begins the days of four division that aren't all equal in another way; some have seven teams, some have eight. The new division rivals are going to get awfully familiar with each other as the new schedule will consist of a home-and-home with every team outside the division and then the rest all inside. But that's all table-setting stuff, the curious part is going to be seeing how it plays out. The playoffs will have the top three teams from each division and then the next two best records. Like the pre-90s expansion days, the first two rounds of the playoffs are designed to stay intra-divisional but the wild card role adds a twist. It's going to be different and potentially more exciting with many more meaningful games and heated rivalries with so many intra-divisional battles. It not only looks different but it will play out differently as well.
2. Blackhawks' defense of the Cup: It's been a decade and a half since we have seen a repeat Stanley Cup champion in the NHL and if any team is going to do it again, why not the Blackhawks? They were so dominant last season that they pulled off a pretty rare double in the NHL; they won the Presidents' Trophy AND the Stanley Cup. It's easy to overlook how the Blackhawks just ran away with the Western Conference last season and were so far ahead of the field it was scary. They were equally strong in the playoffs, only looking vulnerable in the second round vs. Detroit. They are clearly the class of the Central Division and Western Conference. Now that Corey Crawford has shown he can be the goalie the Blackhawks were looking for, it's so hard to pinpoint any weaknesses on this team. They're loaded all over the ice and not to mention they have the experience of dealing with the "Cup Hangover" from a few years back. If they can pull off the repeat, we're going to start to hear lot about that D word.
3. How much better can Patrick Kane be? Kane started to take his game to another level last season, and that's saying something. His scoring had begun to dip but he brought it back in the short season and now he has said he thinks he can be even better, which is kind of terrifying. He's already one of the top two or three stick-handlers in the entire world, when he's adding the other elements it's crazy to think what he's capable of.
4. Olympics! The NHL will shut down for a few weeks in February so we can see the best from every country come together for the world's best hockey tournament. Russia is the home team and loaded with skill, the Canadians are always the favorites with their absurd depth, the Swedes and Finns are always competitive as are the Czechs and then of course you have the Americans, who will bring a very strong team that came oh so close to gold in 2010. Thank goodness the NHL was able to come to an agreement to allow the players to head to Russia because in my book, it doesn't get better than Olympic hockey, even if the jerseys are an eyesore.
5. Outdoor hockey: If you like your hockey to be outdoors, you'll get it. There's the Winter Classic in front of 110,000-plus fans in Ann Arbor, there are two games at Yankee Stadium, the two Cup favorites meeting at Soldier Field in Chicago, the return of outdoor hockey to Canada and yes, even a game in Los Angeles. It's different and definitely exciting and no doubt will help hockey get more buzz but is it all overkill? It doesn't matter because it's a phenomenon for the NHL that's not going away. All we can ask for is that the playing surfaces hold up.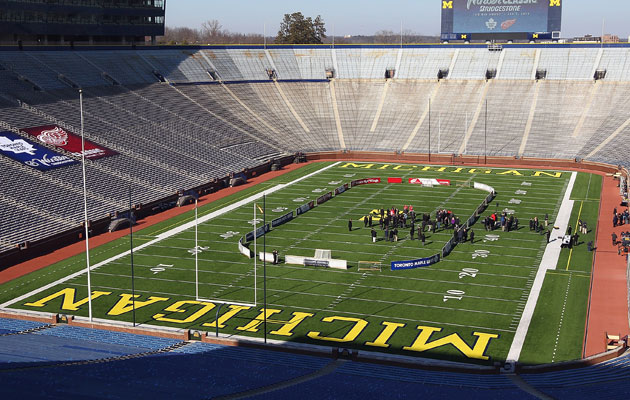 6. 24/7: It's back, hallelujah it's back. The Winter Classic is fun and all, but the best part of the experience in my eyes is the HBO show. Now, who on the Wings or Leafs will be Ilya Bryzgalov and steal the show?
7. Cap implications: GMs have already done the heavy lifting as far as the salary cap is concerned as the crunch was felt across the league this summer as the cap came crashing down. But the new salary cap rules don't end there as some of the designs of the new rules were to increase activity at the trade deadline. Teams will now be able to retain some salary in trades to help send out some of the albatrosses across the league. It's a new CBA that we're dealing with, this is the first full season it will be used. How it changes the approach of GMs, if at all, will be interesting to follow.
8. Trade deadline: The new CBA has some items in it that were designed partially to help spur the action at the trade deadline, something that had been missing a bit in recent years. It comes at a good time, too, as there could be some pretty big names on the block, starting with that pair in Buffalo. Early March should be a lot of fun and full of intrigue.
9. New rules: We're still waiting to see which rules are in or out as a decision on hybrid icing is still pending, but there are numerous others to watch. The nets are a little smaller, goalie pads have been reduced and then there are the things like tucked-in jerseys are a no-no now and players can't remove their helmets before fights. It's going to take some adjustments for everybody -- players, officials and even fans -- and it's going to be worth watching what kind of changes it will produce. Here's a guarantee: the new rules will show up at some point in a big and frustrating way.
10. Brendan Shanahan, Year 3: Here we are, two seasons through the Brendan Shanahan era of discipline and there are still so many questions. Every decision he makes will be scrutinized and it's all but a guarantee that every single team's fan base will feel wronged by one of his decisions at some point. The more interesting part, though, is seeing the players continue to adjust to the league's approach of removing head shots from the game. It's a conversation that won't go away anytime soon.
11. Does Sidney Crosby stay healthy and if so, how many points does he get? It's been too long since we've seen Crosby play a full season but this time he's coming in healthy and if he can avoid the flukes, there's no telling what his limit is and really, it's time he has a full 82-game season so we can all find out. Say what you will about Crosby but don't deny the fact there is no player like him in the league today. The Penguins don't have the deepest team around this season but the top six is still as good as it gets and Crosby is the focus. Is 130 points out of the question, 140? Hopefully we can find out.
12. Is this Marc-Andre Fleury's last chance in Pittsburgh? The Penguins made another postseason appearance and they were once again let down by Fleury's poor play. The difference last season is they had a strong backup in Tomas Vokoun to turn to. Even before Vokoun's recent scare with blood clots, the Penguins decided to not only keep Fleury and not buy out his contract, but keep him as the starter. You have to wonder though if this is his last chance to prove himself as Pittsburgh's goaltender. The regular season hasn't been a problem for Fleury, it's been the playoffs and if he falters again, there will be a lot of calls to go another direction.
13. Alex Ovechkin won't score like he did last season again One of the big stories of the second half of last season was the storming return of Alex Ovechkin. It took him half the season to get used to the opposite wing and when he did, he took off like he was 21 years old again. All told, he finished with 32 goals in the 48-game season, putting him on pace for 55 goals in 82 games. That's not going to happen over a full 82 this season. Remember, half of his goals were scored on the Capitals' lethal power play and one of their best power-play men, Mike Ribeiro is gone. While it would be nice if he did, the thing is the Caps don't really need Ovi to score 55 goals. While he's certainly the catalyst as last season proved, they have a very good top six and on the back Braden Holtby still hasn't proven to be anything but good at the NHL level.
14. Phil Kessel/Dion Phaneuf contract situations: The Toronto Maple Leafs are never not interesting, you must give them that. Just after GM Dave Nonis finished tip-toeing through the summer's salary cap mines he helped make in Toronto with some big contracts, he has to worry about his big unrestricted free agents for next summer. Kessel has said he doesn't want to negotiate during the season while Phaneuf will be looking for a lot of money as he's already making more than $6 million per season. The longer these situations drag out, the more it will potentially hang over Toronto's heads and if the Leafs aren't looking so hot in the second half of the season while these situations remain unsolved, it will get mighty interesting.
15. Were the Leafs all smoke and mirrors? Toronto finally experienced what the playoffs were like again last season, that's the good news. The bad? It seemed to be done with a pretty unsustainable pace of play. It was a routine event that the Leafs were outshot and sometimes by wide margins. No, shots aren't the be-all of hockey but reason stands to say if you shoot more than your opponent, you're likely to score more. They're tough to read because of that because all their pieces put together, the Leafs look like they have a pretty nice team with no obvious holes at this point with James Reimer's step forward last season and the addition of Jonathan Bernier to join him. Basically, the Leafs can go any way this season. The intrigue.
16. Does the offense open up on Broadway? There's no denying the Rangers had success under John Tortorella but his style -- both on the ice and in the dressing room, apparently -- wore thin. Torts is gone and Alain Vigneault is in. Sometimes people forget that the Rangers weren't a bad offensive team in the regular season the past few years but it always tightened up to shot-blocking, zone-clogging hockey in the playoffs. Vigneault should have things open and the Rangers, with their good collection of top-six talent, may very well flourish. The question is if that will have any adverse effects on Henrik Lundqvist who thrived in Tortorella's system.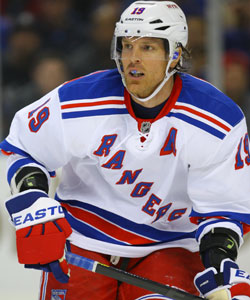 17. Brad Richards watch: Brad Richards still has a lot of years on his contract but this is still ostensibly a contract season. The Rangers kept one of their amnesty buyouts and it seems awfully clear it's to see what kind of season Richards is going to give them and if he's still worth the big contract he has. There was serious deliberation of whether they would buy him out before this season or not, eventually the decision was made to keep him and hope he'll thrive under Alain Vigneault. The pressure is on.
18. The Devils are changing and it will be tough: The shock of the summer was Ilya Kovalchuk's sudden retirement so he could return to Russia to play in the KHL, putting the Devils in the unenviable spot of replacing their best player a summer after replacing another elite player in Zach Parise. They already struggled to score last season despite very good possession numbers and that will remain an issue. You don't lose a guy like Kovalchuk (and David Clarkson, for that matter) and become a more potent offense. I like Michael Ryder, but adding he, Ryane Clowe, Damien Brunner and Jaromir Jagr doesn't seem to make up for the diminished scoring. They have a good collection of forwards at this point, not a great one.
19. Is this Martin Brodeur's farewell tour? Broduer hasn't really tipped his hat but this has the feeling like it might very well be the last season for the legend. He was definitely not the best we've ever seen him last season as his numbers were subpar, especially for how few shots he faced. Plus you have the added dimension of Cory Schneider coming in as the successor but there's no doubt that right now Schneider is the better goalie. It's going to be an interesting juggling act for coach Peter DeBoer, especially if it becomes painfully clear Schneider is the better option.
20. It IS Teemu Selanne's farewell tour: We've been playing the game Will He Retire? for a few years now but Selanne has said this is it, so it's awesome he waited until now. A player like Selanne, one of the great players of all time and one of the most beloved league wide, will get a chance to visit every arena, a chance for every team to show him the appreciation. The scene in Winnipeg especially will be incredible. More important than the well wishes, though, is how much Selanne can give the Ducks at this point because they have a division title to defend (sort of) and his contributions on the wing will be needed. Finally, does he have 25 goals left in him? If so he finishes his career with 700. Teemu Forever.
21. Detroit's demise was greatly exaggerated: GM Ken Holland said before last season that it might be the year the Wings' incredible postseason streak came to an end. He was almost right but then a funny thing happened; the Wings found their stride just in time and were within an eyelash of knocking off the Blackhawks. Valtteri Filppula left, replaced by Stephen Weiss and the add Alfie. They get a lot of charges of being old but they have a young D corps and are injecting some youth up front. The Wings are still primed to make noise.
22. Daniel Alfredsson vs. the Senators: Daniel Alfredsson's decision to say good bye to Ottawa before what many expect is his final season was a total shocker, the fallout somewhat ugly for a franchise icon. By going to Detroit, Alfie stays in the division so he's going to get a lot of chances to play his former team. It will be weird seeing him in anything but a Sens sweater and while the respect will remain, Alfie becomes an enemy in Ottawa. What a strange world.
23. Can the Senators meet rising expectations? Two seasons ago before Paul MacLean started, expectations were very low. Two years later and they are very high, many seeing this team as a true Stanley Cup contender. If they can stay healthy, which has been a big if the past two seasons, they're potential is indeed great. Even without a healthy Erik Karlsson and Jason Spezza they made a lot of noise last season. Now they're all ready to go and replaced Alfie with Bobby Ryan. Now the pressure's on.
24. Were the Blue Jackets just hot last season or turning a corner? Hockey excitement returned to Central Ohio last season as the Jackets caught fire and nearly came all the way back to earn a playoff spot, losing out on the eighth position because of a tie-breaker. The question is was the team just in a good stretch of hockey or were they starting to turn the corner as a franchise? The problem was scoring and they were relying way too much on their goaltender. They do have an increase in firepower now with Marian Gaborik and Nathan Horton (who starts injured) but they still have a lot of work to do. In the Metropolitan Division, it's hard to see anything but a fallback for the Blue Jackets.
25. Sergei Bobrovsky can't do that again: Bob did it all for the Blue Jackets. Without him doing his best Jonathan Quick postseason impression for the second half of the season, they don't sniff a playoff berth and he doesn't win the Vezina. I suppose it's possible the proverbial light flipped on for Bobrovsky last season but that was one heck of a zone he was in and it's almost impossible to think see him doing it again.
26. Ray Emery, Steve Mason and the Flyers' goaltending struggles: The Ilya Bryzgalov era lasted for a whole two seasons, a total failure. Make no mistake, missing the playoffs in Philadelphia equals failure. Instead of going with the big bucks goalie, the Flyers are taking the duo of Mason and Emery, leaving as many questions as they've had for years. Mason finished last season strong in Philly but it was a small sample size and the big sample size that we've seen from him isn't encouraging. Emery meanwhile had a good season last year, but he was the backup in Chicago, it's hard not to have a good season in that role. The Flyers still have questions on D as well but they will only go as far as their goalies take them at this point.
27. Carey Price is the key in Montreal: The Habs had a really strong season everywhere but in net. They scored well and they defended well, the just didn't get the goaltending to match. Price started strong but took a massive turn for the worse down the stretch, sabotaging the Habs at the worst time; playoffs. He's proven to be a better goalie than that but the question is how much better.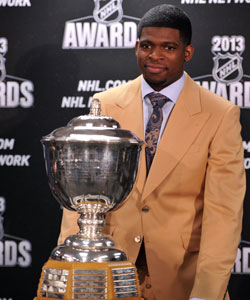 28. P.K. Subban is about to be a rich man: Subban missed the first couple of games last season due to the lack of a contract and eventually he signed on for a very low-cost bridge deal. He didn't look like he missed any time at all as he won the Norris Trophy with a terrific season. There's no reason he can't do that again, especially with a new contract already due. The Canadiens took a gamble with a short-term deal and it's going to come back to bite them as Subban's price went up exponentially last season. Then again, the Habs can't be too upset if Subban plays his way up the pay scale, that means he and the Habs are playing well.
29. Tim Thomas in Florida: He's baaaack. The former Conn Smythe and Vezina winner took a year from the NHL (and the continuous questions about his political stances) at the age of 38 and is back on his feet again. It will be strange seeing Thomas wearing anything but the Bruins B but that's what's going to happen as he shares the net with -- and mentors -- Jacob Markstrom in Florida. Last season was absolutely dreadful for the Panthers but if Thomas has the same form we saw from him before he left -- or even close to it -- the Panthers might surprisingly be not so bad, their possession numbers were positive last season and they were devastated by injuries. Still, the climb will be tough and Thomas will be one of the more compelling players to watch to see if he still has it because when he does, there are few goalies more fun to watch.
30. Will the Lightning be more than just the Stamkos/St. Louis show? In Steven Stamkos and Martin St. Louis the Lightning have two of the best offensive players in the league, there's no doubting that, but will they have the necessary play around them to reach their potential? The Bolts have worked hard at trying to improve the defense and while it's better than it was, it's still not the best group you'll see. The real issue has been in net and last season it didn't appear like Anders Lindback was the answer but Ben Bishop looked like he might be in his limited time. Despite the terrible record last season, the Lightning were almost an even team in plus/minus, they weren't as far away as it might have appeared (or is it the other way around?). Meanwhile, the Stamkos 60 Watch resumes.
31. Do the Islanders prove last season wasn't a fluke? The Islanders snuck up a bit on the Eastern Conference last season, finally taking that next step and making a long-awaited return to the playoffs. It hadn't been that long but it sure felt like it as the Isles had been so mediocre it felt like forever. But John Tavares stepped up his game to become a true MVP candidate and the youth the Isles have continued to grow. The concern is in net where the Isles had a chance to upgrade at the position but elected to re-sign Evgeni Nabokov. While they are going in the right direction, they will face a lot of good competition in their new division and will have their hands full making it back to the playoffs.
32. Will the Oilers take the next step? This has been a question for years now in Edmonton it seems but maybe, finally, the Oilers will start to really make inroads. They at least got out of the basement last season and didn't actually pick first overall, the first time in four years that didn't happen. What those years of picking high did, though, was stock this team full of elite talent up front. Taylor Hall has already become an exceptional player, truly one of the best wingers in the game. Where they still have question marks, though, is on the back end, though the last line, Devan Dubnyk, is a steady if not spectacular goalie. The wild card might just be new coach Dallas Eakins, who comes in highly regarded from AHL Toronto and could bring some exciting ideas to the table.
33. How bad will the Flames be? The answer: very bad. They still are lacking at center down the lineup, have a massive question in net without Miikka Kiprusoff and all in all have very little to look forward to this season. It's not going to be a fun year but the good news is the Flames have finally decided it's time to start the rebuild so at least this painful season should be different than the past few, knowing they are working to try and fix it.
34. The Avalanche's youth: Slowly but surely, the Avalanche have built a very nice group of forwards in their top six with guys like Gabriel Landeskog, Matt Duchene, Ryan O'Reilly and now you add Nathan MacKinnon to the mix. The concern is if they will be held back by the defense which was not good last season defensively and provided next to no offense as well. They didn't address that concern. So the youngsters will be fun to continue to watch grow, the question is if it will start to pay off.
35. Patrick Roy will be fun to watch: As in his press conferences. Roy is as fiery as coaches get and he's taking over the Avalanche as a rookie coach at the NHL level. It's not often you see guys who were as good of a player as Roy was have success behind the bench but Roy put in his dues at the junior level and waited to make the jump. He's loud and isn't shy to express his thoughts. So just have some popcorn handy when Roy is at the podium because we're going to see fireworks a couple of times.
36. The new John Tortorella: Torts has been a highlight reel of his own kind for his combative and sully press conference over the years. Torts vows to be a different, more patient man with the media in his new home in Vancouver. It's pretty simple really, though; if he's able to get the Canucks on track as their window appears to be closing, it will be easy to be nice. What's going to test his new approach will come if the Canucks start to hit the skids. Just turn off your cell phones.
37. The old Roberto Luongo: It was hard to fathom this a year ago, but the Canucks are Roberto Luongo's team again and without a proven backup, he's going to have a heavy burden and schedule. Essentially the Canucks couldn't trade him, his contract was immoveable, so Cory Schneider was dealt instead. It's up to Lou to prove he's up to the task still and they didn't make the wrong decision.
38. Jonathan Quick's bounceback season: Don't forget about the Kings, they're going to be right there competing for the Cup again, especially if the seemingly inevitable bounceback comes from Quick. As crazy as it sounds, he was the weakness last season, costing them better position for the playoffs with subpar play in the regular season. He returned to form in the playoffs and helped lead the Kings to the Western Conference finals again. Now with the USA goaltending job on the line as well, Quick should be primed for a great season and the Kings will reap the rewards.
39. Let's talk about how good Anze Kopitar is: Kopitar has a couple of things that work against him. For starters, he plays at center, a position that is steeped in stars across the league. Secondly, he plays in LA and on the West Coast. It unfortunately hides what an excellent player he is all-around so maybe this will be the year he gets his due. I have a hunch he's going to make everybody take notice.
40. The last go-round for the Sharks core? Joe Thornton, Patrick Marleau and Dan Boyle are all entering the final seasons of their contracts and aren't exactly in their primes anymore. They're not over the hill either, though, and it could all lead to a season where the Sharks finally meet the expectations many have had for them for so long. It helps having Joe Pavelski and the still-improving Logan Couture as well with a pretty strong defensive corps and a goalie in Antti Niemi who has been there before. If this is their last hurrah together (they certainly could all be re-signed), they have a chance to make it special.
41. New faces in Boston, same old success? After their Stanley Cup run in 2011, the Bruins were able to keep almost the entire gang together and that resulted in another run to the Cup Final last season. Eventually though the cap catches up and the Bruins made some changes. The important part is the core remains with guys like David Krejci, Milan Lucic, Patrice Bergeron, Zdeno Chara and Tuukka Rask. The addition of Loui Eriksson cost them Tyler Seguin and Rich Peverley but that's a very exciting addition to go along with veteran scorer Jarome Iginla. They have some new cast members but the Bruins should still be very, very good. Hats off to Peter Chiarelli navigating tough waters.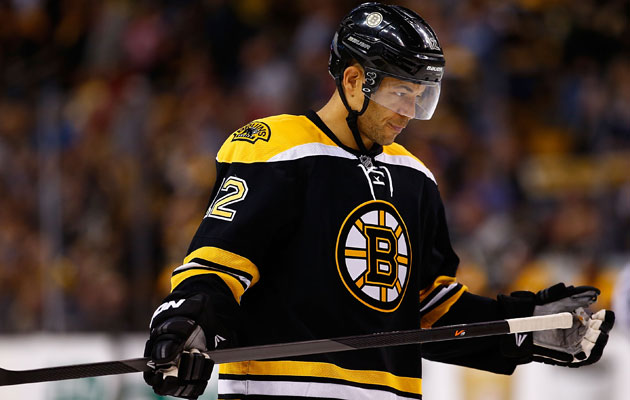 42. Thomas Vanek, Ryan Miller and the Sabres' direction: The Sabres will not be good. They might not be dreadful if things go well, but they shouldn't be good. That's going to do nothing to quell the speculation surrounding pending free agents Vanek and Miller, guys whom any team would love to get their hands on. While the Sabres rebuild/go young, these two will face continuous questions about their futures.
43. Which Brian Elliott and Jaroslav Halak will show?: In Year 1 of the Ken Hitchcock era, these guys were unbeatable. In Years 2 of the Hitchcock era, they were a complete liability between injuries and poor play. There's no denying the Blues have the team to play for a Stanley Cup with Hitchcock leading the way, they just need the guys on the back end to play their part. The wild card? Both goalies are in contract years.
44. Year 2 of the Parise/Suter era in Minnesota: Excitement about the Wild was way up in Minnesota last season and they did at least deliver a playoff berth (just barely). The new additions of Zach Parise and Ryan Suter were what was expected, perhaps even more so in regards to Suter, but they still need a little more help. The Wild have some very promising young players who continue to be broken in at the NHL level, you just wonder if they're quite ready to provide the support the star pair needs. They seem to have the inside lane on the third playoff spot in the Central but the pressure's on. When you spend so much on guys like Parise and Suter, playoffs are the expectation.
45. There's more than a new logo in Dallas: The Stars have gone really green and with a new GM and coach, have started going in a different direction, too. The big move was bringing in Tyler Seguin from Boston and perhaps a fresh start will see Seguin take off. He's going to return to his natural center position, helping to severely upgrade a big weakness for Dallas. They have some old guys spread through the lineup but they have plenty of youth, too. Watch out for Alex Chiasson as well as rookie Valeri Nichushkin. Now we wait to find out if they're any better for it all as the Stars have been mired in perpetual mediocrity for years, an awfully tough spell to break.
46. Did the Predators actually improve the offense? As usual, defense wasn't really an issue for the Predators last season even without Suter. And as usual offense was a big issue as the Preds were tied for the Panthers with the fewest goals in the league. They set out to revamp that and added Viktor Stalberg, Matt Cullen and crew. It leaves the question still begging to be answered, where will the offense come from? Rookie Filip Forsberg could help but the Preds need to find some scoring in a hurry.
47. The Hurricanes will still be held back by their defense: By most expectations, the Hurricanes disappointed last season. With a group that could score, some saw big things for them but a combination of an injury to Cam Ward and just an overall down defense, they struggled to a bottom five finish in the league. The Canes want to play an open, up-and-down game and while that's exciting, it asks a lot of the defense. Without Joni Pitkanen for the entire season, things likely won't be much better, especially now that they're out of the Southeast.
48. Are the Jets on the right track or just treading water? The Jets haven't made the playoffs while in Winnipeg, yet they continue to keep together a core that hasn't achieved much yet. The youth argument is starting to run its course too as these guys are maturing and should be ready. That's the growing expectation in Winnipeg, this is the season they need to make the move and get back to the playoffs. There's a chance in what looks like the softest of the new divisions (minus the power at the top), if they struggle to a playoff- less finish again, you wonder if they'll re-evaluate the direction.
49. The Coyotes finally have stability: Finally, we no longer have to hear about the stories of their sale or have the questions of relocation hanging over their heads. That's all history and the Coyotes are in the desert to stay. That's good for a lot of reasons, and it should be very good for the team, too. Not only have they stepped up the investment in the team slightly with new owners, able to sign a guy like Mike Ribeiro to a big contract this summer. Most importantly though, the uncertainty is gone. Will that sense of stability help the Coyotes get back to the postseason?
50. The rookies: With the cap coming down, some veterans were pushed out as teams went with the cheaper, in-house options. That's good for those who want to see the prospects because there is another strong class that's going to be a lot of fun to follow. Chris Peters took a deeper look at that.
SportsLine's Mike McClure, a DFS pro with more than $1M in winnings, gives optimal lineup...

Without the star power of the NHL, America is banking on big contributions from some AHL, KHL...

Lincoln Financial Field will play host to the annual outdoor game on Feb. 23, 2019
The Lightning stay on top as other teams begin to catch fire

The NHL said the Flyers defenseman was 'reckless' and used 'excessive force'

'How you gon' do that hockey?'