50 things to know, watch for, and ask during the 2013 season
Now that we know hockey is finally going to start, we have a lot to look forward to in 2013. New faces in new places, the Los Angeles Kings looking to be the first repeat champions in 15 years and perhaps at least one legend who could be going through his final season in the NHL to go with the one who said goodbye in Detroit after the 2011-12 season.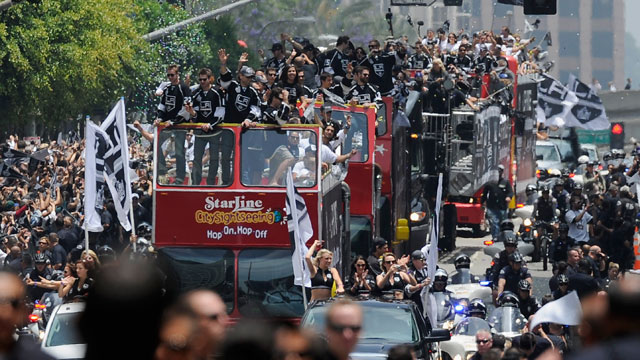 Will the Los Angeles Kings get to do this again after the 2013 season? (Getty Images)
Welcome back, hockey. We've missed you.

There are no congratulations to hand out here -- well, except maybe for mediator Scot Beckenbrough -- because it never should have taken this long for the season to start. We also never should have lost so many games and signature events.

But now that we know it's finally going to happen, we have a lot to look forward to in 2013.
There will be new faces in new places, the Los Angeles Kings will look to be the first repeat champions in 15 years and perhaps at least one legend could be going through his final season in the NHL.

In a shortened season, every game is going to feel even more important. So here are 50 things to know, ask and watch for in the NHL during the lockout-shortened 2013 campaign.

It's sure to be something.

Better late than never, right?

1) Will the Los Angeles Kings repeat? I've been of the belief for quite some time that the 2011-12 Los Angeles Kings were not a team that was simply able to "get hot at the right time" and cruise through the playoffs.
Instead, they were (and still are) a great team that simply had a bad start to the season and found its groove in early December. The low point for the Kings last season came on Dec. 13 with a record of 13-13-4. From that point on, including the playoffs, they put together a 43-18-9 run and dominated the Stanley Cup playoffs in a way that few teams ever have in the current format. A coaching change helped, as did the trade for Jeff Carter, but this team was a juggernaut and had All-Star talent up and down its roster.
And now the Kings look to become the first team since the 1998 Red Wings to repeat as champions. One of the reasons that it's so hard to repeat in the NHL is how demanding and draining the schedule is to play 82 games, go through a full playoff run and then do it all over again with only a couple months off in between. The lockout actually gave the Kings a bit of a break in that regard. It will be interesting to see if that has any impact on them in the playoffs (because they will be there) as they attempt to defend their crown.
2) How will the NHL recover from yet another lockout? Three lockouts in 18 years is no way to build a fan base. The NHL will have to do better than simply painting some generic "Thank You Fans" messages on the ice like it did after the 2004-05 lockout. And it's not going to be as easy this time without the excitement of new rules (like the shootout) and a couple of generational talents in Alex Ovechkin and Sidney Crosby making their debuts.
Or maybe people have short memories and will flock back to the arenas in record numbers.

3) Detroit without Nicklas Lidstrom: For the first time since the 1990-91 season, the Detroit Red Wings are going to be without future Hall of Famer Nicklas Lidstrom on their blue line following his retirement over the summer. Detroit's defense is a shell of what it used to be and has undergone quite a change over the past couple of years due to retirements (Lidstrom, Brian Rafalski) and free agency (Brad Stuart). What was once a strength is now a huge question mark without a true No. 1 rear guard and some inexperience. Good luck, Jimmy Howard. You might need it.

4) Will Zach Parise and Ryan Suter make Minnesota a playoff team? For 30 games last season, the Minnesota Wild were, according to the standings, the best team in hockey. Most of us knew that wasn't going to last. Then the bottom predictably fell out in the second half (regression to the mean stinks, doesn't it?), and they ended up as one of the worst teams in the league. The front office responded last summer by snagging the top two free agents on the market and signed Zach Parise and Ryan Suter to 13-year contracts. It made the Wild the talk of the NHL for the first time in … well, perhaps ever. They're still not a Stanley Cup contender, but their additions should at least push Minnesota into contention for one of the final playoff spots in the Western Conference.

5) Sidney Crosby is back and healthy: After appearing in just 63 games over the past two seasons due to concussion-related issues, Sidney Crosby had half of his age-25 season taken away by a labor dispute. That means hockey fans have missed out on significant portions of what should have been three of the peak seasons for the best player in hockey. And that's unfortunate. When it comes to the lockout, it's also unacceptable and embarrassing. But he's healthy now. And even though he will once again miss out on the opportunity to play a full 82-game schedule, this still could be some of the best hockey that he will ever play. Even last season in 22 games when he still wasn't quite 100 percent, he averaged a career-high 1.68 points per game.

6) How many goals will Steven Stamkos score? Since Steven Stamkos entered the NHL in 2008-09, no other player has scored more goals than his 179. Last season, Stamkos became only the second player in 15 years to reach the 60-goal plateau, and he should be poised to take yet another run at the Rocket Richard Trophy. But how many will he get in a shortened season? Just for reference, here are his goal totals after 48 games over the first four years of his career: 6, 25, 37, 32. We'll set the over/under at 30. And we'll take the over.

7) Year two of Ilya Bryzgalov in Philadelphia: The Flyers gutted their roster before the 2011-12 season and made goaltender Ilya Bryzgalov the centerpiece with a nine-year, $50 million contract. While the team was successful, the Bryzgalov experience was most definitely not. He said a lot of wild and funny things, but his performance was dreadful in the regular season and, amazingly, even worse in the playoffs. It has to get better in year two. Right? Right?!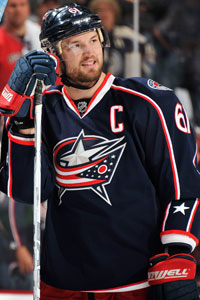 The Rangers will count on Rick Nash for more offense. (Getty Images)

8) New York's latest star attraction: Another offseason, another year for the New York Rangers to add a big-money player. This time it was the long-awaited trade for Rick Nash that was finally completed after months of rumors, speculation and proposals. Will he be enough offense to push the Rangers over the top in the East, and will his declining numbers stop (or at least slow down) in a new setting with a successful team around him? Given the amount of money the Rangers owe him, the answer to both had better be yes.

9) The Carolina Hurricanes should score a lot of goals: Given the way their defense is constructed, they might give up a lot as well. But with the additions of Jordan Staal and Alexander Semin this summer, the Hurricanes made themselves a contender in what is a very winnable Southeast Division. If nothing else, they will provide their fans with some entertaining games. Any team that has Eric and Jordan Staal, Alexander Semin and Jeff Skinner in its top six will be able to put up goals in bunches.

10) Braden Holtby's encore: Forced into duty due to injuries in the playoffs, Braden Holtby stole the show for the Washington Capitals and led them to a surprising first-round upset over the defending Stanley Cup champion Boston Bruins last year. In his first 35 games (including playoffs), he has a .931 save percentage, which is obviously a pretty huge number. It's also one that he (or any other goalie) will be unable to sustain. Regression is to be expected for him, but how much will his play drop?

11) The Capitals under Adam Oates: After watching the Capitals under Dale Hunter for the second half of last season and the playoffs and their passive shot blocking ways, it will be interesting to see how they play under first-year coach Adam Oates and whether his system will be a better fit for the talent that the Capitals have on their roster.  

12) Oliver Ekman-Larsson will become a star for the Phoenix Coyotes: He's already one of the best young defensemen in the NHL, and he made huge strides throughout last season. But this season, he will go from top young player at his position to one of the top overall players at his position.

13) The New Jersey Devils' goalies are really old: Well, they're old for hockey players, anyway. Martin Brodeur is back for another year in New Jersey, and it's time for the yearly "how much does he have left in the tank" discussion. Along with Brodeur, the Devils are also bringing back Johan Hedberg to back him up to form the oldest goaltending duo in the league. And one of the oldest we've ever seen. There are only four goalies in the NHL age 39 or older … and the Devils will be relying on two of them.

14) The Columbus Blue Jackets' goalies are really bad: The Blue Jackets are sticking with Steve Mason after another disappointing season but brought in Sergei Bobrovsky to compete with him and push him. That's not exactly great news. Of the 45 goalies who qualified for the league lead in save percentage last season, only four had a mark below .900. Two of them now play for Columbus.

15) Nail Yakupov's debut in Edmonton: For the third year in a row, Edmonton will get to debut a No. 1 overall pick. This time around, it's Nail Yakupov. He has yet to play a game for the Oilers, and already some in the Canadian media seem to be looking for reasons to question him due to his dealings with the media during the World Junior Championship in Ufa, Russia.

16) Will Florida's luck run out? The Florida Panthers won the Southeast Division last season (their first division title ever and first trip to the playoffs in more than a decade) despite giving up 24 more goals than they scored. A lot of that "success" was due to the 18 points that they picked up in the shootout and overtime losses and the fact the division was completely awful as a whole. The Panthers definitely have some great young talent coming up through the system and are on the right track, but there's no denying 2011-12 was a bit of a fluke. I wouldn't expect it to happen again.

17) Will Toronto's playoff drought end? Probably not. But with the Panthers' postseason appearance last season, the Maple Leafs now have the longest playoff drought in the NHL. They were also the only team to fail to make the postseason in the period between Gary Bettman's lockouts.

18) Will the Dave Tippett/Don Maloney magic continue in Phoenix? At the start of every season, there is another reason to doubt whether the Coyotes can continue their on-ice success. Every season, they find a way to not only make the playoffs but advance. There might not be a better coach/GM duo in the league given what these guys have to work with in terms of financial resources.

19) The new-look Dallas Stars: It was a busy offseason in Dallas. The Stars traded Mike Ribeiro, added Derek Roy and then went into the free agency retirement home to pluck veterans Ray Whitney and Jaromir Jagr off the open market. Add Roy (when he's healthy), Whitney and Jagr to a top six that already includes Loui Eriksson and Jamie Benn, and you've got yourself a pretty interesting team. The question is whether Whitney and Jagr can maintain their level of offense. Whitney hasn't slowed down at all in recent years, but Jagr's return to the NHL last season saw his production tail off dramatically in the second half of the season. Maybe the shortened season will be a benefit.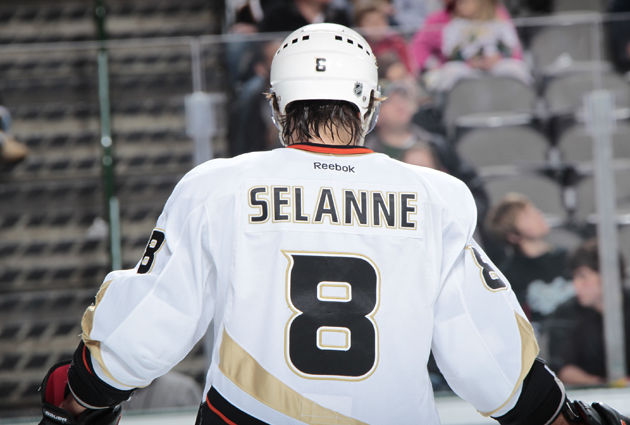 Will this be it for Teemu Selanne in the NHL? (Getty Images)
20) Teemu Selanne's last stand? Could this be the last time that we see Teemu Selanne in an NHL uniform? He's one of the game's all-time greats and, even at the age of 42, he's still the best player on the ice nearly every time that he steps out there. He already said that, had the entire season been cancelled, he would have probably retired. Also worth pointing out: He was only off by one day on his prediction as to when the lockout would end. He's the best at everything.

21) Year two of Brendan Shanahan: Year one of Brendan Shanahan in charge of player safety brought us some cool videos and some more of the NHL's inconsistency on disciplinary issues. Let's see how (or if) it changes in year two under his watch. Or if we're back to the NHL's crazy wheel of discipline where nothing makes sense.

22) Michel Therrien experience 2.0 in Montreal: The Canadiens went back to Michel Therrien for a second stint behind the bench. For their sake, it hopefully works out better than the first one. Therrien hasn't coached in the NHL since he was fired by the Penguins in February 2009. He's strict, and he's not afraid to speak his mind about underperforming players. Given the way 2011-12 went for Montreal, it has the potential to be a circus. He might even do something like this again.


23) Anders Lindback gets the No. 1 job in Tampa Bay: The Tampa Bay Lightning had the offense in 2011-12, but their goaltending was the death of their season. Steve Yzerman attempted to upgrade the position by bringing in Nashville backup Anders Lindback. He doesn't have to be great. Even a league average performance might be enough to get Tampa Bay back in the playoffs.

24) Will Winnipeg stop hating Evander Kane? Winnipeg seems to be looking for reasons to run Evander Kane out of town, and that has to stop. He's the best player it has and the one guy on the roster worthy of building the franchise around. So he likes to take pictures of himself with stacks of money in Las Vegas. What 21-year-old doesn't?

25) Where will Roberto Luongo play? Will the Canucks keep him, or is a trade to Toronto or Florida (or the always popular mystery team) on the horizon?

26) Cory Schneider: And if the Canucks decide to trade Luongo, that leaves Cory Schneider as the No. 1 netminder in Vancouver. He has been excellent when given the opportunity, and he looks poised to become a star in the crease.

27) How many games will Columbus lose? Given that the Blue Jackets A) aren't very good, and B) will have to play a shortened schedule against mostly the Central Division, this has the makings of a potentially ugly season in central Ohio.

28) Tuukka Rask is once again Boston's starter: Since Tim Thomas took his ball and went home, Tuukka Rask gets another opportunity to carry the workload for Boston. He has done it before, and he finished the 2009-10 season with the best save percentage in the NHL. Having two No. 1 goalies on their roster all those years sure came in handy for the Bruins.

29) Colorado needs more from Matt Duchene: After Duchene recorded just 28 points in 58 games last season, the Avalanche need more from their former No. 3 overall pick if they're going to make a return trip to the playoffs. He's too talented and too important to their success to not produce more.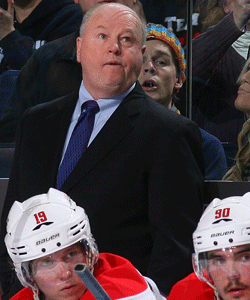 Bruce Boudreau had Anaheim going in the right direction. (Getty Images)

30) Year two of Bruce Boudreau in Anaheim: Say what you want about Bruce Boudreau, but the guy is a heck of a hockey coach. I still think Washington made a change too soon last season, and the Ducks were there to take advantage. They were a different team after bringing him on board, and his style of play seems to be a great fit for the Ducks' talent.

31) The Devils without Zach Parise: The Devils are going to have to defend their Eastern Conference crown without the services of Zach Parise, their best player over the past few seasons, after he bolted to Minnesota in free agency. They still have Ilya Kovalchuk to build around, but Parise is a huge loss. The upside: Cap space to try to find a replacement for him.

32) How many goals will Alex Ovechkin score? Since his 65-goal performance in 2007-08, Alex Ovechkin's goal scoring has steadily dropped. That's not really a surprise since 65 is a hard number to duplicate. But during the past two years, he has been down to .44 per game. Over a 48-game season, that would be 21 goals. So we'll set that as the over/under. And we'll take the over.

33) Which Tyler Myers will Buffalo get? The one who burst onto the scene during the 2009-10 season and looked like a franchise defenseman? Or the one who found himself as a healthy scratch and disappointment in 2011-12?

34) Regression in the St. Louis net: The St. Louis Blues took the NHL by storm last season and had their best season in more than a decade. Leading the way was the goaltending duo of Jaroslav Halak and Brian Elliott; they posted a combined save percentage of .932. That's unsustainable for any duo let alone one with their track record. I like the Blues' talent, but Halak and Elliott are due for a regression. Perhaps even a big one.

35) Is Corey Crawford good enough for Chicago? Speaking of the regression monster, he took a bite out of Chicago Blackhawks goalie Corey Crawford last season. Crawford's regular-season save percentage dropped all the way to .903 and was even worse in the playoffs. Chicago's team is strong enough in front of him to win the Stanley Cup, but that goaltending question is once again an issue in the Windy City.

36) The demise of the San Jose Sharks will be greatly exaggerated: The San Jose Sharks did not have a great 2011-12 season (at least by their standards) and had to fight for one of the last playoff spots in the Western Conference. They are better than that and will show it in 2013 and once again be a top contender in the conference. They have too much talent (experienced and young) to not be.

37) The youngest captain in the NHL: After one season, Colorado's Gabriel Landeskog is already a force in the NHL as a two-way player, drawing comparisons to former Avalanche great Peter Forsberg. Now he's the youngest captain in the NHL. Just remember, he doesn't turn 21 until next November.
38) The Calder Trophy race: Last year's rookie of the year race was fantastic between Ryan Nugent-Hopkins, Landeskog and Adam Henrique. This year should be equally fascinating with players like Yakupov, Jonathan Huberdeau, Mikael Granlund and Chris Kreider all in the mix.
39) Nashville's blue line without Ryan Suter: For years, general manager David Poile has built his team from within and always centered around his defense. He nearly lost Shea Weber to a restricted free-agent offer sheet and did lose Ryan Suter in unrestricted free agency. I have more confidence in Weber's ability to play at a high level without Suter than vice versa. But this was still Nashville's top defensive pairing, and it was an excellent one. They will once again need young guys from within to step up and fill that void.
40) Ottawa's Erik Karlsson will once again lead NHL defensemen in scoring: With the required "if he stays healthy" qualifer, of course. He might not lead by the same margin that he led by last season (he had 25 more points than the second highest scoring defenseman), but he will finish on top again.
41) Jiri Hudler will struggle in Calgary: One of Jay Feaster's big offseason signings, Jiri Hudler won't be able to sustain his shooting percentage of 20 percent from last season and will struggle to score 10 goals.
42) Patrice Bergeron will win the Selke Trophy again: It took too long for him to win his first, but he will take it for the second straight year as the best defensive forward in the NHL.
43) A player who will start to get the recognition that he deserves: Frans Nielsen of the New York Islanders. One of the most underrated and overlooked players in the NHL (perhaps because he plays on Long Island), he will emerge as a contender for the Selke Trophy. He won't win it, but he will start to get the recognition that he deserves for being one of the best shutdown centers in the league.
44) The Vancouver Canucks will still be the only Northwest Division team to make the playoffs: And if they get to play 28 out of 48 games against the rest of their division, they might beat up on them enough to cruise to another No. 1 seed in the Western Conference.
45) The Jets will have buyer's remorse on Ondrej Pavelec: The Winnipeg Jets gave Ondrej Pavelec a lot of money this offseason, and it is a move that they will regret. Goaltending held them back last season, and it's going to hold them back again.
46) How many points for the Art Ross Trophy winner? During the 1994-95 season, Jaromir Jagr and Eric Lindros finished with 70 points in 48 games. That's an average of 1.45 per game. That's the same per-game average that last year's scoring champion, Evgeni Malkin, averaged.
47) Sidney Crosby will win his second scoring title: While we're on the subject, we'll go ahead and say Sidney Crosby will be the player to take that award.
48) James van Riemsdyk will be Brian Burke's best move in Toronto: Brian Burke hasn't had a great run as Toronto Maple Leafs general manager, but his move to get James van Riemsdyk from Philadelphia in exchange for Luke Schenn will prove to be the best move that he has made in Toronto.
49) Pekka Rinne will win the Vezina Trophy: I wasn't a huge fan of the contract that Nashville gave Pekka Rinne last season, but he has proven his worth and been a rock for the Predators. With Suter gone and young defensemen filling a bigger role, he will get tasted a lot again and continue to establish himself as the best goalie in the NHL.
50) Team on the verge of breaking out in a big way: The Carolina Hurricanes.
For more hockey news, rumors and analysis, follow @EyeOnHockey and @agretz on Twitter and like us on Facebook.

The team tweeted on Monday that Shaw would be re-evaluated in 7-10 days

The Montreal forward was hospitalized after taking a Zdeno Chara slap shot to the head

Tampa Bay is still No. 1 and Vegas is still up there, but a few others are finally catching...
Army filed an opposition to the use of 'Golden Knights' on the last day that it was permitted...

The NBC rinkside reporter is hoping to return in time for the 2018 Olympics

Here's who wade the cut for the 2018 NHL All-Star Game on Jan. 28 at Amalie Arena in Tampa...