A short season won't have much impact on teams making playoffs
A 48-game season means every game will be important and the playoff race will be amazing, right? Maybe. But probably not.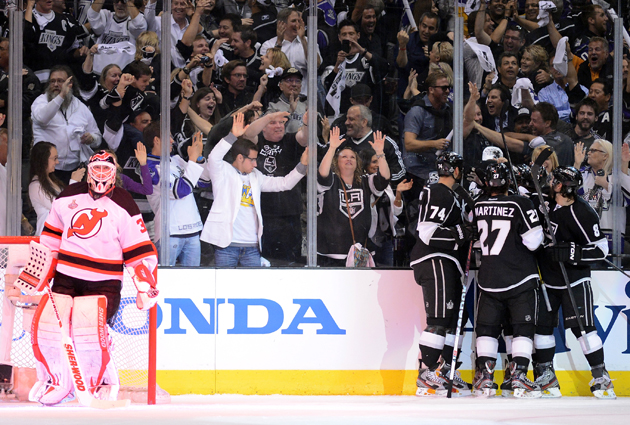 If you're expecting a shorter NHL season to have an impact on the playoff race you might be disappointed. (Getty Images)
Season Preview: Team previews | Expert picks | 50 things to watch | Top 50 players
If there is one talking point that needs to be put out of its misery before the 2013 season finally begins it's the one about how much more meaningful regular season games will be and how teams that get off to a slow start will be doomed because of the short schedule.

The point itself isn't necessarily wrong.
It's just being dramatically overblown because half of the season was lost to the NHL's third lockout in 18 years, and we have to try to figure out what it all means.

Fact is, teams that get off to a slow start are always doomed when it comes to the playoff race, and this is true in a normal 82-game season. Good teams are able to separate themselves from the bad teams after 48 games.
Sometimes even sooner. The "playoff race" is usually over long before we realize it.

Example: Last December I wrote about the playoff race during the 2011-12 season and researched the previous 10 seasons to see how often teams that were "only" five points out of the playoff race were able to overcome that deficit and qualify for the postseason. The answer was a shockingly low number. It almost never happened.
(That post was inspired by Columbus Blue Jackets general manager Scott Howson as he refused to acknowledge that his team that was 15 points out of the final playoff spot at the time was already out of the playoff race).
Of the 62 teams that met that criteria (five or more points out in mid-December) only four of them were able to come back and finish in the top-eight of their conference. Last season 15 of the 16 teams that were in a playoff position after 48 games ended up making the playoffs.
Since we're looking at a 48-game season (and I suppose until the NHL makes an official announcement there is an outside shot at 50 games, but the point here will remain the same whether the season is 48 or 50) I wanted to see how the playoff picture looked at that point in the season and how often teams in a playoff position ended up qualifying for the playoffs in the end. I again went all the way back to the 2000-01 season and found that teams in a playoff position after 48 games ended up making the playoffs a little more than 86 percent of the time (152 out of 176).
That's a pretty safe bet.

Of the 24 teams that were outside the playoff picture at that point and still found a way to qualify they were almost always overcoming deficits of just one or two points in the standings, and usually no more than three or four at the absolute most.
To repeat: After 48 games we usually have a pretty good idea as to which teams are good and which teams are bad, and which teams will be making the playoffs. While there might be some changes in the seeding with teams moving up or down a spot or two, the playoff teams themselves largely remain the same.
Perhaps the question we should be asking isn't how will the shorter season impact playoff races this year, but rather why does the NHL feel the need to play 82 games under normal circumstances?
Maybe 60 or 65 would make more sense.
If anything we might even see better hockey in the playoffs because players won't be as worn down after an 82-game grind and will be fresher and healthier when the race to 16 wins begins in the spring.
For more hockey news, rumors and analysis, follow @EyeOnHockey and @agretz on Twitter and like us on Facebook.

The league's highest-paid player and Hart Trophy winner says his Penguins counterpart is No....

Defense is better and motivation shouldn't be lacking, but the Red Wings are still too cap...

The 45-year-old free agent is taking things patiently as September approaches
The playoff drought might not end immediately, but something is brewing in restocked Buffa...

Former Lightning standout will be guarding the net in style in 2017-18

Devils are still in rebuilding mode, but they have reason for hope thanks to young additio...