Adversity from Game 1 triple-OT loss? Bruins have faced worse
The Bruins were so close to winning Game 1, expending so much energy and falling short, but it's not crushing. The Bruins have seen worse.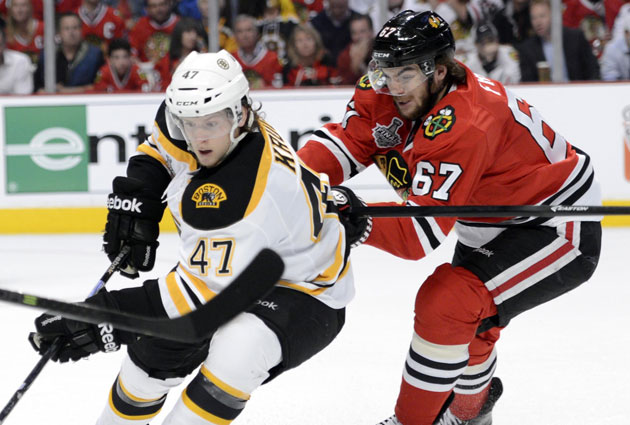 More NHL Playoffs: Scores | TV Schedule | Expert Picks | Odds | Mock Draft | Rumors
CHICAGO -- It just wasn't Torey Krug's day.
The Boston rookie defenseman, who burst onto the scene in the second round of the playoffs, forced into action with injuries on the Bruins blue line, didn't have the best of debuts in the Stanley Cup Final. His turnover in the defensive zone, a pass right up the gut, helping the Blackhawks rally to tie and allowing them to take the game in triple overtime, 4-3.
Things didn't get a whole lot better when he got back to the hotel.
"It's funny, I woke up this morning, I dropped my phone and that's broke too," Krug said Thursday. "Maybe my hands just haven't been working in the last 24 hours."
Just to be clear, he didn't throw it out of anger. It was just another unfortunate moment, another bad turnover, if you will.
"I dropped it. I was standing there, I think I received a text and out comes my phone. I had the opportunity to catch it a couple of times and ... it just wasn't my morning, I guess. It didn't crack but the screen's black and I could hear text messages and phone calls going through but I just couldn't see anything."
Perhaps that's for the best right now. The Bruins are just ready to move on, the less distractions the better. It does no good to dwell on the past.
Game 1 was so close to being theirs, yet so far. So close because the Bruins had numerous excellent chances to end the game in any of the three overtime periods. So close because they had a two-goal lead in the third period, watching it slip away in a matter of minutes.
So far away because the Blackhawks outshot the Bruins 63-54 on the night, out-chanced the Bruins 132-85. So far away because there is no such thing as a good lead on the road, especially against a team like Chicago. The only thing now that needs to be far away is the memory of that game for the Bruins.
"It's one game. Yeah, it would have been nice to win that game but it was one game," Bruins forward Chris Kelly said. "We have another game on Saturday. If we come out and play well, people will forget about that game."
Fans likely won't forget because the game was simply awesome, but you get the point. The Bruins have to move along.
"Wasting our time thinking about what could have been, what should have been is a waste of our energy," coach Claude Julien said. "What's done is done. I don't think it's going to be an issue with our hockey club."
The value of experience is so often overplayed in the postseason, but this is a case where experience truly does pay. The Bruins have been through brief series -- such as the Eastern Conference finals this season -- and they've been through tough series. They have faced just about all the adversity a team can see in the past few years. A triple overtime loss won't break them.
"Early in your career, your first time around, the highs are higher, the lows are lower. It's easier to ride those big ups, those highs, but you get some pretty big swings," Andrew Ference said. "That's why you see a lot of older guys have a lot of success in the playoffs. It does help in situations like this to go over it. It sucks having guys that are emotional train wrecks in the room, it really does. It's contagious. You tell them to shut up every once in a while. You need to have an atmosphere that's calm."
It's the resiliency of a great hockey team, a badge earned when the Bruins won the Stanley Cup two years ago. That team, basically the same as this one, dealt with worse than just a Game 1 loss. How about a 2-0 hole to the Canucks in the Cup Final? How about losing the first two games to Montreal at home in the first round of 2011. Obviously, they erased both of those obstacles.
It's not something you want to necessarily be versed in, but Boston has been there, done that.
"You can chalk it up to experience," Julien said. "We don't get rattled anymore. We stay in the present, don't live in the past or live in the future. We've got a good group that has been through a lot. Not a lot has to be said."
Shaking off a game like Wednesday's is a relative piece of cake. Shaking off blunders like Krug's ill-advised pass up the zone is old hat. Being able to chalk a game up to simply being a matter of "hockey breaks," as Julien called them, is easy to accept and just move on. That's just hockey for you.
It doesn't mean the Bruins simply dust it off their shoulders like a bad case of dandruff. There is a little release. After the game, Bruins goalie Tuukka Rask called the pass terrible, sounding frustrated with the rookie. But that was that -- after a tough, nearly 120-minute game, a quick release and nothing more.
"I don't think he was blaming Krug, he was just saying it was a mistake," Julien said of Rask's comment. "It wasn't a good turnover, but he didn't have that many options, either, with a tough line change and everything else. I think if you balance that out there are a lot more positives in Torey's game than not."
Even the rookie, with some help from his veteran-laden team, was able to say what's done is done.
"I was definitely able to bounce back and move on," Krug said. "Now I'm just looking forward to getting back to the rink and, unfortunately, it's taking what seems like forever to get back to it."
That rest is welcome in the sense that Wednesday night was the equivalent of a double-header, but the best thing to do, tired legs or not, is just move on as fast as they can, fatigue and all. The Bruins are more resilient than a smart phone.
The former Boston Bruin was the first black player to play in the NHL

Inclement weather led to the Charlotte Checkers and Bridgeport Sound Tigers playing in front...

The NHL chose the Detroit rocker as its All-Star Game entertainment and not everyone is th...
NHL fans from all over seem to agree on one thing: Hating Kid Rock

The team tweeted on Monday that Shaw would be re-evaluated in 7-10 days

The Montreal forward was hospitalized after taking a Zdeno Chara slap shot to the head