After John Scott's latest, Sabres need a fresh start from top down
The Buffalo Sabres are bad and things are getting worse with bad incidents abound. The heat should be on from the management on down.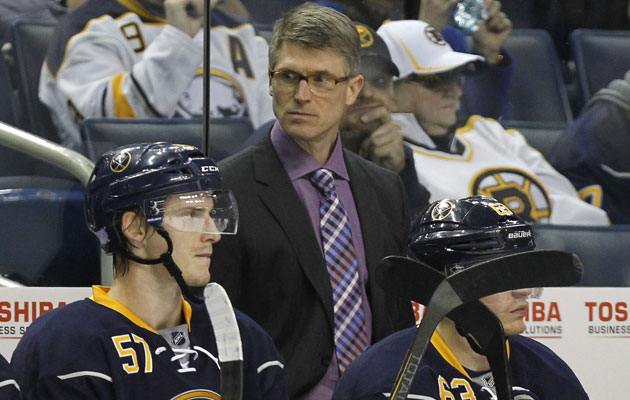 More NHL: Scores | Standings | League Leaders | Odds | Injuries | Power Rankings
Something stinks in the Buffalo sports scene and for once it's not the Bills.
The Sabres are an absolute mess right now. Maybe mess doesn't even do it justice, maybe they're a dumpster fire or any number of unflattering comparisons. Whichever description fits best, just know it's bad. Everybody knew it was going to be a tough season with rebuilding and all but a 1-9-1 start? Brutal.
Perhaps that would be palatable -- rebuilds pretty much require losing -- if the Sabres weren't mucking up every game they play in (it just feels that way at this point). There's an old cliché that people use in sports about "playing the game the right way" and I always laughed at it because it sounded so stupid. How do you play hockey the wrong way; put your skates on your hands? But now, looking at this Sabres team, I can see what it looks like to play the wrong way.
If coach Ron Rolston were a baseball player, he'd have two strikes on him already and that's without even digging into the win-loss column. Everybody remembers in the preseason when the Sabres and Leafs held an impromptu 80s night with a line brawl in front of the benches, all started when John Scott went after Phil Kessel of all people.
As a result of that Rolston was fined by the league for his choice in "player selection," something that seemed incredibly laughable at the time. Wouldn't you know it the selection of Scott reared its ugly head again on Wednesday night.
Fool me once, shame on ... shame on you. If you fool me, I can't get fooled again. Or something like that.
Rolston's choice to deploy Scott at that time is pretty much indefensible. It's tough to argue that he was just rolling all four lines given that it was Scott's first (and only) shift of the third period. It's not as though the game was out of hand at that point with the Sabres down two with about 14 minutes to play. For the team they have this season that does equate more to a mountain instead of a molehill but it's not insurmountable, even against the big, bad Bruins. I can tell you this, though; Scott isn't going to help a team come back. The man has one goal and four assists in his 187-game career. His lone goal? It came in 2009.
The guy spends most of his time glued to the bench, averaging just 4:57 of ice time per game this season as it is. So why would he be on the ice in what could be deemed a critical juncture for Buffalo? Why, to send a message of course.
I'll give Rolston some benefit of the doubt here; I'm not going to draw the conclusion that he whispered in Scott's ear with the directive to go make his presence felt. It's already implied. Scott knows his role and so does Rolston. I'll even give Scott some benefit of the doubt; I'm not sold he actually intended to light up Loui Eriksson the way he did. Regardless, if you put a 6'8 guy on the ice who punches 10 times better than he skates and whose job is to be physical and little else, that can easily happen, intentional or not. It's something they will have to pay the consequences for.
Yes, they. Scott is already facing an in-person hearing to nobody's surprise and will likely have the book thrown at him. Rolston should be facing something as well. At some point down the line, the NHL is going to start looking harder at the coaches and GMs for these big hits, it must; but that day isn't here yet. That said, would anybody be surprised if Rolston incurs the wrath of the NHL again for this? The league already set some precedent, though admittedly the circumstances were a bit different with this incident being in the midst of a game instead of at the faceoff circle.
Perhaps Rolston won't have to pay anything now to the league for Scott's actions but soon enough he'll pay.
It's not working and it's already time they do something about it. The Sabres had a nice little run under Rolston last season but it has grown abundantly clear (at least to these eyes) that he's not the man to get the job done. Indeed, he has a bad hockey club but is he the answer? This one incident shouldn't be the reason that Rolston is relieved like Mike Milbury postulated for after Wednesday's game but put together with everything else -- the Toronto brawl, Patrick Kaleta's suspension, the atrocious play -- and it might be one too many straws on the camel's back. Remember, this team is 1-9-1 and are at or near the bottom in just about every statistical category you can find (that's useful, at least).
Frankly, until GM Darcy Regier gets his job done, no coach will be the answer. The fans in Buffalo have run out of patience for his long reign in Buffalo and at this point, can you blame them? It doesn't look like there is a light at the end of the tunnel. He's made questionable move after questionable move, especially since goalie Ryan Miller was run by Milan Lucic a couple of years ago.
Has any one moment had such a profound impact on a franchise as that in recent years? Without that play, the Sabres likely don't have Scott on the roster at all and perhaps Rolston isn't already being given the label of a goon coach.
Goon coach. Is this really the legacy Ron Rolston wants to leave behind?

— Larry Brooks (@NYP_Brooksie) October 24, 2013
Is that a fair charge at this point? Honestly, it's probably not. Take a look at how Rolston has used Scott vs. other coaches. But the perception is building and as we all know, perception can become reality.
At this point the Sabres (see: owner Terry Pegula) need to sit down and take a long, hard look at where they're heading right now and decide if they have the men to lead them where they want to go. Almost as important, they need to figure out if this is the way they want to play. In both questions, I have my doubts that Rolston and Regier can really be the answers.
The Sabres are in need of a fresh start from the top down. Should it happen right this moment? No, even if that's what the fans in Buffalo would probably like to see. But with this rebuild beginning in earnest and going into next season, perhaps this pair shouldn't be the ones to lead it.
NHL players are still disappointed they won't be going to skate in PyeongChang

With Artemi Panarin in the mix and a Vezina winner headlining the defense, Columbus can be...

The league's crackdown on faceoff infractions and slashing penalties isn't without some cr...
Joffrey Lupul spent last season on long-term IR but seems to be saying he's healthy

Early playoff trouble has been evident, but the Wild tout an offense capable of making another...

Why walk with skate guards when you can rollerskate instead?