After offseason moves, are the Hurricanes Southeast Division favorites?
The Carolina Huricanes made some big moves this summer. Were they enough to push them to the top of the Southeast Division?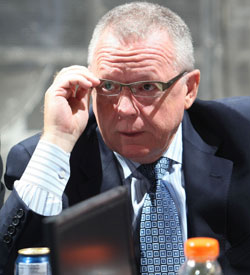 Jim Rutherford has had a busy offseason in Carolina. (Getty Images
It's not exactly a secret to say that the Southeast Division was pretty bad last season.
Perhaps even terrible, at least as far as NHL standards go.
How bad was it? Well, consider that every team finished the regular season with a negative goal-differential, while the five teams as a group were outscored by 129 goals. Just to put that into perspective, the second-worst division, the Northwest, was "only" outscored by 61 goals as a group.
The race for the top spot was pretty tight all year with any of the five teams having a legitimate shot to take it well into the season. Not because they were all great teams, or even good ones, but because none of them were good enough to run away with it. The team that surprisingly won the division, the Florida Panthers, finished the season 14th in the NHL in points and allowed 24 more goals than they scored, an unheard of number for a division champion.
Will it be more of the same in 2012-13? Or will another surprise team emerge from the pile of mediocrity and take what should once again be a wide open division?
Two teams in the division made what should be considerable improvements to their rosters this summer. Take the Tampa Bay Lightning, for example. Armed with one of the best offenses in the NHL (and the best goal-scorer in Steven Stamkos) the Lightning's season was sabotaged by a lack of depth on defense and some of the worst goaltending in the league. General manager Steve Yzerman addressed both areas this summer. First, he added goalie Anders Lindback -- who almost has to be an automatic improvement over Dwayne Roloson and Mathieu Garon as soon as he puts on a uniform -- from Nashville. He then addressed the defense by adding Matt Carle and Sami Salo in free agency.
While those moves should certainly improve the Lightning, no team in the division made more potential impact moves this summer than the Carolina Hurricanes.
General manager Jim Rutherford made it known from the start of the offseason that he was looking to make some big additions to his roster, and he wasted no time making it happen.
On draft night he swung one of the biggest trades of the offseason when he acquired Jordan Staal, one of the top two-way centers in the NHL, from the Pittsburgh Penguins in exchange for Brandon Sutter, Brian Dumoulin, and the No. 8 overall pick in the draft (which Pittsburgh used to select defenseman Derrick Pouliot).
After a brief flirtation in the Rick Nash trade talks, Rutherford stayed true to his word and was willing to take on unrestricted free agent Alexander Semin on a short-term contract, signing him to a one year, $7 million contract last week. It's a move that resulted in some extreme reactions in both directions, ranging from what a steal it could be to what on earth the Hurricanes were thinking bringing in a guy like Semin.
(I fall on the great signing side -- a lot of money, sure, but as a one-year contract there's not a ton of risk involved.)
What makes the signing even bigger for Carolina is that it also weakens one of its top competitors within the division (the Capitals). There's no doubt that Semin has his share of critics (especially in Washington) and has some flaws to his game, but he's still a big-time talent that's capable of impacting the game in a lot of ways. The Capitals were a better team with him.
When speaking to Bob Wage of Canes Country following the signing, Rutherford had some interesting comments regarding Semin's game, the process that went into signing him, and some of the criticisms that are often lobbed in his direction regarding his defensive play and his ability to play in big moments.
From Canes Country:
"The stats we look at provide much more detail," said Rutherford. "Jason [Karmanos] looks at this and the stats show how a player performs under certain circumstances. If he can perform under pressure, at the end of the game, with the score tied, and against the best competition. The results of our analysis show that this player performs right at the top of most categories."

"Some critics like to point out that he did not do well in the playoffs, but that happens to many players from time to time. For most of his career he has performed very well under pressure."
The folks in the statistical analysis community were all for signing Semin this summer because he's always had great possession numbers (Corsi ratings) and has demonstrated an ability perform in tough situations against tough competition, far better than he's often times given credit for, as Rutherford pointed out in his comments shown above. He's also been a pretty strong penalty killer when given the opportunity in recent years.
Staal, the other big acquisition this summer, produces the same type of results in similar situations, but unlike Semin always gets the recognition. For a couple of years was relied on in Pittsburgh to play some of the toughest minutes in the NHL against the best players in the league every night. And he consistently outperformed them.
As soon as he was traded to Carolina there was talk about how he would now get a bigger role offensively and be relied on to be a top scorer. I don't know that he's ever going to be a big-time point producer, and I don't know that he needs to be give his style of play. Hockey isn't about scoring a certain number of points and getting a certain level of production out of your "No. 1 center," it's about simply outplaying and outscoring the other team. Staal is still probably going to match up against the other teams top line, he's still going to help shut them down, and he's still going to outplay them. He doesn't need to produce 80 or 90 points while playing that type of game.
The additions of Staal and Semin are not insignificant. These are big-time players that can control the play and impact the game in a positive way, and when added to a group of forwards that already includes Eric Staal, Jeff Skinner, Jussi Jokinen, Tuomo Ruutu and Chad Larose. it gives the Hurricanes a very formidable group up front. They're the type of moves that can help take a 12th place team, like Carolina was last season, and launch it into a playoff spot. And in a division like the Southeast, where every team is flawed and no one is great, they could even move the club directly to the top.
The Hurricanes are not a perfect team. They have some question marks on the roster. The biggest of which might be the defense, where the most talented and best players (Jamie McBain, Justin Faulk) are still young and lacking NHL experience. But every other team in the division has serious flaws and question marks. I think a regression should be expected in Florida. The Capitals added a No. 2 center with Mike Ribiero but also lost Semin (to a division rival) and we still don't know what sort of look they're going to have under first-year coach Adam Oates. The Lightning are better, but a lot of depends on how much of an improvement Lindback is over Roloson. The Jets ... well, they're still relying on Ondrej Pavelec in net.
It's a very winnable division, and Carolina not only has as good of a shot as any other team in it, it might have the best shot after its summer additions.
For more hockey news, rumors and analysis, follow @EyeOnHockey and @agretz on Twitter and like us on Facebook.
Vladislav Yeryomenko was the Teddy Bear Toss goal scorer for the Calgary Hitmen

The Golden Knights are finally getting their No. 1 goalie back after a 25-game absence

Washington has won four straight, and the Kings are also on a tear right behind the Lightn...
The NHL says it's only interested in expanding to Seattle, but here's a look at all the moving...

The NHL says it is only looking toward Seattle for the next expansion team

The 33-year-old defenseman hopes to help find a cure for serious head injuries in athletes