After playoff berth and 'exciting' summer, pressure's back on Leafs
The Leafs had been a joke for almost a decade. Then they made the playoffs and had a big summer, now the pressure's on to end the jokes.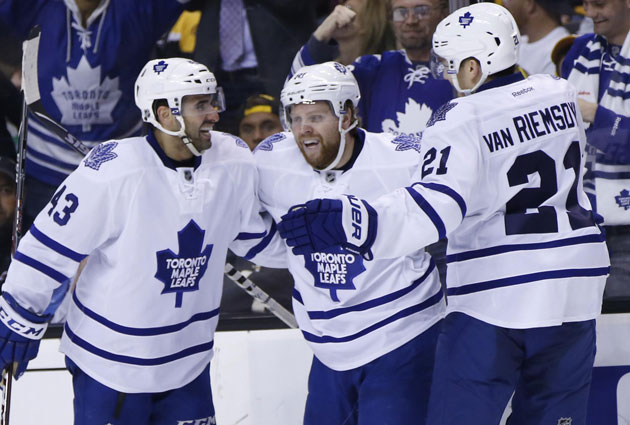 More NHL offseason: Rumors | Top 50 Free Agents | Buyout Tracker | Trades | Transactions
ARLINGTON, Va. -- As much as the Maple Leafs could in a hockey market like Toronto, they have flown under the proverbial radar for years. That was until this summer.
Under former general manager Brian Burke, the Leafs weren't big spenders in free agency. They always had the money -- something that's never at a shortage in Toronto -- but he wasn't interested in dishing out long-term deal and getting tied down. That approach certainly did hamper the Leafs' attempts at some of the bigger free agents available through the years (and probably saved the Leafs, but that's neither here nor there). Things have changed since then.
Not only was Burke ousted and replaced by Dave Nonis, but the Leafs did something crazy last season; they actually made the playoffs. The approach has changed, the expectations have changed and now the faces have changed some, too. It has been anything but a quiet summer for Toronto.
The Leafs made a trade to shore up that goaltending position (that was looking pretty shored up already) by getting Jonathan Bernier from the Kings. They traded for Dave Bolland from Chicago, paid a lot of money to sign David Clarkson and then re-sign Tyler Bozak while buying out Mike Komisarek and surprisingly Mikhail Grabovski. That doesn't even count what they still have left to do with Nazem Kadri and Cody Franson, two restricted free agents.
So as you can see, Nonis has been hard at work. You can debate all day whether the moves were actually good (I'm in the camp that believes they are worse today than they were three months ago) but it has certainly been invigorating, something that the players have noticed and have gotten excited about.
"I think it's great. It keeps guys competitive," defenseman Jake Gardiner said at Hockey USA's Olympic camp. "We got another goalie so it's going to be very competitive in that aspect and we got some more depth at center. Obviously the big free-agent signing of Clarkson was good too. Everyone is excited about the year."
You can understand why. Good or not, the Leafs' moves were eye-catching, they have been pretty flashy. For a team that made its way into the playoffs and came oh so close to beating the eventually Eastern Conference champs in the first round, it has to be exciting seeing that your team is spending big in an attempt to upgrade.
With big spending comes big expectations, though, and now the Leafs are starting to trend that direction. At least the days of laughing them off as a playoff contender before the season even starts are done. It can be a totally different world when you play with outside expectations.
"Obviously the way we kind of exceeded outside expectations last year, we've raised the bar for ourselves and we've made some different moves this offseason to hopefully get ourselves to the next level," James van Riemsdyk said. "It's exciting but we still have a lot of work to do and this year we're not going to surprise anyone. No one is going to overlook us this year not saying anybody did last year but now the bar has been raised so we have to be ready for that challenge."
The challenges could come from within as much as from the other teams. It can take time and some adjustments when you go through a few major changes like the Leafs have. It's a risk when you make the big moves, you're never quite sure what they will result in. Phil Kessel knows that.
"It's just different so I'm not sure what's going to actually happen," the sniper said. "We're a good team, right? We should be there but you can miss it easily. I don't know how it's going to work."
Before anything else they need to get Kadri re-signed and try to do the same with Franson if finances allow. Kessel is under the belief that Kadri will be signed before the season starts, saying it's not really a big deal. But we're not far from camp beginning, it's on the verge of being a big deal.
The same can be said about the Leafs this year. Whether the summer moves will actually pay off or not remains to be seen, the pressure will be ratcheted up and the unique animal that Toronto is to play in will be a factor again.
"To be successful there you have to embrace everything that comes with the city and I'm sure we're going to do that," van Riemsdyk said.
In a division that now includes the Red Wings, Bruins, Canadiens and Senators, they better, the pressure is on.
The former Boston Bruin was the first black player to play in the NHL

Inclement weather led to the Charlotte Checkers and Bridgeport Sound Tigers playing in front...

The NHL chose the Detroit rocker as its All-Star Game entertainment and not everyone is th...
NHL fans from all over seem to agree on one thing: Hating Kid Rock

The team tweeted on Monday that Shaw would be re-evaluated in 7-10 days

The Montreal forward was hospitalized after taking a Zdeno Chara slap shot to the head