Alex Ovechkin is 28 today and has quite a career to show for it
Caps captain Alex Ovechkin turns 28 Tuesday as Maria Kirilenko so adorably pointed out, a good time to look back on an great career so far.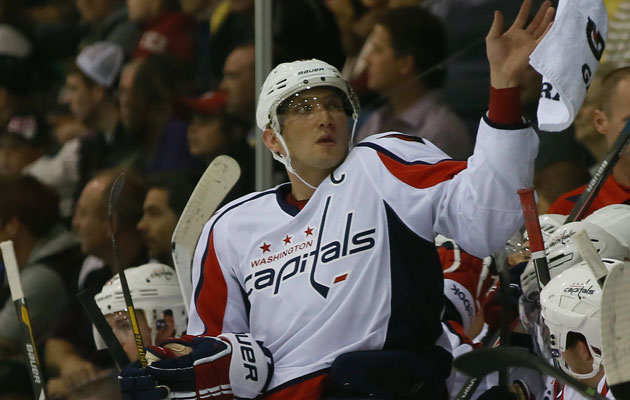 More NHL offseason: Rumors | Top 50 Free Agents | Buyout Tracker | Trades | Transactions
In sports, the age of 27 is generally considered an athlete's prime playing age. In hockey perhaps it's a little bit earlier but you can expect a player to be on the top of his game at that stage in his life. The pessimistic way of looking at that is to say it's all downhill from there.
So why a lesson in arbitrary non-science? Because on Tuesday one of the NHL's top players, Capitals captain Alex Ovechkin, turned 28, as his lovely fiancee pointed out on Twitter in a perfectly Maria Kirilenko way (if you follow her on Twitter that makes sense).
Happy Birthday my baby boy!!! ? @ovi8 Go Caps and win this freaking Stanley Cup!!! pic.twitter.com/kWZ2p1EQ6u

— Maria Kirilenko (@mkirilenko) September 17, 2013
Adorable, isn't it? Yes, Happy 28th to Ovi but this also signals him exiting his prime years. That's not to say he can't stay an elite player for many years to come, it's just that now he has about as much to look back on in his career as he has to look forward to. Oveckhin is getting old(er), you guys.
However he has a heck of a career behind him. Before turning 28 Ovechkin had wrapped up three Hart Trophies as the league MVP and has amassed 371 goals in just 601 games. For players who have turned 28 years of age (players who are younger such as Sidney Crosby aren't in the conversation yet), Ovechkin is the eighth-most prolific goal scorer in NHL history with an average of 0.62 goals per game (Wayne Gretzky and Mario Lemieux are tied with 0.82 per game at age 28).
That puts Ovechkin in some pretty spectacular company; names like Mike Bossy, Brett Hull, Teemu Selanne, Pavel Bure, Maurice Richard, Luc Robitaille and Guy Lafleur surround him on the list. It's a shame Ovechkin had one whole season taken away from him and half of another with lockouts, otherwise his raw numbers would be way higher up those lists.
Take this as a reminder to appreciate what we've seen from Ovechkin thus far in his career from terrific seasons with ebbs and flows that saw a return to form last year to some incredible highlights like we've rarely seen before.
It wasn't just the goals but the celebrations too. His exubernace drew some heat (terrible pun unfortunately intended) but was always fun.
Now all he has to do is lead the Caps to this freaking Stanley Cup!!!
The University of Denver star and Hobey Baker Award winner is drawing interest

Intrigue is high in Arizona after a wild offseason, but expectations should still be tempe...

Players are set to give personalized messages for Adidas' former hockey equipment brand
The 40-year-old center is returning to the Wild after a successful run in Pittsburgh

Edmonton locks up its 21-year-old RFA a month after McDavid's historic extension

Even with a new coach and added veteran help, the Canucks have a long road ahead