Alex Ovechkin to be first Russian torchbearer Sunday in Greece
Alex Ovechkin has a quick trip to make before the Capitals' season starts Tuesday; he's going to Greece to be the first Russian torchbearer on Sunday.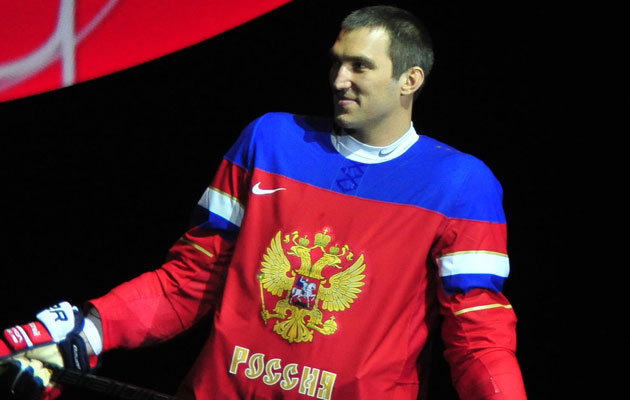 NHL previews: Atlantic Division | Metropolitan Division | Central Division | Pacific Division
Washington Capitals captain Alex Ovechkin will be the first Russian to carry the Olympic Torch when it is lit this weekend in Olympia, Greece on Sunday.
Once the torch is lit, Ovechkin will be the first Russian to touch it in the customary torch relay that precedes every Olympic Games. With the Winter Games in Sochi, Russia this February and the NHL players clear to play, Ovechkin gets an honor as the top athlete for Russia in the Games.
Thanks Sochi2014 - Coca Cola - Coaches - Teammates - Ted to make my dream to carry Olympic Torch!! See u in Greece!!!!!!!!!!

— Alex Ovechkin (@ovi8) September 26, 2013
"I'm extremely humbled and honored to be the first Russian to carry the Olympic Torch," Ovechkin said. "This is a once in a lifetime opportunity and something I will never forget. I would like to thank the Washington Capitals organization and all of my teammates for their support in enabling me to travel to Greece prior to the regular season."
Indeed, there is the start of the season to worry about, something that was a concern in getting Ovechkin to Greece for the ceremoney. The Capitals open the season on the first night, visiting the Stanley Cup champion Blackhawks in Chicago on Tuesday so that's an awfully quick turnaround. But some things you just can't pass up.
It's going to be an in-and-out trip for Ovechkin who will leave for Greece on Friday night after the Capitals' last preseason home game, do his part as a torchbearer on Sunday and then fly back to DC and be at the Caps' facility on Monday before they go to Chicago. So don't be surprised if Ovechkin looks a bit jet-lagged on the ice.
The torch will go on a tour through all 83 of Russia's regions. While Ovechkin won't carry it through his homeland, getting the torch in Olympia is a bigger honor still.
The North American love affair with Edmonton's superhuman center continues to grow

The defending Western Conference champion Predators are also heating up early in the year

The Oilers' young star remains seriously unfair
David Kelly, a Toronto-born hockey analyst, has strong advice for Edmonton vs. Chicago game...

Gary Bettman says otherwise, for the time being, but Houston could be primed for a team

Here's what you might have missed across the NHL on Wednesday night