Alexander Steen signs three-year, $17.4 million extension with Blues
Alexander Steen is second in the NHL with goals this season and on Wednesday he cashed that in with a three-year, $17.4 million extension with the Blues.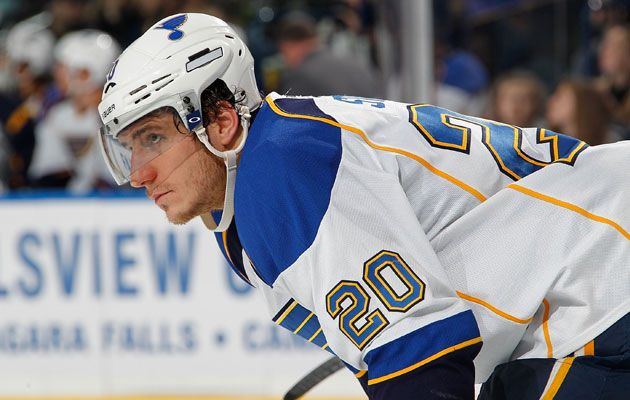 More NHL: Scores | Standings | League Leaders | Odds | Injuries | Power Rankings
St. Louis Blues forward Alexander Steen is in the middle of a career season, a season that got a lot better on Wednesday. That's because he signed a three-year extension with the Blues for $17.4 million as announced by the team.
Steen has been one of the biggest individual stories of the young NHL season as he began on a torrid scoring pace. He has compiled 22 goals, good for second in the league behind only Capitals star Alex Ovechkin. He also has 14 assists to give him a team-high 36 points in 33 games. Now he's taking this strong half-season and cashing in.
With the $5.8 million annual cap hit, Steen becomes the highest-paid forward on the Blues roster by quite a margin starting next season when the new deal kicks in. It represents a nice jump from the $3.362 million he had against the cap on his current deal that's set to expire. By signing him now the Blues are eliminating any distractions in what they hope can be a Stanley Cup season seeing how Steen was scheduled to become an unrestricted free agent at the end of this campaign.
This is the very definition of buying high, Steen's value has shot up because of a prolonged hot streak to the season. Consider that with 22 goals in 33 games, he is only two goals from matching his career high in a single season while riding a shooting percentage of 19.6, well above his career average. He won't keep this up all season.
That said, it's a pretty darn reasonable deal. Steen is still just 29 years old and by signing him for just three years, the Blues aren't going beyond his prime seasons. They are going to get the best of Steen at a relatively reasonable price, especially if he can score at a pace somewhat close to this year. He is playing a bigger role than he has before and it's yielding results.
Even if he doesn't score at a 50-goal pace in the three years of his deal and instead is closer to 30, it's still not bad, especially for the term. He has had a few injuries to cut seasons short but his track record would indicate being a 30-goal guy isn't out of the question. We know it won't be this season. He would likely have received much higher offers had he hit free agency.
Steen, who was born in Canada but will likely be on the Swedish Olympic team for the Sochi Games, was traded to the Blues in 2008 in a deal with Toronto.
The team tweeted on Monday that Shaw would be re-evaluated in 7-10 days

The Montreal forward was hospitalized after taking a Zdeno Chara slap shot to the head

Tampa Bay is still No. 1 and Vegas is still up there, but a few others are finally catching...
Army filed an opposition to the use of 'Golden Knights' on the last day that it was permitted...

The NBC rinkside reporter is hoping to return in time for the 2018 Olympics

Here's who wade the cut for the 2018 NHL All-Star Game on Jan. 28 at Amalie Arena in Tampa...