Anaheim Ducks trade rumors, trade deadline outlook
With the April 3 NHL trade deadline looming, are the Anaheim Ducks buyers, sellers or standing pat? What do they need?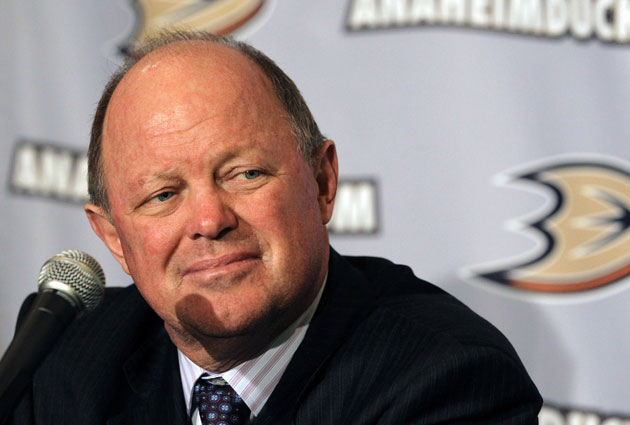 With the 2013 NHL trade deadline at 3 p.m. ET April 3, Eye on Hockey will examine

whether each team is a buyer or seller at the deadline, and who teams should look to sell or receive.
Buyers or sellers
The Anaheim Ducks have enjoyed a terrific start to this season, nipping on the heels of the Blackhawks from almost the beginning until a recent three-game skid. They're currently third in the NHL in points and nobody would argue they don't stand a shot to make a run this season -- you'll find plenty of detractors, but they are and will at least be in the conversation.
So it would seem a pretty obvious answer that the Ducks are buyers. They are, but as of a few weeks ago it didn't necessarily look that way. They had both Ryan Getzlaf and Corey Perry unsigned, facing the prospect that they might nothing in return for one or both of them. Since then the Ducks have locked each into long-term extensions.
That has ensured that the Ducks can take their rightful place as a buyer in this market if they choose to do anything. They could very well stand pat, but at least they won't be selling.
Rumors
Before Perry re-signed, there were plenty of rumors. Who wouldn't want one of the NHL's premier power forwards and a former Hart Trophy winner? Then GM Bob Murray put an end to that the best way he knew how: giving Perry eight more years and a lot of dough.
That means between Perry and Getzlaf, the Ducks have nearly $17 million commited every season through 2021. It took no time after the Perry extension for people to once again turn their focus to Bobby Ryan. Would he be traded? Remember, there was that flap at the last draft that Ryan was upset and wanted out. That's been quieted.
So is Ryan a trade target himself now? The answer is no. The idea was foolish then that the extensions meant Ryan was as good as gone. The Ducks are still $11 million under next season's salary cap with the new contract figures and Ryan is signed for another three seasons, in which time the cap will certainly go up.
That should wrap that up, so what other chatter is out there?
Not a whole lot but the Ducks are rumored to be interested in Derek Roy from Dallas. They already have two very good centermen in Getzlaf and Saku Koivu so it's not quite clear how prominent a role Roy would play if they were to land him, but how can you complain about having too many centers who can score?
The players on their team not signed beyond this season: freshly signed Radek Dvorak, Toni Lydman, Koivu and Teemu Selanne. The Ducks aren't trading either Koivu or Selanne so don't even think about it.
Top targets
It would seem evident based on the interest in Roy that they would like to get some help down the middle and add a little more scoring to the mix. As mentioned they do have Koivu and Getzlaf but their other two centers are Peter Holland and David Steckel. So you can where there would be some room for improvement.
Ideally the Ducks might like a little more offense from their blue line. Of their top six defensemen, only two are providing much, that would be Sheldon Souray and Francois Beauchemin. Together they have 11 goals and 30 points. The other four defensemen? One goal, 19 points. Combined. A large part of that has been the lack of offensive production from Cam Fowler but he's still young and perhaps the Ducks are holding out hope his offensive talent will come around as was projected.
More Trade Deadline Rumors: 
The puck didn't go in the net but the skater did!

Another sign that Houston is a potential destination for an NHL relocation
The two teams combined for 111 penalty minutes and five ejections

The veteran Minnesota goaltender has recorded three consecutive shutouts

The historic start for the NHL's newest team has come largely from unprecedented balance in...