Andrew MacDonald traded to Flyers for two draft picks
The Flyers landed defenseman Andrew MacDonald from the Islanders on Tuesday for two draft picks.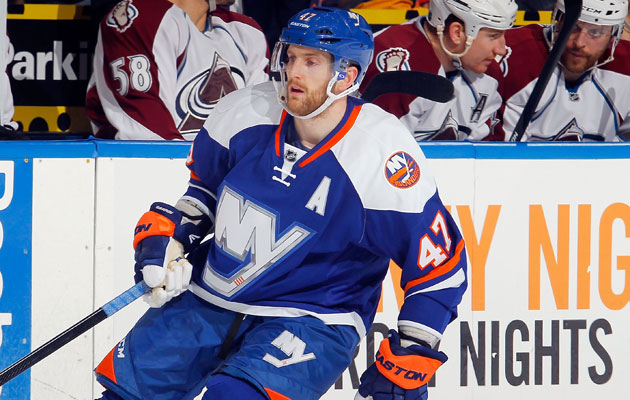 More NHL: Trades | Scores | Standings | League Leaders | Odds  | Power Rankings
Always on the lookout for defensemen, the Philadelphia Flyers landed one who can play big minutes in Andrew MacDonald. In exchange for MacDonald, the Islanders will receive a third-round pick from Philly in 2014 and a second-rounder in the 2015 draft in addition to prospect Matt Mangene.
MacDonald, 27, has played huge minutes for the Islanders this season. In 63 games he has average 25:25 of ice time per game and has four goals plus 20 assists. He is also the league's top shot-blocker. That's nice and all but in the converse it means that his team doesn't have the puck a lot when he is on the ice otherwise he'd be the one shooting the puck, not blocking it. Seeing what some other defensemen were traded for, it looks like a pretty big price for the Flyers to pay given MacDonald's possession numbers being less than favorable.
He is set to become an unrestricted free agent after this season when he'll surely be due a big raise, questions about his game or not. His cap hit is just $550,000, something the Flyers have little problem fitting in for now, even with a slew of defensemen on the cap.
MacDonald rejoins Mark Streit, who he played with on Long Island before Streit went to the Flyers prior to this season.
The puck didn't go in the net but the skater did!

Another sign that Houston is a potential destination for an NHL relocation
The two teams combined for 111 penalty minutes and five ejections

The veteran Minnesota goaltender has recorded three consecutive shutouts

The historic start for the NHL's newest team has come largely from unprecedented balance in...