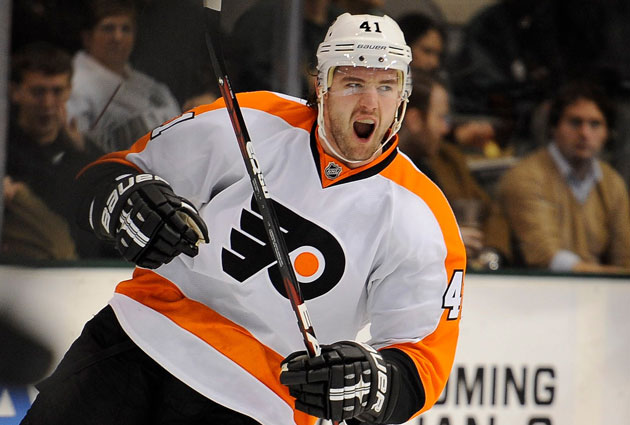 The Flyers lost Meszaros on Friday. Soon they're going to be running out. (Getty Images)
If this keeps up, the Philadelphia Flyers are going to have to start pulling people off the street to put a team on the ice.
(Actually, they kind of already are.)
Their already-thin defense took yet another hit when general manager Paul Holmgren announced on Friday afternoon that Andrej Meszaros will miss at least a month with a left shoulder injury (via Tim Panaccio). He was injured during Philadelphia's 2-1 win over the New York Rangers on Thursday.
The team will be recalling Andreas Lilja from the American Hockey League to take his place.
The Flyers are already playing without forwards Danny Briere and Scott Hartnell due to injury. It was revealed on Thursday that Hartnell could be out as long as two months due to a broken foot.
Their defense has been a patchwork mess of a unit all season after losing Matt Carle to free agency over the summer. There's also the fact that Chris Pronger hasn't played since early last season due to a concussion, and his career at this point appears to be over.
In 62 games with the Flyers last season, Meszaros scored seven goals to go with 18 assists.
Before the season, he injured his Achilles tendon playing in Europe during the lockout.
He was averaging more than 18 minutes a game this season. The Flyers will now have to lean heavily on Braydon Coburn, veteran Kimmo Timonen -- who isn't getting any younger -- and Luke Schenn, who doesn't seem to be getting any better.
For more hockey news, rumors and analysis, follow @EyeOnHockey and @Agretz on Twitter and like us on Facebook. Also, subscribe to our YouTube Channel.