Are the Blue Jackets finally headed in the right direction?
The Columbus Blue Jackets had just their second winning season in franchise history this past season. Are they finally on the right track?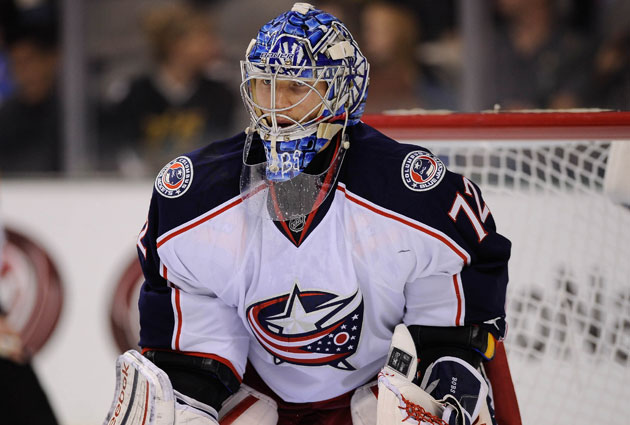 More NHL offseason: Rumors | Top 50 Free Agents | Buyout Tracker | Trade Tracker
For the first 12 years of their existence, the Columbus Blue Jackets have been living in a constant state of irrelevance.
They have qualified for the playoffs just once and failed to even win a game in their lone apperance.
In 12 years, they have finished with a winning record just twice; the aforementioned playoff season back in 2008-09 and the lockout shortened season of 2013, when they rode a second-half surge to a 24-17-7 finish that kept them in the postseason hunt until the final weekend of the season.
For the Blue Jackets, this was a big deal and, hopefully for their fans, the start of something big for an organization that has known nothing but losing and, well, more losing.
There are certainly some positives to look at for hockey fans in central Ohio.
• They have a bright, first-year general manager in Jarmo Kekalainen who has received rave reviews from the moment that he was hired.
• After suffering through three years of the Steve Mason experience in net they have the NHL's reigning Vezina Trophy winner, Sergei Bobrovsky, manning the crease for at least the next two years. And, man, was he good last season.
• They will have a full season of Marian Gaborik, one of the most electrifying goal-scorers in the league throughout his career, to help ignite what has been a relatively punchless offense.
• They landed one of the top free agents on the market this summer by signing former Boston Bruins forward Nathan Horton to a seven-year contract. When you take into account his contract, combined with Gaborik and the recent two-year deal signed by Bobrovsky, you have a team that's spending all the way to the $64.3 million salary cap.
There are definitely some good things happening here.
But the more that I look at this team as constructed, the way they actually played for the better part of last season and the competition that they're set to face in a new division starting next season, the less I'm convinced this team is going to be able to recapture whatever magic it had in the second half of last season.
At the very least, there are some concerns and questions for the short term. So let's start with the them.
The Sergei Bobrovsky factor
The single biggest reason for Columbus' second-half success this past season was the play of Bobrovsky in net. He was nothing short of sensational. It was also another example as to just how unpredictable the position can be given how much he struggled the previous season as a member of the Flyers. But the Blue Jackets were able to catch lightning in a bottle and were rewarded for what turned out to be a rather shrewd move by former GM Scott Howson to buy low on Bobrovsky and get him for a couple of draft picks.
Without Bobrovsky playing at such a ridiculously high level (his .932 save percentage was second only to Ottawa's Craig Anderson), there's no way the Blue Jackets hang around in the playoff race as long as they did.
But what should be expected for an encore performance in 2013-14? If past goalies are any indication, a big fall could be coming.
Since save percentages have been tracked by the NHL, there are 17 previous examples of a goalie appearing in at least 38 games and posting a save percentage of .930 or better.
Fifteen of those performances were followed by a significant regression the following year, as the chart below illustrates. The only goalie who didn't see a regression was Dominik Hasek, one of the best goalies to ever play in the NHL.
Goalies with at least 38 games and .930 save percentage
Player
Year
Save %
Next season %
Dif
Brian Elliott
2011-12
.940
.907
-.033
Mike Smith
2011-12
.930
.910
-.020
Henrik Lundqvist
2011-12
.930
.926
-.004
Tim Thomas
2010-11
.938
.920
-.018
Pekka Rinne
2010-11
.930
.923
-.007
Tuukka Rask
2009-10
.931
.918
-.013
Tim Thomas
2008-09
.933
.915
-.018
Dwayne Roloson
2003-04
.933
.908
-.025
Miikka Kiprusoff
2003-04
.933
.923
-.008
Roberto Luongo
2003-04
.931
.914
-.017
Marty Turco
2002-03
.932
.913
-.019
Jose Theodore
2001-02
.931
.908
-.023
Dominik Hasek
1998-99
.937
.919
-.018
Dominik Hasek
1997-98
.932
.937
.005
Dominik Hasek
1996-97
.930
.932
.002
Dominik Hasek
1994-95
.930
.920
-.010
Dominik Hasek
1993-94
.930
.930
.000
Average
 
 
 
-.013
There's quite a few outstanding goalies on that list, and they all came falling back to earth the following season (except for the two years in which Hasek actually improved ... then had a huge decline the season after that).
If Bobrovsky were to experience the average regression (which would take him down to nearly the league average -- and closer to his career average -- of .915) and face the same number of shots per game over 65 games, you're talking about a difference of potentially 35-40 goals. That would be huge.
Bobrovsky isn't as bad as his last season in Philadelphia, and he's not as good as he was this past season in Columbus. He is going to regress next season, and the only question when it comes to that is how far will his performance fall. Given how much they relied on him in the second half of last season, that could be a problem.
If the Blue Jackets were able to somehow shave a full shot per game off that average and Bobrovsky still saw a regression in his personal performance, the difference would only be about 10 goals over 65 games.
But can the Blue Jackets improve their defensive play that much?
Columbus' puck-possession problem
Perhaps the biggest problem facing the Blue Jackets this past season was how little they actually touched the puck and were in a position to generate shots on goal. They were outshot by an average of three shots per game, one of the worst marks in the league, and their overall possession numbers were just as bad. Fenwick Close, a measure of shot attempts when the score is close, was the fifth lowest in the NHL last season at just 45.3 percent.
What does that mean?
Simply that when the score was close (tied, or within one goal in either direction), the Blue Jackets were generating just 45 percent of the shot attempts. Playoff teams are usually up around 50 percent. Stanley Cup champions are usually around 53 percent. Over the past three seasons, 35 of the 42 teams that were below 50 percent missed the playoffs. Of the 11 teams over that stretch that were under 46 percent (as last year's Blue Jackets were), 10 missed the playoffs. The only one that didn't was last year's Maple Leafs, a team that was very similar to the Blue Jackets in that they were crushed territorially and leaned heavily on a great goaltending performance to remain in contention.
They, too, are likely to regress next season.
The reason you limit the situations to just when the score is "close" is because, when teams get up by two goals or more (or are down by two goals or more), especially as it becomes later in the game, they change the way that they play. Teams that are up get a little more passive, sit back in a defensive shell and don't take any risks. Teams that are trailing get more aggressive and fire desperation shots at the net from all angles and from any distance.
It's simply a better representation of how a team really plays and how talented they really are. And, based on their possession numbers last season, there's a long way to go.
The randomness of overtime and the shootout
Seventeen of Columbus' 48 games last season went to overtime or a shootout. They won nine of them, which means they gained at least one point in the standings for losing eight times. That's a lot, and it's also a tough way to maintain success (the Florida Panthers, after racking up a ton of overtime and shootout points in 2011-12 on their way to a Southeast Division title, found this out this past season). When you get into overtime and the shootout, you're basically turning the game over to a coin flip. Sometimes it comes up heads, and sometimes it doesn't.
How can they get better?
Having a full season of Gaborik could be huge for Columbus. He's probably not going to be the 40-goal man whom he's been in recent years, but he's still a highly skilled player who can make an impact. They only had him for 12 games last season, when he scored three goals to go with five assists, but he pretty clearly made a difference. In those 12 games, the Blue Jackets not only went 9-3, their possession numbers spiked to 49 percent, which was a pretty significant jump (in what is admittedly a small sampling of games).
Whether that's a real improvement that they can sustain or just a small blip that comes from a small sample size remains to be seen, but Gaborik was a huge part of it.
He's unsigned beyond this season, and the Blue Jackets have already said they're going to wait until the season before they start talking contract extension.
Bigger roles for young players like Matt Calvert and Cam Atkinson, forwards who showed an ability to help push play in the right direction last season, will also help. Given that the team seems prepared to move on from last year's leading scorer, Vinny Prospal, it seems likely that they're looking for some of the younger guys to step up.
Horton is a huge addition -- literally and figuratively -- and he should make an impact when he finally gets into the lineup, but that's probably not going to be for quite a while as he's going to miss a significant part of the season due to offseason shoulder surgery.
There's some good things happening here, and this Blue Jackets team as it's constructed might be the most talented one, at least offensively and in net, that they've ever had. But there are still some things about this team that indicate there could still be some rocky days ahead in the short term.
All Possession numbers in this post via BehindTheNet and NiceTimeOnIce
Without the star power of the NHL, America is banking on big contributions from some AHL, KHL...

Lincoln Financial Field will play host to the annual outdoor game on Feb. 23, 2019

The Lightning stay on top as other teams begin to catch fire
The NHL said the Flyers defenseman was 'reckless' and used 'excessive force'

'How you gon' do that hockey?'