Avalanche captain Milan Hejduk coming back on one-year, $2 million contract
Colorado Avalanche captain Milan Hejduk has re-signed with the Avs to come back for another season at a cost of $2 million to the Avs. The news was first reported by Adrian Dater of the 'Denver Post.'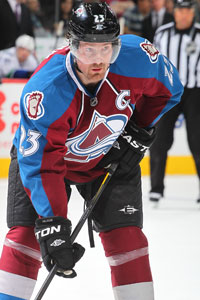 Hejduk saw his numbers dip to their lowest levels of his career last season. (Getty Images)
Milan Hejduk isn't hanging up the skates, not yet.
The Colorado Avalanche captain has re-signed with the Avs to come back for another season at a cost of $2 million to the Avs. The news was first reported by Adrian Dater of the Denver Post.
Hejduk too over the captaincy starting in 2011 when he replaced Adam Foote. Hejduk is only the third captain the team has had since moving to Colorado, joining Foote and Joe Sakic, who wore the C from 1995 all the way through 2009.
Hejduk is one of those rare athletes in this generation in that he has spent his entire career with the team that drafted him. He was actually selected by the Quebec Nordiques in 1994's draft but never suited up for the 'diques. He made his debut in 1998-99 and has been with the Avs ever since.
Last season for Colorado Hejduk saw his offensive numbers dip to the lowest levels of his career. His 14 goals tied his career low that he set as a rookie and his 37 points were well shy of the 48 he had his first season in the league. With his production down so far it was easy to see why there was a question whether or not Hejduk would be back.
In the hockey sense he's old, but he's not ancient. He turned 36 in February. There figures to still be a little tread on those tires.
However the one-year contract indicates there isn't much left. If he still felt he had some time ahead of him you have to think he might have looked for a two- or three-year deal. Either that or the Avs weren't willing to see if he had some gas in the tanke still to go beyond one more season.
For more hockey news, rumors and analysis, follow @EyeOnHockey and @BrianStubitsNHL on Twitter and like us on Facebook.
Even with a new coach and added veteran help, the Canucks have a long road ahead

Unlike expansion teams before them, the Knights have enough talent to entertain right away

Brian Lawton says he 'would not be surprised' if Boston deals its young star to end contract...
It turns out Phil does love his hot dogs, especially when they're in a Stanley Cup

The Avs have a long way to go after a historically bad 2016-17 outing

Murray died Saturday at the age of 74