Avalanche trade Steve Downie to Flyers for Maxime Talbot
The Colorado Avalanche traded forward Steve Downie back to Philadelphia on Thursday in exchange for forward Maxime Talbot.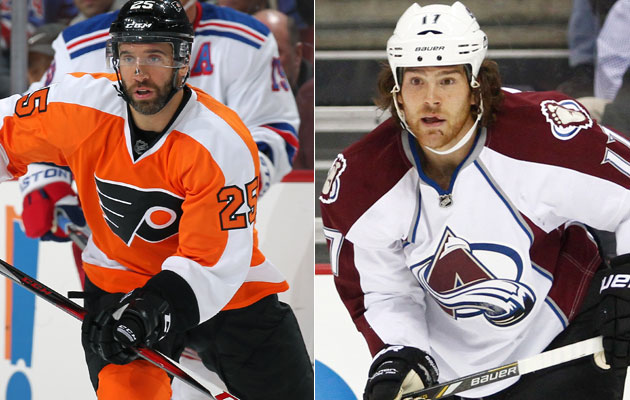 More NHL: Scores | Standings | League Leaders | Odds | Injuries | Power Rankings
The Colorado Avalanche and Philadelphia Flyers made a trade on Thursday with the Avs sending forward Steve Downie to Philly in exchange for Maxime Talbot.
It is nothing more than just a simple swap of players, one for one. Downie returns to the Flyers, who drafted him in the first round back in 2005. Talbot, meanwhile, joins a team in the Western Conference for the first time in his career.
Why the Avs felt the need to make this move doesn't seem to be all that clear but Joe Sakic did mention every GM's favorite thing, Stanley Cup experience.
"Maxime is a veteran forward who has won a Stanley Cup and has a lot of NHL experience," Sakic said. "We're looking forward to him bringing that experience to our club."
Between the two, Downie is the more offensive player. In 11 games with the Avs this season he had a goal and six assists compared to Talbot who has a goal and one assist in the same number of games for Philly. Interestingly with seven points, Downie now is tied for the Flyers lead in that category.
Downie is a tough player, an agitator and it does seem only right that he returns to the Flyers. He kind of fits their stereotypical mold. but in giving up Talbot they lose an energetic bottom-six guy and perhaps that's what the Avs were loooking for the most here. He's one of those guys who gets all the platitudes such as "winner" and "leader" that are revered in sports.
Still, the result is that the Avalanche traded a top-line guy (he was on their top line at least) for a bottom-six guy in a straight swap. Somewhat curious at least until you consider everything else.
There are always the contracts. The Flyers take on more money this season ($2.75 million hit for Downie) but he's a free agent after this season so perhaps they are fond of the long-term flexibility. Talbot takes his contract that runs through this season and the next two with a $1.75 million cap hit to Colorado.
Saturday's showdown will serve as a rematch of one of the NHL's first-ever regular season...

Stacia Robitaille says Donald Trump told her in an elevator that she was coming home with...

Vladislav Yeryomenko was the Teddy Bear Toss goal scorer for the Calgary Hitmen
The Golden Knights are finally getting their No. 1 goalie back after a 25-game absence

Washington has won four straight, and the Kings are also on a tear right behind the Lightn...

The NHL says it's only interested in expanding to Seattle, but here's a look at all the moving...