Ben Scrivens' new mask with Kings quotes William Shakespeare
Ben Scrivens is known as The Professor by the Kings, a smart goalie with a Cornell education. He's staying scholarly with his mask that quotes Shakespeare.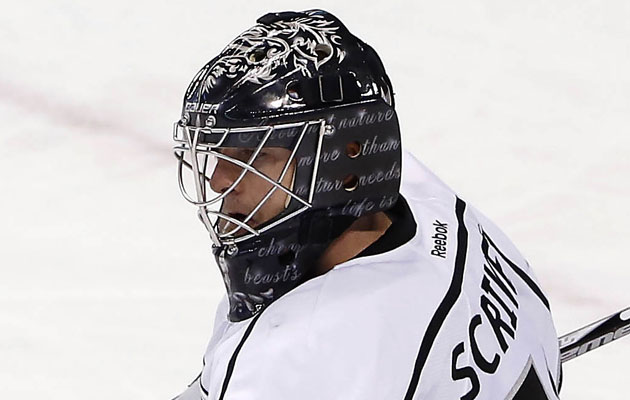 More NHL: Scores | Standings | League Leaders | Odds | Injuries | Power Rankings
Ben Scrivens is known for his intelligence, being given the nickname The Professor since joining the LA Kings this last offseason. Given his education from Cornell (and his choice in leisurely listening), it's a fitting nickname, which makes his new mask in LA the same.
Instead of going purely artistic with some cool or scary graphic, Scrivens has gone a bit more scholarly. His mask simply quotes William Shakespeare over its solid black design. One side of the mask quotes MacBeth while the other takes from King Lear. Yes, they were both kings.
From King Lear:
Allow not nature more than nature needs,
Man's life is cheap as beast's.

From Macbeth:
The cry is still "They come!" Our castle's strength
Will laugh a siege to scorn

Scrivens acknowledged that quoting Macbeth in a theater is bad luck -- and the National Hockey League certainly provides excellent theatre every night -- but wow! That Macbeth quote is an awfully strong depiction of the Kings' team defense, which in a hockey sense laughed the Florida Panthers' siege to scorn on Sunday.
The funny thing is Scrivens says he's not the biggest theater or Shakespeare guy in the world but he thought it was a good and unique touch. Add a quill onto the top of the mask and you are left with a mask fit for the theater in the round.
Hopefully Scrivens' time in LA won't read like a Shakespearean tragedy. Given that he has a perfect 1.000 save percentage thus far including a shutout of Florida on Sunday, that's unlikely to happen.
See other goalie masks that have already been released.
Stacia Robitaille says Donald Trump told her in an elevator that she was coming home with...

Vladislav Yeryomenko was the Teddy Bear Toss goal scorer for the Calgary Hitmen

The Golden Knights are finally getting their No. 1 goalie back after a 25-game absence
Washington has won four straight, and the Kings are also on a tear right behind the Lightn...

The NHL says it's only interested in expanding to Seattle, but here's a look at all the moving...

The NHL says it is only looking toward Seattle for the next expansion team