Two months into the NHL season is enough time to start identifying who the best teams and players, and right now it's easy to see that players like Patrick Kane, Jamie Benn, and Henrik Lundqvist are making huge impacts for their respective teams.
But one or two superstars alone don't make a team successful. Every good team has more than one important players that either sneak under the radar or don't get anything close to the credit that they deserve for what they provide on the ice.
So let's take a look at a few of those players that have played a significant role for their teams this season, but probably aren't getting the recognition for it. 
1. Keith Yandle, New York Rangers: Yandle is the type of defensemen that the hockey world will always have a love-hate relationship with. When it comes to Rangers fans, the hate portion of that relationaship seems to be the far stronger of the two emotions. He is a defenseman that doesn't play a physical game, and at times he can look bad in the defensive zone when he is asked to spend too much time there. Add in the fact that the Rangers had to give up Anthony Duclair -- who is currently blossoming into a star in Arizona -- as well as a first-round draft pick to get him, and it's easy to understand why Yandle is a tough sell to the Madison Square Garden crowd. 
But the guy can flat out make a play with the puck, especially on the power play, and that matters. A lot. 
On a team that has been badly outshot all season, Yandle is the only player on the Rangers (mininum 10 games played) that has a positive shot-differential and is their leading scorer from the blue line even though he only plays 18 minutes a night. Yandle is never going to be a shutdown defender in the traditional sense, but he does a lot of things that make it so his team doesn't have to spend a lot of time in its own zone and he is still one of the most dangerous defensemen in the league with the puck on his stick. And you need multiple players like that to win in today's NHL.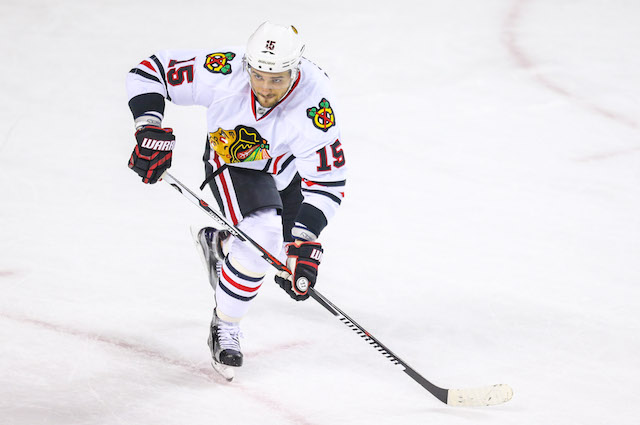 2. Artem Anisimov, Chicago Blackhawks: Depending on how Marko Dano develops, there might come a time in the future that we look back at Chicago's decision to trade Brandon Saad this past summer and marvel at how they were able to get so much for him. That is not a knock on Saad. He is a wonderful player and should still have some room to improve in the NHL. But they may have acquired two significant long-term pieces in that one deal. While the 21-year-old Dano continues to find his spot in the NHL, Anisimov, one of the other main pieces in the summer blockbuster, has turned out to be exactly what the Blackhawks needed on their roster.
Patrick Kane's scoring streak is getting all of the attention when it comes to the Blackhawks this season, but Anisimov already has 11 goals -- including a pair of shorthanded goals -- and has stabilized their No. 2 center spot behind Jonathan Toews.
This is what makes the Blackhawks so successful every year in a salary cap league. They are able to make tough decisions when it comes to parting ways with important players they have won with that have become too expensive. They do that because it means they are able to keep their top five or six players, and they are always find a way to replace the depth around them. With the Saad trade, they seem to have accomplished both. 
3. Loui Eriksson, Boston Bruins: When he was a member of the Dallas Stars you couldn't mention Loui Eriksson's name without first referring to him as "underrated." It was almost as if "underrated" was his first name. Talking about him as one of the most underrated players in the league became such a regular part of the narrative around his game that he eventually started to become a little overrated for what he was doing on the ice.
Now that he has spent a couple of years in Boston thanks to the Tyler Seguin trade, he is back to sneaking under the radar. As Seguin has turned into perhaps the best offensive player in the NHL since the trade, Boston's return for him has come under fire. And for good reason. Trading 22-year-old core players is almost always a bad move that is going to come back to bite you in the butt. 
But you can't fault Eriksson for that. He didn't make the trade, and all he can do is try to make the biggest impact he can for the Bruins. And right now, he is. 
Currently playing in a contract year, Eriksson is experiencing a huge bounceback season and is one of the driving forces behind a surprising offense that is surged to the top of the NHL to help keep a pourous defensive team in the playoff race. While some of that might be the result of some good luck (that 20 percent shooting percentage is almost certain to come down at some point) he has been a great two-way player, while the duo of Eriksson and David Krejci has been particularly strong, outscoring opponents 14-6 during 5-on-5 play while controlling more than 53 percent of the shot attempts. 
4. Mike Cammalleri, New Jersey Devils: The New Jersey Devils were supposed to be bad this season. Really bad. So bad that you wouldn't have blamed them for preparing an Auston Matthews jersey as early as October. The biggest cause for concern was an offense that seemed to be completely lacking in playmakers that wouldn't be able to support a young defense. It seemed as if they were going to win as many games as Cory Schneider could single-handedly win for them. But through their first 27 games the Devils are actually competing for a playoff spot and Cammalleri is a huge part of that. A team desperate for offense, the 33-year-old cammalleri has provided a ton of it, already recording 30 points (11 goals, 19 assists) and is currently fifth in the NHL in scoring.
He has had a direct hand in 44 percent of the Devils' goals this season (scoring or assisting on 30 out of 69) while he has been on the ice for nearly 60 percent of them (40 out of 69).
He is currently on pace for the best scoring season of his career. At 33, and with still three years and $15 million remaining on his contract after this season his deal might be a problem in the future, but for right now he is a major part of their early season success. 
5. Jason Spezza, Dallas Stars: The Dallas Stars have completed a blockbuster trade in each of the past three summers, landing Seguin, Spezza and Patrick Sharp in seperate deals that have helped piece together that is not only the best offensive team in hockey, but also right now the best team in hockey.
If you take a quick look at the NHL's current scoring leaderboard you see the top of the list littered with Stars players as Jamie Benn, Seguin and John Klingberg are all in the top-nine. That also makes it easy to overlook other players on the roster, including Spezza. 
At 32 he is not going to be the 90-point scorer he was during his best years in Ottawa, but he has given the Stars a dangerous second line that can complement the nightmare for opposing teams that is the Seguin-Benn duo. There is going to come a point where the top line hits a rut offensively because that's just how the NHL works over an 82-game season. When that happens they're going to need secondary scoring options to pick up the slack, and Spezza's line has proven capable of doing exactly that.