Blackhawks facing elimination as offense disappears against Detroit
The Chicago Blackhawks are facing elimination after Thursday's loss, and their offense has disappeared.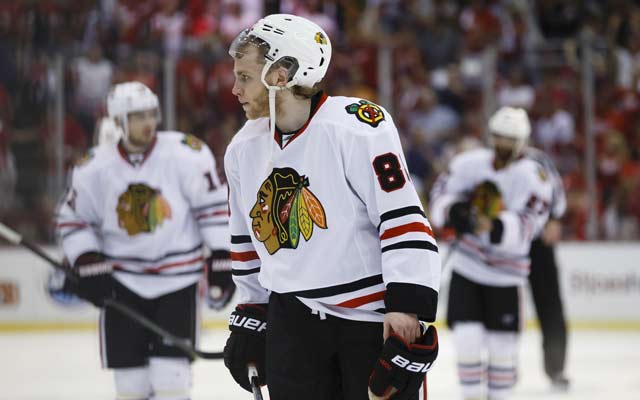 More NHL Playoffs: Scores | TV Schedule | Expert Picks | Odds | Mock Draft | Rumors
At times this season it looked as if the Chicago Blackhawks, the best team in the NHL during the regular season, were going to cruise to the Stanley Cup Final. It didn't seem to be a matter of if they would make it, but a matter of how many games it would take for them to get there.
That probably didn't change much when the playoffs began and they crushed the Minnesota Wild in five games, and then dominated the Detroit Red Wings in Game 1 of their Western Conference semifinal series.
Man, what a difference a week makes in the crazy, sometimes upside down world of the NHL playoffs.
Following their 2-0 loss to the Detroit Red Wings on Thursday night, the Blackhawks head back home to Chicago for Game 5 facing elimination with a 3-1 series deficit and have managed to score only two goals during what has been their first three-game losing streak of the season.
Thursday's game was the first time they were shut out. Raise your hand if you saw any of that coming.
Unless you live in Detroit, your hands are probably still down.
Coming into this series, I figured the Red Wings would be able to put up a fight (pre-series prediction: Blackhawks in seven) but that eventually Chicago's overall depth and talent would win out. That's still entirely possible, of course, but they're going to need to three consecutive victories against a goalie in Jimmy Howard that is playing some of the best hockey of his career.
That was the one position that you could look at when this series began that Detroit probably had an advantage over the Blackhawks, even with Corey Crawford's strong play this postseason. And through four games it's clear that it's an advantage. A big one.
It's not that Crawford hasn't played well in the second round (because at times he has), it's just that Howard has been that much better, especially on Thursday night. And the Blackhawks seemed to be getting a little frustrated, none moreso than captain Jonathan Toews.
Toews has still yet to score a goal this postseason for the Blackhawks, and before Thursday night that was probably a little easier for Chicago to swallow because he was still doing everything else well. He was at the center of most of the Blackhawks' scoring chances, he was still driving possession like a top-line player, and he was getting his opportunities. It still seems like it's only a matter of time until he breaks through with one. But on Thursday night he had one of the worst periods I can remember him playing when he was a one-man parade to the penalty box, taking three consecutive penalties within six-minutes of clock time.
Unfortunately for the Blackhawks, one of those penalties during that mini-meltdown resulted in Detroit's game-winning goal and essentially kept Chicago playing in its own end of the ice for a large portion of the period, unable to do anything offensively.
That turned out to be a huge turning point in the game, and then Detroit did a tremendous job shutting down Chicago's late comeback attempt by limiting the Blackhawks to five shots on goal in the third period, including only three during the final seven minutes.
And zero on a power play with four minutes to play in an effort to tie the game.
Not only did the Blackhawks not generate a single shot on goal during that power play, they attempted only one -- a Duncan Keith slap shot that was blocked by Drew Miller.
But it's still not all just about the Blackhawks' offense disappearing (or perhaps more accurately, hitting a cold streak at the absolute wrong time of the season).
It's also about the way Detroit is playing.
Nobody gave the Red Wings much of a chance to be a factor this season, mainly due to the makeup of their defense following the losses of Nicklas Lidstrom, Brian Rafalski, and Brad Stuart over the past few years. While the defense isn't great by any stretch and is now loaded with young guys still making their mark in the league, Howard has proven to be the type of goalie that can cover for some of the mistakes or weaknesses that exist. They also still have enough forward talent to control the puck and play the type of puck possession game that has made the Red Wings a consistent playoff team over the years.
They might not look the same on paper, but Detroit is proving to be the same old Red Wings they always were.
And that has been bad news for the Blackhawks.
Stacia Robitaille says Donald Trump told her in an elevator that she was coming home with...

Vladislav Yeryomenko was the Teddy Bear Toss goal scorer for the Calgary Hitmen

The Golden Knights are finally getting their No. 1 goalie back after a 25-game absence
Washington has won four straight, and the Kings are also on a tear right behind the Lightn...

The NHL says it's only interested in expanding to Seattle, but here's a look at all the moving...

The NHL says it is only looking toward Seattle for the next expansion team