Blackhawks rally with Jonathan Toews, Patrick Kane on same line
Joel Quenneville's move to put Jonathan Toews and Patrick Kane on the same line midway through Game 4 might prove to be the turning point in the Western finals.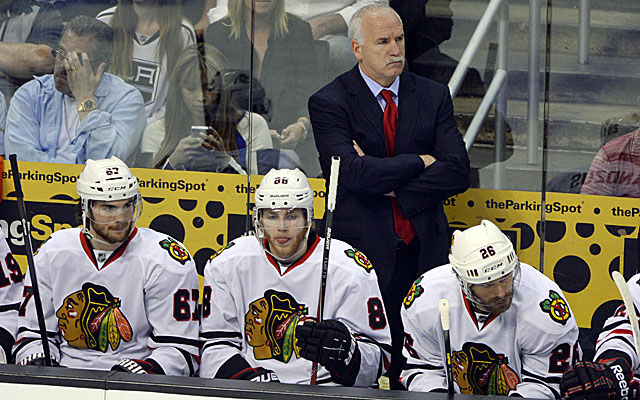 LOS ANGELES -- Joel Quenneville has won 660 career games and a Stanley Cup. His team was the NHL's best during the regular season. He is a finalist for the Jack Adams coach of the year award.
But late in the second period of a Western Conference finals Game 4 that was slipping away from his Blackhawks, well, let's just say mama didn't raise no fool. His team's energy waning, its scoring slumping, Quenneville combined his two best forwards --
Patrick Kane and Jonathan Toews -- on the same line.
The net result -- as you might imagine with two all-stars -- was more pucks in the net.
Chicago heads back home up 3-1 in the series after Thursday's 3-2 victory because Quenneville flipped a switch that few other coaches have. That would be the ability to combine the firepower of Kane and Toews. One (Kane) scored the Cup-winning goal in Chicago's 2010 run. The other (Toews) was named captain at the tender age of 20 in 2008.
Both are in their mid-20s. They project as all-time Blackhawks greats. For now, they'll take turning Game 4 in Chicago's favor.
The line switches helped the Hawks recover from two one-goal deficits and break a 15-game Los Angeles home winning streak that stretched back to March. It helped the favored Hawks stay favored in the series and win with a diminished lineup. Top defenseman Duncan Keith was suspended for the game for carving the face of LA's Jeff Carter in Game 3.
It proved that not only is Quenneville a master coach, he is master of the obvious.
"It's the playoffs" he said, "and we're deep."
So deep that the Hawks' victory puts them one victory away from reaching the Stanley Cup Final for the second time in four seasons. So deep that the Kings, the defending Cup champions, are one game away from the golf course.
Kane scored minutes after being united with Toews to tie it at 2 with 1:39 left in the second period. They are so deep that Marian Hossa -- who had been playing on the first line with Toews and Bryan Bickell -- scored the game-winner 70 seconds into the third period.
"Sometimes coach shuffles the line" Hossa said. "It took six forwards [on the top two lines]. It doesn't seem to matter who plays with who."
Combining his two stars is something Quenneville has done from time to time. But something significant had to be done Thursday. The Kings had a 2-1 lead early in the second. They gained extra momentum from killing off a two-man disadvantage for 53 seconds.
Meanwhile, Kane hadn't scored in seven playoff games after a regular season in which he finished on a 96-point pace (55 points in the lockout-shortened season). His night changed quickly after coming out of the box for hooking almost 15 minutes into the second period. A Bickell deflection leaked through Jonathan Quick. Kane was there to shovel the puck across the line just to make sure as he sprawled over the goalie.
"I told Bicksy I was kind of sorry I stole it from him" Kane said. "It might have gone in. It's kind of instinctive."
Kane then drew an interference penalty from LA's Robyn Regehr with a minute left in the second. Even though the Kings killed it early in the third, they couldn't stifle momentum. Ten seconds after Regehr got out of the box, Hossa took a wonderful pass from Michal Handzus and ripped a slapshot past Jonathan Quick.
Suddenly, all the things that the Hawks weren't in Game 3, they were in getting a chokehold on the series. They limited the Kings to two shots in the third period. They made Quick look mortal. They made up for the absence of Keith by spreading his 24 minutes per game around to the likes of reliable Johnny Oduya and Michal Rozsival.
"It's a gritty team" Rozsival said. "It's not about individuals. The whole team is pulling on the same rope."
In terms of scoring balance, it's obvious to separate 316 combined goals and put the players on different lines. But in terms of desperation, combining them at that time was brilliant on Quenneville's part.
"To be honest with you, I thought Handzus, myself and [Patrick] Sharp were playing pretty good together [on the second line]" Kane said. "I don't know if at that time they wanted to switch it up, for whatever reason it worked."
In terms of grit, the Hawks are starting to look like that team of destiny they were in 2010. They were down 3-1 to Detroit in the conference semis but rebounded to capture the series. The Kings, seemingly unbeatable at home, threatened to make it a long, grinding series.
Now LA goes to United Center for Game 5 on Saturday with flaws showing. It was at a disadvantage to start with its scoring. Center Mike Richards remains out with a supposed concussion. The Kings have scored only 34 goals in 17 playoff games, only eight in this series.
Quick hasn't been great, not like he was during last year's run. On Thursday, Chicago solved the Kings' goalie, who arguably gave up a couple of cheapies. The Hawks' first goal came on a long wrister by Bickell who added to his open-market value -- he will be a free agent this summer -- with two points on Thursday.
"It was nice to come in and steal one for sure," Kane said. "But by no means do we feel the series is over."
If not, someone better wake up the defending Stanley Cup champs. It's getting late.
The puck didn't go in the net but the skater did!

Another sign that Houston is a potential destination for an NHL relocation
The two teams combined for 111 penalty minutes and five ejections

The veteran Minnesota goaltender has recorded three consecutive shutouts

The historic start for the NHL's newest team has come largely from unprecedented balance in...