Blackhawks starting to hit their stride with dominant win over Kings
The Blackhawks handled the Kings in Game 2, their fifth straight win. They're starting to be the team everybody expected.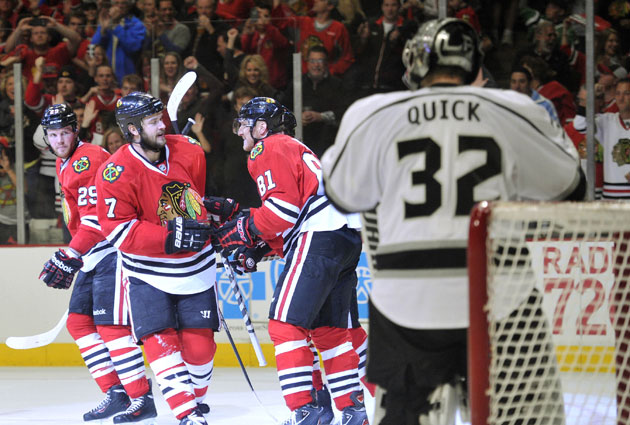 More NHL Playoffs: Scores | TV Schedule | Expert Picks | Odds | Mock Draft | Rumors
These are the Chicago Blackhawks that dominated the regular season. These are the Chicago Blackhawks that set an NHL record by recording at least a point in 24 straight games to open a season.
These are the Chicago Blackhawks a lot of people picked to win the Stanley Cup.
It's only two games and neither have been in LA where things are sure to change, but the Blackhawks so far are looking like a team that's not having a whole lot of trouble with the defending champions. Even when Los Angeles turned up its game some in Game 2, the Blackhawks did as well, doing something no team has done in two years against the Kings in a playoff game; score four goals.
These Blackhawks have the depth to make things even tougher, it's not just the top two lines of spectacular talent you have to worry about. Their four goals in Game 2 came from Andrew Shaw, Brent Seabrook, Michal Handzus and new-found goal scorer extraordinaire Bryan Bickell. Bickell, a free agent-to-be this postseason, is earning himself a pretty big pay day this summer, now with six goals in the postseason after just nine all regular season.
But as we all know from our sports cliches handbook, defense wins championships. The Blackhawks are showing they have that, too. Sure, the Kings have been about as effective at scoring this postseason as Gary Bettman has been at preventing work stoppages, but the Blackhawks are doing all that you expect of a championship defense to do and more.
It wasn't until the final minute of Game 2, their ninth home game of the 2013 playoffs, that the Blackhawks conceded a goal while short-handed at United Center. They were 26 for 26 before Tyler Toffoli beat Corey Crawford in garbage time to make the final score look a little better for the Kings, a 4-2 finish.
That penalty-killing streak included a couple in the first period that were awfully important in the game. Outside of the first chance where the Kings were moving the puck pretty well in the zone, forcing the Blackhawks to (effectively) clog the shooting lanes, they were making it nearly impossible for the Kings to even get the puck in the zone, consistenly throwing it right back out beyond the blue line. They weren't troubled all that often on the PK but when they were they answered with relative ease. That really describes nearly every other challenge the Kings brought their way as well.
Overall it just has the look of the Blackhawks finding that next gear, something that looked to be missing for the first few weeks of the postseason. People were commenting that the Hawks needed to wake up. It looks like they have done that and had a few cups of coffee to boot, winning their fifth straight game.
Before we go crowning the Blackhawks the best in the West, it's important to remember that it has only been two games and once already this postseason the Kings came back from a 2-0 hole in a series (they beat St. Louis four games to two in Round 1). But the difference between these road games in Chicago and Los Angeles' other road games is that they were clearly not the better team in either game.
Even though the Kings were better in Game 2, the Blackhawks were better, too. The result was still a noticeable disparity. That's not to say the Kings aren't capable of turning it around when they get back to their home where they have won 14 straight games, but it's going to require more than just getting back in their comfortable confines. They have to find a way to slow down the Blackhawks (literally as well as figuratively), something that's looking increasingly tougher of a task, especially as Chicago gets contributions from its lower lines.
Come to think of it, maybe these aren't the Chicago Blackhawks we expected to see in the playoffs and saw all season long. It's scary to think that they aren't even getting a ton of offensive contribution from their top lines, so maybe there is still yet another gear to go.
As it stands now, these Chicago Blackhawks are already giving the Kings all they can handle and more.
Saturday's showdown will serve as a rematch of one of the NHL's first-ever regular season...

Stacia Robitaille says Donald Trump told her in an elevator that she was coming home with...

Vladislav Yeryomenko was the Teddy Bear Toss goal scorer for the Calgary Hitmen
The Golden Knights are finally getting their No. 1 goalie back after a 25-game absence

Washington has won four straight, and the Kings are also on a tear right behind the Lightn...

The NHL says it's only interested in expanding to Seattle, but here's a look at all the moving...