Blackhawks trying to become closest thing to modern NHL dynasty
The Chicago Blackhawks are trying to do something that few other teams in recent NHL history have done.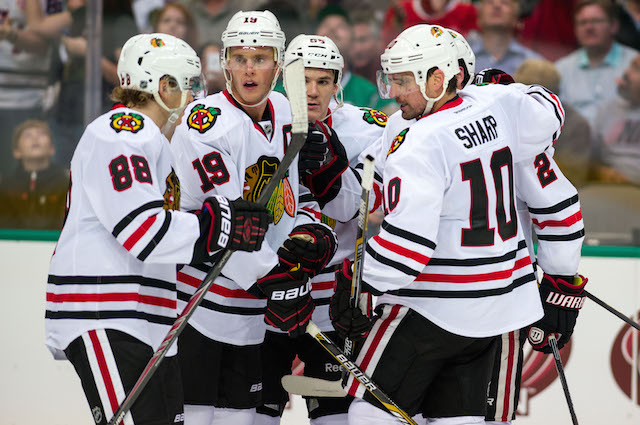 When it comes to dynasties in sports, the salary cap has completely changed what the expectation should be when it comes to measuring the greatness of a team.
It is nearly impossible in a 30-team league, where everybody has the same limitations when it comes to player salaries, to put together -- and keep -- a roster that is capable of winning multiple championships in a row.
The days of the 1980s Edmonton Oilers and New York Islanders winning four championships in a row (or five in seven years) and the 1970s Montreal Canadiens dominating an entire decade are gone and they are not coming back. It's not that the people running the teams today aren't smart enough to build those types of rosters (if anything, they are probably smarter). It's just that they simply can not do it based on the rules of the league and the current league structure.
Still, some teams are capable of rising above the rest of the pack, and this generations Chicago Blackhawks are trying to do just that. When they open the Stanley Cup Final on Wednesday night against the Tampa Bay Lightning they will be just four wins away from joining a pretty exclusive club when it comes to championships in the NHL.
Having already won two Stanley Cups since the 2009-10 season, the Blackhawks are trying to win their third in just six years. It's not exactly three in a row, and even though there were some first-round exits thrown in there between the first and second championship, it is still a run of excellence that few teams in the modern NHL can match. And it's coming from an organization that won only three Stanley Cups in the first 82 years of its existence. Now they can win three in six years.
Since the NHL expanded beyond the Original Six before the 1967-68 season, only four organizations have managed to win at least three Stanley Cups during a six-year window. The Detroit Red Wings between 1997 and 2002 (they won three). The 1980s Oilers (five in seven years between 1984 and 1990). The 1980s Islanders (four in a row between 1980 and 1983). And the 1970s Montreal Canadiens (they actually won eight between 1968 and 1979).
And that's it. Those are the modern day NHL dynasties.
Even though the Blackhawks are not going to match what some of those teams were able to do (specifically the Oilers, Islanders and Canadiens), what they are currently doing is still an incredible accomplishment when you take into account the era in which they are doing it and the challenges they are facing that previous teams did not have to deal with. Not only is the league significantly larger in 2015 than it was just 25 years ago (more teams means more competition), but the salary cap has completely changed the dynamic of the league and the way teams are constructed.
The 70s Canadiens and 80s Islanders/Oilers would have never been able to keep their rosters together the way they did and for as long as they did in this era. And that is what makes what the Blackhawks have done so incredible, and why if they win the 2015 Stanley Cup they will be the closest thing the NHL will have to a modern day dynasty.
A lot of the credit has to go to the the front office for finding a way to keep the best players on the roster, even if it meant sacrificing depth in other areas. They recognized that superstars win and did their best to keep them together. Part of that was due to the good fortune of getting Jonathan Toews and Patrick Kane, the two best players, at the top of the draft and then capitalizing on their cheapest years (and signing them to bargain second contracts that were among the biggest steals in the league). And part of it was being creative enough to keep adding the right complementary players around them to keep giving them a chance.
(There has also been a lot of health luck in there, too).
Three different general managers have their fingerprints on this roster, whether it's Mike Smith (who drafted Duncan Keith and Brent Seabrook), Dale Tallon (whoe drafted Jonathan Toews, Patrick Kane, traded for Patrick Sharp, and signed Marian Hossa) or current general manager Stan Bowman (drafted Brandon Saad, Andrew Shaw, and Teuvo Teravainen, and signed Brad Richards).
This run of success from one team wasn't supposed to happen in a cap league. 
The cap was supposed to level the playing field, help evenly distribute the talent throughout the league, and create some level of parity. And to extent, it has.
Almost every team that has played at a  championship level since 2005 has had a two or three year stretch where it was at the top of the league. Detroit and Pittsburgh were at that level between 2007 and 2009. Boston had its run between 2011 and 2013. Los Angeles won two Cups between 2012 and 2014. And then those teams, in some way, took a step backwards. Whether it was due to losing key players in a cap crunch, older players losing their effectiveness or retiring, or just the normal wear and tear that happens during the course of a season they were never able to sustain that championship level of performance. All of those teams have great players. Superstars that are among the best at their positions.
Yet, the Blackhawks are the only ones that have managed to keep coming back and seriously competing for more championships. And it's not like they haven't experienced the cap crunch over the years. On more than one occasion over the past few years there has been talk that perhaps their Stanley Cup window is coming to a close because they had to part with players that were a part of a championship team due to cap constraints. It's probably going to happen again after this season when Kane and Toews have their big contracts kick in.
But every time they just keep coming back, re-tooling, and replacing whatever depth they have lost. And competing for more championships.
CBS Sports HQ Daily Newsletter
Get the best highlights and stories - yeah, just the good stuff handpicked by our team to start your day.
Please check the opt-in box to acknowledge that you would like to subscribe.
Thanks for signing up!
Keep an eye on your inbox for the latest sports news.
Sorry!
There was an error processing your subscription.
SportsLine's Mike McClure, a DFS pro with almost $2 million in career winnings, gives optimal...

This is one way to let everyone know you've got a little monster on the way

Yeah, that's gonna make the highlight reel
Both guys traded big-time punches in a throwback style tilt

MacKinnon is off to a red-hot start for the Avs so far

What's right and wrong in the NHL this week