Blackhawks tweak lines, break up Patrick Kane and Jonathan Toews
Reuniting Patrick Kane and Jonathan Toews worked in the West finals for the Blackhawks but it looks like they'll be split again to start the Stanley Cup Final.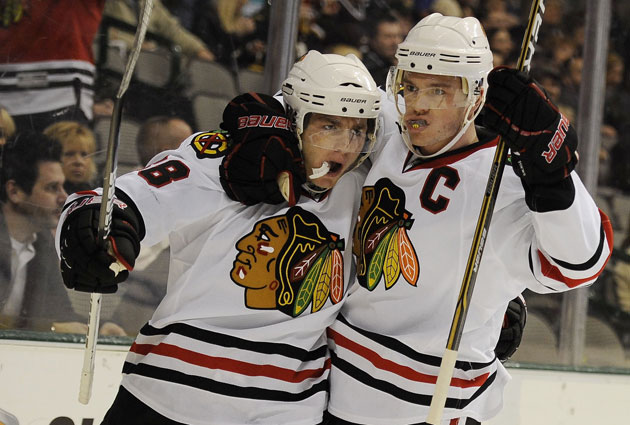 More NHL Playoffs: Scores | TV Schedule | Expert Picks | Odds | Mock Draft | Rumors
There was one big change that helped the Chicago Blackhawks finish off the Los Angeles Kings in the Western Conference finals: Jonathan Toews and Patrick Kane were reunited on the same line, joined by playoff breakout performer Bryan Bickell.
In a postseason where both players were struggling to produce points, the move worked like magic and then some for the Hawks. Kane, who had just two goals in the first 15 playoff games, had four goals in Games 4 and 5, including a hat trick in the series-clincher.
From the looks of it, that reunion could be short-lived.
When the Blackhawks practiced Tuesday in Chicago, Kane and Toews were back on different lines. Kane was playing with Michal Handzus and Bickell while Toews was centering Marian Hossa and Patrick Sharp. The impetus for breaking up the superstar pair -- it's not like Toews isn't staying with stars on his new line -- would appear to be the big man that is Bruins defenseman Zdeno Chara.
"It could be," Joel Quenneville said of Chara being the reason for the alterations. "It's balance and something we'll look at. Sometimes that can evolve over the course of a series. But it might be one of the reasons."
Chara, along with Dennis Seidenberg, routinely draws the toughest assignments on the opposing teams, so the Blackhawsk would want to spread out their two best playmakers among two lines. It's more than likely Chara and Seidenberg will draw the Toews line as their primary matchup.
But it's not like the Bruins don't have other defensive specialists. If Chara and Seidenberg draw the Hossa-Toews-Sharp line then it will probably be the second forward line of Boston, led by Patrice Bergeron, that will face Kane's new group. It could be pretty fun to see Kane going up against Brad Marchand.
It's certainly a gamble, one that can be reversed at any time.
"You still have Toews, Sharp and Hossa on one line," Kane said. "I'm with Handzus and Bickell who have been playing well. A few lineup changes, you don't know if they'll stick or stay. They're looking at their options now. It's probably a question better directed at [Quenneville]. We'll see what happens."
In addition to that move, the indication from the practice was that Brandon Bollig will be back in the lineup, replacing Viktor StalbergBrandon Bollig.
"We'll see. I know he practiced today," Quenneville said of Bollig. "There's a likelihood or probability it could happen. They played well together, that line, all year long. It could happen."
Already the coaching battle has begun, the puck hasn't even been dropped yet and Quenneville is already playing a game of line-matching chess. Goes to show you how good a player Chara is, doesn't it?
The former Boston Bruin was the first black player to play in the NHL

Inclement weather led to the Charlotte Checkers and Bridgeport Sound Tigers playing in front...

The NHL chose the Detroit rocker as its All-Star Game entertainment and not everyone is th...
NHL fans from all over seem to agree on one thing: Hating Kid Rock

The team tweeted on Monday that Shaw would be re-evaluated in 7-10 days

The Montreal forward was hospitalized after taking a Zdeno Chara slap shot to the head