Todd Richards is out as head coach of the Columbus Blue Jackets.. John Tortorella, former head coach of the New York Rangers, Vancouver Canucks and Tampa Bay Lightning has been hired to replace him.
"None of us saw our season unfolding the way it has and every one of us from management to coaches to players bears responsibility," said GM Jarmo Kekalainen in a statement announcing the change. "There is still a lot of hockey to be played and we believe this change was necessary to give our team the best chance to accomplish the goals we've set for this season."
Richards is being dismissed after a franchise-worst 0-7-0 start to the season. The seven consecutive regulation losses to start a season matches a feat accomplished by only five other teams in the NHL's 98-year history and only two clubs have started this poorly in the post-expansion era.
Richards had been with the team since coming on as a mid-season replacement in 2011-12. Over the five seasons he has been with the club, Richards posted a 127-112-21 record and helped the team reach the playoffs once.
Tortorella will return to an NHL bench for the first time since the 2013-14 season when he led the Vancouver Canucks to a disappointing 36-35-11 record. He was fired after his only season with the club. Tortorella has a career record of 446-375-37-78 (W-L-T-OTL) and won the Stanley Cup with the Tampa Bay Lightning in 2004.
Earlier this fall, Tortorella was picked to be the head coach for Team USA at the 2016 World Cup of Hockey.
Here's three things to know about the big move in Columbus.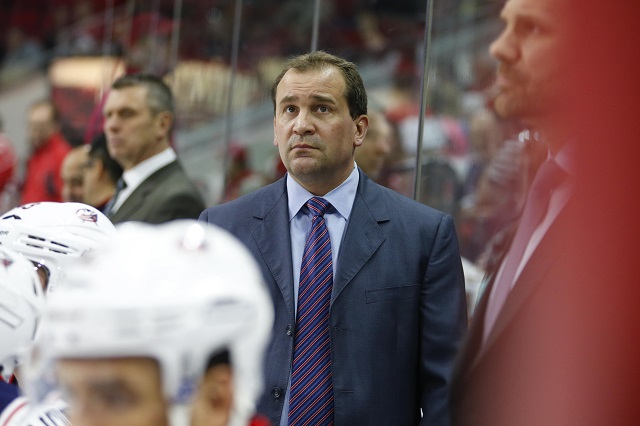 1. The Blue Jackets have been historically awful to start the season
Considering the Blue Jackets have only made the playoffs twice in their 15-year history and have a franchise record of 451-532-33-105, it's kind of remarkable that the 2015-16 edition of the team is off to the worst start ever.
Considering the expectations on this team coming into the season, that they've
They've also been outscored 34-13. As my colleague Adam Gretz pointed out last night, that minus-21 goal differential is also in historically bad company (numbers via hockey-reference.com):
Columbus' -21 goal differential is the 4th worst mark in NHL history through 7 games behind '85-86 Red Wings, '24-25 Bruins, '43-44 Rangers

— Adam Gretz (@AGretz) October 21, 2015
Part of that has to do with a porous defense that has been turning the puck over. It also has to do with Sergei Bobrovsky, the team's highest-paid player, having one of the worst stretches since he joined the Blue Jackets in 2012-13. The 27-year-old netminder is 0-5-0 and has a paltry .835 save percentage.
A coach's success can so often be defined by the play of his goaltender. This isn't to say that Bobrovsky is the only problem, because that certainly isn't true, but if he were stopping pucks at his career save percentage of .917, that's 11 fewer goals against him. That still puts the Jackets in the red in goal differential, but they're at least in some of these games otherwise.
2. Failing to back up expectations and hype is often impossible to overcome for a coach.
The Blue Jackets made a splashy move by acquiring two-time Stanley Cup champion and rising star Brandon Saad in a trade with the Chicago Blackhawks. That brought a lot of optimism. Many bought into that optimism (including me) and this team was listed frequently as a playoff team.
However, the splashiness of the Saad move overshadowed the clear deficiencies on defense that went unaddressed over the summer. There was a lot of money spent on this team, too. That made it more difficult to add the defenseman they needed. They're close to the cap and probably spending more than they'd prefer to as it is.
That doesn't change the fact that expectations exist, optimism was built (and sold to the fan base) and the team took an absolute nosedive out of the gates.
The unfortunate thing for Richards is that it's far easier to make a change behind the bench than it is to make a trade to try to alter the lineup. No one is willing to help, though Elliotte Friedman of Sportsnet reported that the team has been trying to find trading partners to land a defenseman.The truth of the matter is, the Blue Jackets need a caliber of player on the blue line that is next to impossible to find on the trade market at any point in the season, much less in the beginning of the season when teams are still finding out what they have.
When you can't back up the expectations and can't supplement the roster when it falls short of those expectations, something has to change. Unfortunately for Richards, by all accounts a very good coach, that put him in the crosshairs.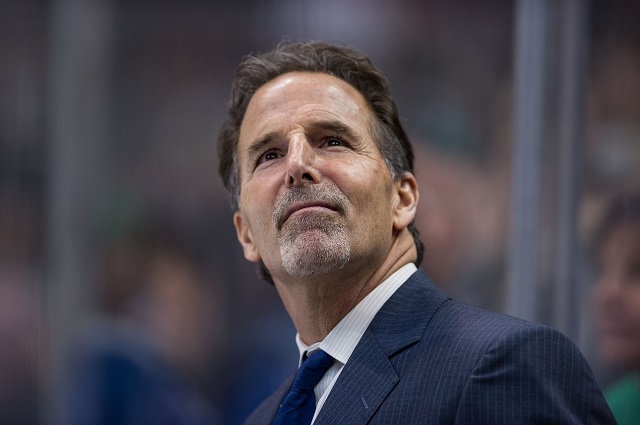 3. John Tortorella offers drastic change
After a year away John Tortorella is going to be back behind an NHL bench. No matter your thoughts of him and his personality, he makes the league a lot more interesting when he's in it. But he comes into a situation where drastic change was needed. Hiring Torts is a drastic change.
It's also a costly one. According to reports, the Jackets had to compensate the Vancouver Canucks with a second-round pick because Tortorella remains under contract with that club even though he doesn't work for them anymore. Since the hire was made in-season, it makes the compensation more expensive. A second-round pick is no small price to pay.
He's one of the most experienced head coaches available right now and he does have that Stanley Cup as proof he might know what he's doing. More recent history, however, is less kind to Tortorella. It only took him a year to wear out his welcome in Vancouver. So will he learn from whatever mistakes it was he made?
During the teleconference to announce his hiring for Team USA at the World Cup, he talked about the value in having the time away from the game. He has followed the league closely and picked up on things he might do differently. That said, he also expressed confidence in the way his teams played and his systems. He might make tweaks, but what you see with him is what you'll get.
There is already a large hole to dig out of, but Tortorella might just be a drastic enough difference behind the bench to make it happen. It's going to be interesting to watch.