Blue Jackets will wait until season to discuss extension for Marian Gaborik
The Columbus Blue Jackets are going to take a wait-and-see approach when it comes to signing Marian Gaborik to a new contract extension.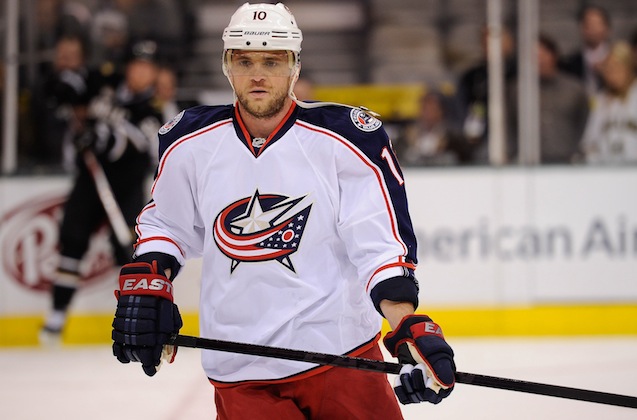 More NHL offseason: Rumors | Top 50 Free Agents | Buyout Tracker | Trade Tracker
The most shocking move to happen during the 2012-13 season was the Columbus Blue Jackets' decision to acquire Marian Gaborik at the trade deadline.
Not only was it a surprise to see the Blue Jackets, the worst team in the league the year before, in a position to add players at the deadline, but they went out and secured one of the best players available.
Gaborik will be entering the final year of his contract when the 2013-14 season begins, and the Blue Jackets are now allowed to sign him to a contract extension. That doesn't mean they're quite ready to make that committment. At least not yet.
General manager Jarmo Kekalainen told Aaron Portzline of the Columbus Dispatch that the team is going to wait for the regular season to begin and see how Gaborik fits in before they commit to a long-term contract extension.
"We want to get more familiar with him, get to know him better," Kekalainen said, via the Dispatch. "Sure, we're thinking about it already, but we're going to let it go into the season, hope to see him score a lot of goals for us and then talk about getting him extended."
Gaborik will count $7.5 million against the salary cap this season, which is the 12th largest in the league. It's the final year of a five-year, $37.5 million contract that he signed with the New York Rangers as a free agent before the 2009-10 season. He was traded to the Blue Jackets last April in exchange for Derick Brassard, John Moore and Derek Dorsett.
Gaborik has been one of the NHL's most prolific goal-scorers over the years, reaching the 40-goal plateau in three of his past six seasons. Since entering the league in 2000-01, he has scored 336 goals despite appearning in just 769 of a possible 950 games. The only players with more goals since then are Jarome Iginla, Ilya Kovalchuk, Marian Hossa, Alex Ovechkin, Dany Heatley, Patrick Marleau and Vincent Lecavalier. Nice company to have.
The question the Blue Jackets have to answer when discussing a potential contract -- aside from how much money it's going to cost them -- is how long he's going to be that type of player. If he ever will be again.
He's going to turn 32 in February and already showed some signs of slowing down this past season in what was his worst goal-scoring season since his rookie year. Goal-scorers tend to hit their peak in the mid-20s and, by the time they hit their early-mid 30s, are into a decline. You're not paying a player for what he's done in the past; you're paying a player for what he's going to do for you right now and in the future.
That doesn't mean Gaborik is going to be without value, but the days of him being a 40-goal scorer are probably already in the rear-view mirror. It might not be worth it for the Blue Jackets to invest the required resources to keep him.
It also can't hurt to see how good this team really is and whether Gaborik can be a centerpiece for a playoff team in Columbus. They shocked the hockey world with their incredible second-half surge last season, thanks in large part to the play of Sergei Bobrovsky, but there are still some questions as to whether they can continue that type of play.
Follow Adam Gretz on Google+
The 40-year-old center is returning to the Wild after a successful run in Pittsburgh

Edmonton locks up its 21-year-old RFA a month after McDavid's historic extension

Even with a new coach and added veteran help, the Canucks have a long road ahead
Unlike expansion teams before them, the Knights have enough talent to entertain right away

Brian Lawton says he 'would not be surprised' if Boston deals its young star to end contract...

It turns out Phil does love his hot dogs, especially when they're in a Stanley Cup