Bob Hartley will be back for third season as Flames head coach
Flames President Brian Burke announced on Monday that Bob Hartley will return as his coach and he'll suggest the new GM gets a contract worked out.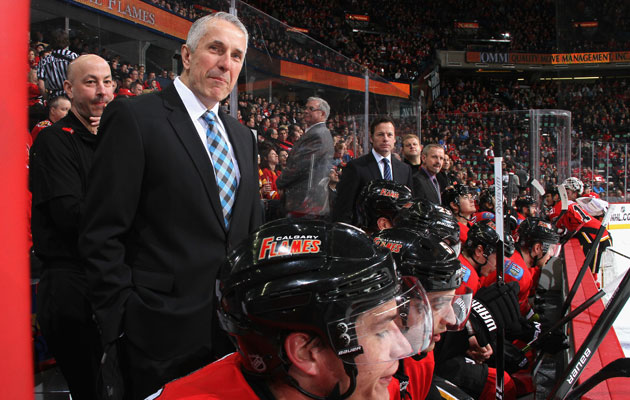 More NHL Playoffs: Schedule, TV listings | Expert Picks | Bracket | Scores | Odds
The Calgary Flames had very low expectations for 2013-14 and by most accounts, they exceeded them a lot with 77 points, just six fewer than the Canucks. Head coach Bob Hartley is one of the beneficiaries of that.
Thought to be on a very hot seat coming into a season with little hope, Hartley won't be going anywhere. Flames President and acting General Manager Brian Burke made that announcement on Monday, going as far as to say that the next GM won't be getting rid of Hartley either.
Brian Burke: "Bob is going to coach this team next year. Once we get a new GM I will encourage him to address his contract then"

— Eric Francis (@EricFrancis) April 14, 2014
John Tortorella might not be a fan of Hartley's but it's tough to argue with the job he did this season. With a group that didn't seem to be blessed with talent and in the early stages of a rebuild, he got a lot out of them. Specifically, the Flames were praised all season for their work ethic, they were never an easy team to play against as was forecasted, definitely a credit to a coach.
This was just the second season for Hartley behind the Flames bench after taking the job prior to the 2012-13 lockout season. In 130 games the Flames are 54-65-11.
As for Hartley and his old contemporary Tortorella -- who called it embarrassing to coach opposte Hartley on Sunday night -- Burke had some advice for him too.
Burke: "John Tortorella should start worrying about John Tortorella and the Vancouver Canucks and keep his mouth shut."

— Eric Francis (@EricFrancis) April 14, 2014
Perhaps Burke should find a nice barn for these two.
Los Angeles isn't rushing to sign the 45-year-old forward any time soon

The University of Denver star and Hobey Baker Award winner is drawing interest

Intrigue is high in Arizona after a wild offseason, but expectations should still be tempe...
Players are set to give personalized messages for Adidas' former hockey equipment brand

The 40-year-old center is returning to the Wild after a successful run in Pittsburgh

Edmonton locks up its 21-year-old RFA a month after McDavid's historic extension