Bobby Ryan excited to join Sens after amicable Ducks split
Bobby Ryan has no regrets about his time ending in Anaheim, just relief. And now he's excited to join the Senators, as he should be.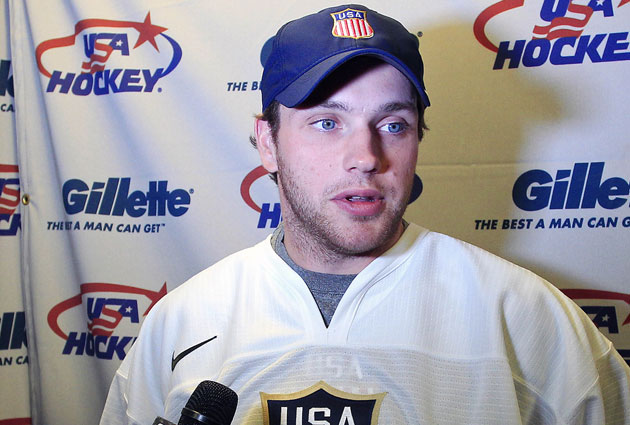 More NHL offseason: Rumors | Top 50 Free Agents | Buyout Tracker | Trades | Transactions
ARLINGTON, Va. -- While Bobby Ryan was in Virginia working to represent the USA in Sochi, questions about his summer were tough to avoid. As you'll recall Ryan was one of, if not the biggest acquisitions on the first day of free agency, albeit going the non-free agency route. Ryan was traded to the Senators from Anaheim in exchange for Jakob Silfverberg, Stefan Noesen and a first-round pick.
That would have been very big news by itself but it was even bigger considering earlier in the day Daniel Alfredsson pulled the surprise of the offseason by leaving the Senators to instead sign a one-year contract with the now division-rival Red Wings. That was perhaps the more dominating storyline, but regardless it made the impact of the Ryan trade even larger.
It didn't work this way in actuality but it essentially ended up being a trade of Alfredsson for Ryan in that sense. Of course there is going to an added spotlight on the deal.
"When it happens on the same day it kind of looks that way or what not," Ryan said. "I try my hardest ... I made it pretty clear a couple of times Alfredsson's a special player and what he's done there, not only on the ice but in the community, they are big shoes to fill. I don't want to come in and do it right away I just want to come in and be part of a new organization, find my footing and go forward now."
It's a new opportunity for Ryan but it's a bit more as well. It's the end of a chapter in his career, a chapter that become awfully turbulent as it came to a close in Anaheim. All Ryan did for the Ducks was score at least 30 goals every season before this recent lockout-shortened season but it got to the point that for more than a year he couldn't escape the persistent trade rumors until finally it happened. He was on his way to Ottawa.
Every player takes a trade differently; some take it tough, others roll with the punches and then there are those that are relieved in a way. Ryan was relieved.
"I'm just glad that side of it is done, that I can move forward and just focus on playing games and helping my team win," Ryan said. "Not knowing how you were going to get treated day to day in the locker room because you didn't know what the latest rumor was. I'm glad that's over with and I can focus on it. It was a very amicable split, there were no hard feelings or anything like that. It was just time to move on and they agreed with it. I'm just glad it's over."
Glad it's over and glad to be in Ottawa now, just when things are looking up for the Senators. Way up. In each of the past two seasons the Senators have taken steps forward, reaching the second round of the playoffs last season, all while not being able to stay healthy. This season the expectation is that everybody will be ready to go and when that's the case, the Sens look awfully dangerous.
Much was made of Alfredsson's departure and rightfully so. Ryan is aware of what Alfie meant to the Sens and the city of Ottawa but at the same time while it's hard to say good bye to Alfredsson, they get a much younger player in Ryan who can help fill in a big hole for the Sens last season, more scoring.
Emotional attachments aside, it's nearly impossible to argue that the Senators aren't a better team with the swapping of the wingers. And they were already looking like a pretty good team as it was. Ryan is excited to move on to a new chapter and he should be even more excited that it's going to be in Ottawa with a team on the rise.
"The expectations are there right away and if you can do that with a young team and build it together it's going to be a great thing," Ryan said of the Senators.
First things first, he has to get to know his teammates and coach, which has proven to be a little challenging thus far this summer.
"I haven't talked to Paul [MacLean], I know he kind of disappears in the summers and goes up to the mountains," Ryan said. "I've talked to a lot of the players now, gone back and forth on Twitter, got some of their phone numbers and called some guys. I think we're all excited."
As they should be. Just look at the talent they can boast; Ryan, Jason Spezza, Milan Michalek, Erik Karlsson, Kyle Turris, Clarke MacArthur, Craig Anderson. That's before you get to some of the young kids who are still growing and the others that play well in their "lesser" roles. What held the Sens back last season was the lack of scoring, a problem that should be partially remedied with Ryan's arrival and of course the return of a healthy Spezza.
Out with the old and in with the new for Ryan. The new looks pretty good.
David Kelly has nailed 35 of 42 NHL picks and he just locked in a selection for the Ottawa-Nashville...

SportsLine's Mike McClure, a DFS pro with more than $1M in winnings, gives optimal lineup...

Vegas ascends to the top of the league, but plenty of formidable contenders are right on their...
SportsLine's Mike McClure, a DFS pro with more than $1M in winnings, gives optimal lineup...

Smith-Pelly confronted the fans from inside the penalty box before they were escorted out

The NHL will be a no-show in Pyeongchang, and it could be the norm for future Olympics