Bobby Ryan on trade talks: "At this point, I don't care. Move me"
Ducks forward Bobby Ryan is once again on the trade block and he has enough of it.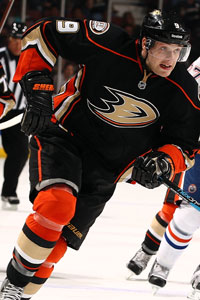 Ryan had 31 goals and 26 assists this season. (Getty Images)
Remember how early this week it was reported that Ducks forward Bobby Ryan was on the trade block once again? Yea, he remembers it too. And Ryan isn't too happy about it. At all.
Ryan didn't deny that he has heard the speculation that he could be moving out of Anaheim the way many players do. Oh no, he spoke about them rather candidly to Flyers beat writer Randy Miller of the Courier Post.
"I take things personally," Ryan said. "Anaheim to me has been a team over the past year that really has shown me nothing to prove that they want me here, unfortunately. Obviously, it's not the ideal situation. When you get drafted, you want to win championships with that team and every time they look to add a piece to the puzzle, I'm the piece going the other way.

"I gotta be honest with you. At this point, I don't care. Move me ... because it's just tough going to the rink every day knowing that if something goes wrong, you're going to be the guy moved."
Whoa, Bobby. Not interested in holding back there at all, huh?
Hey, I admit, if I were Ryan I'd probably be a little upset about it all too. I mean, what more do you want the guy to do? He has scored more than 30 goals in each of the past four seasons and he's only 25 years old. Oh by the way, he's scored those 30-plus goals per year while seeing little power-play time. That's pretty hard to do, you see.
The reports from earlier this week were that the Ducks weren't necessarily shopping Ryan as much as they were taking calls on him and listening. Well after this, they might have to start shopping him. In a few more words, that's pretty close to a trade request, more in a merciful way perhaps, but it still seems like something that's past the breaking point. There doesn't seem to be any going back now.
As to where he could go? Well Ryan has heard a little about that too, specifically about the interest from the Flyers. He is, after all, from South New Jersey and Philly is his home city.
"I heard Anaheim was a little overwhelmed with offers and they only took four seriously, but none of the teams were mentioned to me other than Philly," Ryan said. "Everybody wants to play in your hometown, but it would be tough because a lot of expectations come when you're put into a situation like that. For me, if I'm moved, Philadelphia would be a very ideal and comfortable place for me."
Of course, Ducks GM Bob Murray got wind of this and, well, he has some talking to do with Ryan.
Ducks GM Bob Murray said he's "disappointed" with Bobby Ryan's comments and plans to meet with him face to face after the draft.

— Eric Stephens (@icemancometh) June 23, 2012
So, who wants a young goal scorer? Just give Murray a call and make your best offer. It's virtually impossible to imagine Ryan can come back now, unless they have one magical talk. Might I suggest a marriage counselor?
For more hockey news, rumors and analysis, follow @EyeOnHockey and @BrianStubitsNHL on Twitter and like us on Facebook.
The NHL says it's only interested in expanding to Seattle, but here's a look at all the moving...

The NHL says it is only looking toward Seattle for the next expansion team

The 33-year-old defenseman hopes to help find a cure for serious head injuries in athletes
Chicago becomes the latest NHL club to earn an evaluation of $1 billion or more

The city council has approved a $600 million redevelopment project for KeyArena

Arvidsson took off his glove to reveal an engagement ring for one lucky fan