Brand new Wayne Gretzky statue in his hometown defaced
A statue of Wayne Gretzky unveiled on Sunday in his hometown of Brantford, Ontario was struck by vandals on Monday night. Somebody call Marty McSorely.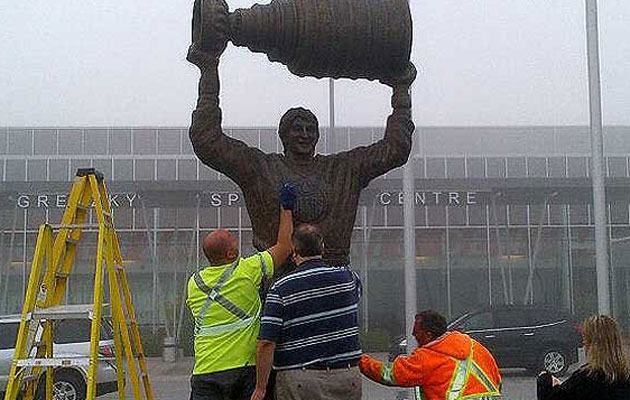 NHL previews: Atlantic Division | Metropolitan Division | Central Division | Pacific Division
On Sunday, a statue was unveiled of Wayne Gretzky in the Great One's hometown of Brantford, Ontario, outside the new Wayne Gretzky Sports Centre. On Monday night it was vandalized.
Yes, somebody had the gall to deface a brand new statue of Gretzky in his hometown where the man is presumably close to a god, or royalty at least. Canoe.ca has a little more detail:
City workers were out Tuesday morning, scrubbing paint from a pair of bronze monuments -- one of a young Gretzky in a hockey jersey, flanked by his parents, Walter and Phyllis, and another of him holding the Stanley Cup over his head.
The nerve. Whoever did this better hope they're never discovered or else they'll be getting a visit from Marty McSorley. He makes sure nobody messes with Wayne.
This will not leave your memory any time soon

Vegas isn't being quiet about its hot start to the NHL preseason

The blue-liners are set for another big push, but Edmonton's rise is hard to ignore in the...
Meanwhile, the Devils' Brian Boyle isn't sweating his recent cancer diagnosis

Limited-time Warriors-colored jerseys are apparently on the way in January

The 32-year-old forward tells the media he expects to be back on the ice for the Devils op...