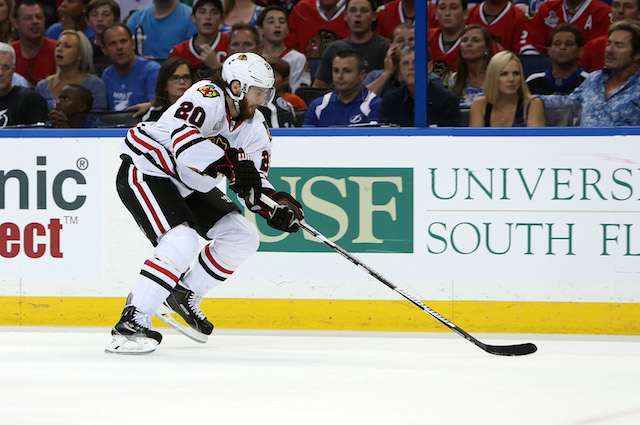 The Chicago Blackhawks had to make moves this offseason in an effort to get under the salary cap, and the Columbus Blue Jackets were there to benefit when they completed a blockbuster seven-player trade to get Brandon Saad earlier this week.
And now they have him signed for the next six years.
The Blue Jackets announced on Friday afternoon that they have signed Saad, who was a restricted free agent, to a six-year contract that should keep him in Columbus through the end of the 2020-21 season. The team did not announce the financial terms of the deal but Sportsnet's Elliotte Friedman reports that it carries an average annual value of $6 million. 
That is a significant pay raise for Saad who is coming off of his entry level contract.
The Blackhawks remain just a few hundred thousand below the NHL's salary cap and were in a difficult position this offseason with Saad, a player they drafted and developed into a core player on a Stanley Cup winning team. But because of their cap situation and the fact that Saad was due a significant raise it was going to be a struggle to get him signed to such a deal and there was a very real threat that another team would have come along in free agency with an offer sheet that the team could not afford to match. 
Had that happened the Blackhawks would have only received a collection of draft pick in return.
Instead, the Blackhawks traded Saad to the Blue Jackets in exchange for forwards Artem Anisimov, Marko Dano, Jeremy Morin and Corey Tropp. 
Saad, who doesn't turn 23 until Oct. 27, is coming off of a 23-goal, 29-assist season with the Blackhawks. 
In 208 career games he has scored 52 goals to go with 74 assists. He will be a part of a Blue Jackets team that already has an impressive core of top-line forwards that is led by Ryan Johansen. Assuming they can stay healthy this season -- unlike the 2014-15 season -- they should have a great chance to return to the postseason.