The biggest topic in the NHL right now is whether or not the league has a goal scoring issue (it does) and what, if anything, can be done to fix it.
It's dominated discussion across the league with pretty much everybody that has a voice in the league offering their two cents. It's produced a number of ideas that nobody can seem to agree on. Bigger nets. Smaller goalies. More penalties. Changing the dimensions of the ice. All ideas that have various pros and cons. The problem is hockey people are often times reluctant to anything that appears to be a dramatic change that changes what "real hockey" is. But what you're currently seeing in the NHL isn't what hockey looked like 20 years ago. The game is always changing and evolving as needed. 
Something that gets lost in this discussion is that it's not just the current level of goal scoring that is an issue. It's the style of play taking place in the league. A 2-1 game can be exciting if it's full of chances and has a good pace, just as a 7-5 game can be dull if the goals are the result of bad bounces or fluke plays. 
As Rangers goalie Henrik Lundqvist pointed out this past week (via Andrew Gross), the focus needs to be on trying to open up the game rather than reducing goalie equipment. 
The problem here is that there isn't just any one solution to the problem, and there is no one thing that has helped the league get to this point. It's a number of issues and if you fix just one of them, teams and coaches are eventually going to find a way around it and get us right back to where we are now.
Let's take a look at all of the issues and ideas and look at whether or not they are viable changes. 
1. Bring back the power play and call penalties
This is the most practical solution of them all when it comes to increasing scoring.
Just enforce the rules. It doesn't require any changes to the game. It doesn't require any changes to the equipment or the size of the ice. It's just a matter of enforcing what is already in the rule books. 
There is a pretty direct relationship between the number of power plays teams get and the number of goals they score, and as goal scoring has plummeted in recent years, so to have the number of power plays. It's not a coincidence. 
So far this season teams are only getting 3.20 power plays per game, and while that is a small increase from last year (when teams received an NHL record low 3.06 per game) it's still the third lowest mark in league history. Five of the eight lowest marks have all happened since the 2011-12 season. Throughout the 1980s and early 1990s teams were getting an average of between four and five power plays per game. 
It's not because teams aren't committing penalties. Just watch any NHL game on any night and look at all of the holding and interference that goes uncalled. The "let them play" and "let the players decide it" mindset has created this, and it doesn't seem to be going away. 
The NHL made a brief effort to enforce the obstruction rules coming out of the lockout to pump up scoring and open up the game offensively, and for two years it worked. Power plays were at an all-time high in 2005-06 and 2006-07 and goal scoring skyrocketed. Every year since both have been on a steady decline.
This fixes two issues. First, by calling the penalties that are actually happening it gives teams more scoring opportunities on the power play, which is where a lot of offense takes place. An extra two power plays per game could probably lead to an additional 25-30 goals per team over the course of a season.  
Second, as teams adjust to the enforcement of the rules they have to change the way they play to avoid the penalties. Teams wouldn't be able to obstruct the middle of the ice with "subtle interference" which should open the game up during 5-on-5 play. 
2. Get rid of the coaches (or at least give them reason to change)
OK, I'm not really serious about getting rid of the coaches, but other than the league's (lack of) enforcement of the rules there might not be a group of people that are more responsible for the decline in scoring and quality of play than the men that stand behind the bench every night and the 30 general managers that are in charge of building their teams.
It's a multi-layered problem, from teams insisting on filling their bottom-six roles with no-skill grinders, to coaches (at all levels) crushing individual creativity and playmaking in the name of getting the puck deep and making the safe, smart play. And it starts earlier and earlier for players.
Igor Larionov addressed this in a Player's Tribune article last year.
The problem is more philosophical and starts way before players get to the NHL. It's easier to destroy than to create. As a coach, it's easier to tell your players to suffocate the opposing team and not turn the puck over. There are still players whose imagination and creativity capture the Soviet spirit — Johnny Gaudreau in Calgary, Patrick Kane and Jonathan Toews in Chicago just to name a few. However, they are becoming exceptions to the rule. Many young players who are intelligent and can see the game four moves ahead are not valued. They're told "simple, simple, simple."
It starts as soon as kids start playing hockey now and it only gets worse as they advance through each level.  
We've reached a point where just about every team wants their best player, no matter how skilled or talented he is, to play exactly like Jonathan Toews. And there is nothing wrong with Jonathan Toews. That's not intended to be a shot at him. He is a great, great, great player. But not everybody has the skillset to play the game the way he does. The reason he's a great two-way player is because he is not a great offensive player that is going to score 90 or 100 points every season. So to make up for that, he plays lockdown defense and excels at both ends of the ice. And that's fine.
But don't expect every superstar to be that type of player. 
For example: For the first five years of his career Alex Ovechkin was the No. 1 must-see player in the NHL. Every time he touched the puck, every person in the building, from the benches to the team executives in the press box, was on the edge of their seat in anticipation of what he might do. Sometimes it would be mind-blowing. He was scoring 50 and 60 goals in an era where nobody else was regularly scoring 40. He was -- and still is -- one of the absolute best pure goal scorers that has ever stepped on to an NHL ice surface. 
And then the NHL -- from the media that covered him to the coaches that coached him -- tried to change him. They tried to change him into something that he wasn't, and then when he went from a 55-goal scorer to a 30-goal scorer because he was trying to focus on defense we decided he was finished as an elite goal scorer and wondered what was wrong with him. And that's not the only example. Just look at what the Boston Bruins did with Tyler Seguin, a guy that has a chance to win multiple Art Ross Trophies over the next few years. He wasn't tough enough to be a Bruin or didn't fit their defensive style. So they dumped him at age 22 for not even close to equal value. 
I'm not sure what the solution to this is, but teams need some kind of incentive to play a more skilled game that doesn't force them to insist on making safe plays at every opportunity. Whether it's making goals a tiebreaker in the standings or the front office placing an emphasis on skill over toughness, something has to give here. The coaches have become such a major factor in the game that their systems become more important than individual skill.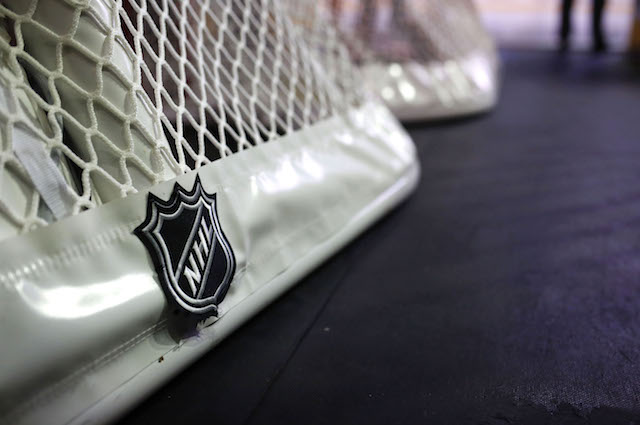 3. Bigger nets
Mike Babcock has been big on this for a while and mentioned it again in recent weeks.
When it comes to physical changes to the equipment or the playing surface, this one, while not perfect, probably makes the most sense out of all of the available options. It doesn't need to be anything drastic. We're not talking about putting soccer nets on the ice, but it's an undeniable fact that goalies are bigger today than ever before, and it's not all because of their equipment. They're just bigger people.
We mentioned this a week ago when Babcock went on his mini-rant about goal scoring and the size of goalies, but just about every team in the NHL has a goalie on their roster that's at least 6-2 and 200 pounds. Twenty-five year ago there were only three in the entire league. They are no longer the smallest guys in the league. They are built like forwards and defensemen and are ridiculously athletic. 
The concern voiced by many -- including Nashville Predators goalie Pekka Rinne -- is what bigger nets would do to the record books, but that is a silly reason to avoid making a chance to the league, especially since the record book already needs some context given the way the game has been played in recent years
4. Smaller goalie gear
As long as we're on the subject of the net and the people standing in front of it, goalies are pretty much 100 percent opposed to anything that deals with their crease, whether it's changing the size of the nets or making them smaller by taking away part of their equipment. The subject of Ryan Miller's pants has been a major story in Vancouver and resulted in the Canucks' goalie firing back last week. It's a tough thing to tackle because their equipment is bigger. But is that really the worst thing for guys that are taking the kind of physical contact they take in the crease and have to stand in front of frozen pieces of rubber that are being shot at higher and higher speeds? There is a player safety issue there. But if you're going to keep the equipment the same size, and the goalies keep getting bigger ... it still goes back to a bigger net. 
5. Changes to the ice 
"Just make the ice bigger."
That's a popular suggestion when scoring and the quality of play is being discussed, but there is little evidence to suggest it will do anything. There is actually more evidence to suggest it would do nothing but hurt offense even more. The European professional leagues are just as low-scoring as the NHL (if not more). Even though those leagues don't have anywhere near the talent the NHL has, Olympic hockey isn't really an offensive game. The 2014 Winter Olympics in Sochi saw an average of just 4.5 goals per game, and in previous Olympic years the goals per game closely matched up with what was happening in the NHL. 
All the bigger ice does is make it easier for teams to pack their defense in around the net and keep play further to the outside. 
Coming out of the 2004-05 lockout the NHL made the offensive zone bigger (by shrinking the neutral zone) in an effort to boost offense, and it may have turned out having the exact opposite effect.
Consider this from Elliotte Friedman's 30 Thoughts column this week at Sportsnet:
4. Here's a question about decreasing goal totals: what if the problem is not goalies? Thanks to stats.hockeyanalysis.com, you can make an argument the real issue is where the shots come from (or who is taking them). At five-on-five so far in 2015-16, the league-wide save percentage is .928. Eight seasons ago, it was .920. If you break it down even further, goalies are at .913 when a forward is shooting and a ridiculous .966 against defencemen. The way the game is played now, we are seeing more shots from defenders every year (just under 28 per cent of all taken to this point). Maybe the question is, does the NHL have to go back to the old, smaller offensive-zone so teams must cover the points? Will that loosen up the forwards?
It's not a bad point. So much of the game defensively today is about packing defenders into the slot and around the crease and relying on blocking shots and funneling the puck to the points and low-danger areas. Some teams are more than willing to let defensemen bomb shots from the blue line and get in their way if it means the keep the middle of the ice clogged up. You make the ice wider (and longer) it's only going to make that worse.