Brenden Morrow agrees to one-year deal with St. Louis Blues
Forward Brenden Morrow has finally found a contract. On Monday he agreed to a one-year deal for a reported $1.5 million with the Blues.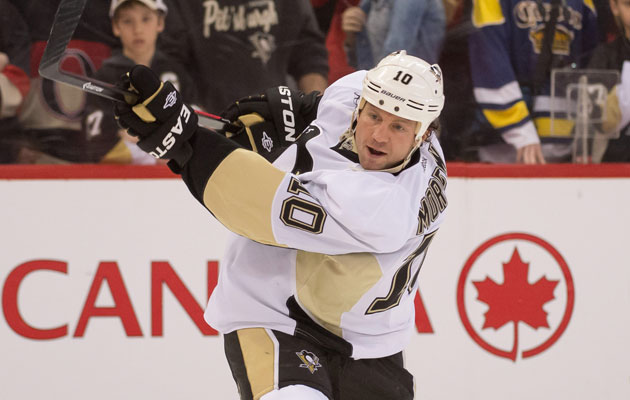 More NHL offseason: Rumors | Top 50 Free Agents | Buyout Tracker | Trades | Transactions
Veteran forward Brenden Morrow patiently waited to see the situation around the league in his search for a contract and it finally paid off. Morrow is headed to the St. Louis Blues.
Morrow had been picking up some interest as training camps rolled along and was mulling over the offers. He liked the offer from the Blues enough to take it, a one-year deal.
Jeremy Rutherford of the St. Louis Post-Dispatch reports the contract is worth $1.5 million.
As Pierre LeBrun pointed out, there is the one major connection between Morrow and St. Louis right off the bat. Morrow was a Star for his whole career until last season when he was traded to Pittsburgh. Hitchcock and Armstrong know him well, even if it's been a while since there were all together and Morrow's game and health have depreciated.
That said, on the surface it looks like a great fit. Morrow is still a tough, hard-working forward who is more suited for a third-line role at this point. He just seems like a Blues player, doesn't he? Just kind of fits the mold, and the look. If he can remain healthy, it's a pretty safe play from the Blues.
In fact, it could be quite a steal. Morrow is hardly the player that he was but he did still have 12 goals and 15 assists last season in 44 games, scoring 14 points in 15 games in Pittsburgh. If he could maintain a pace close to that season total, that price is a bargain.
With this deal it means the Blues are right up against the cap, leaving them no room to do anything else. That likely means that Ryan Whitney's hopes of earning a contract are done. He's in camp on a PTO.
The 40-year-old center is returning to the Wild after a successful run in Pittsburgh

Edmonton locks up its 21-year-old RFA a month after McDavid's historic extension

Even with a new coach and added veteran help, the Canucks have a long road ahead
Unlike expansion teams before them, the Knights have enough talent to entertain right away

Brian Lawton says he 'would not be surprised' if Boston deals its young star to end contract...

It turns out Phil does love his hot dogs, especially when they're in a Stanley Cup