Brent Burns to take a buzz cut and shave for charity
Big Foot sightings in the NHL are about to go way down. Brent Burns is going to shave the beard and take a buzz cut for charity.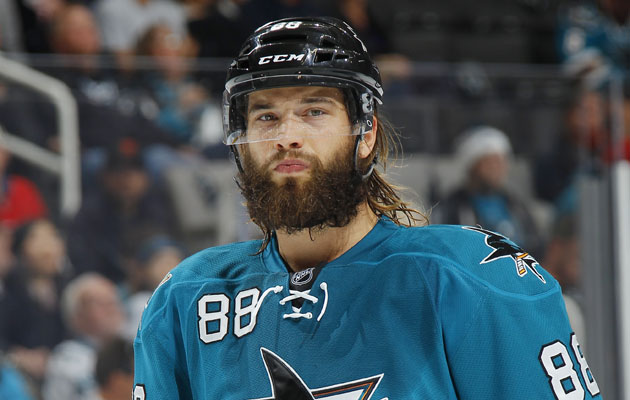 More NHL: Scores | Standings | League Leaders | Odds | Injuries | Power Rankings
Sharks defenseman-turned-forward Brent Burns has become known over the seasons more for his appearance than his growing game that has him playing alongside Joe Thornton and Tomas Hertl on San Jose's top line. His long, umkempt hair combined with his long, unkempt beard has led to comparisons to Sasquatch, Grizzly Adams and Wookies, a man appearing to be a couple of steps back on the evolution chart.
Well soon you'll have to say good bye to Grizzly because the beard is about to go. For charity's sake, that is.
On November 1, in hopes of raising money for two non-profits close to his heart -- Defending the Blue Line and the Katie Moore Foundation -- Brent will get a buzz cut and shave his beard.

From now until October 31, the Sharks Foundation will be accepting donations with the goal of raising $5,000 for each of these worthwhile charities. Fans who donate $50 or more will receive a signed "before/after" photo of Burns, while the Top 3 donors will have the chance to meet him and witness the shaving in person. Giving totals will be updated daily on the Sharks Foundation's website and social media accounts (Facebook and Instagram) so fans can track the progress of this special fundraiser.
On top of that, one of his teammates will get the honor of giving Burns the shave. Why does it just seem like it's going to be the captain Jumbo Joe?
The timing of a November 1 shaving could lead Burns from one charity endeavor to another. With a clean-shaven face, he will be able to join the annual Movember cause as well and we certainly know that Burns is capable of growing a wicked mustache. Unfortunately, he'll lose the secondary income he's been picking up for being cast as Big Foot in Northern California documentaries.
By the way, there was a time that Burns wasn't a mountain man.
The 33-year-old veteran was diagnosed with Guillain-Barré syndrome

The NHL says it is 'completely satisfied' with its investigation into what Shaw said in the...

It may not be the most effective stickhandling training method, but it's certainly the most...
Steven Stamkos and Tampa Bay are soaring above all, while Montreal continues to dig its own...

Rage is all the rage in Montreal

Buffalo's 20-year-old phenom pulls off the highlight of the night against Vancouver