Brian Burke appointed to Board of Directors ... for Rugby Canada
Former Leafs GM Brian Burke, now with the Ducks as well as USA Hockey, is taking another seat; on the Board of Directors for Rugby Canada.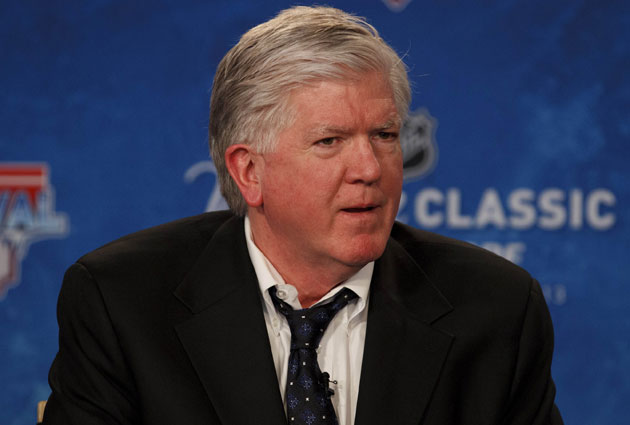 More NHL offseason: Rumors | Top 50 Free Agents | Buyout Tracker | Trades | Transactions
Brian Burke has himself a new gig, a completely new gig. The former GM of the Maple Leafs among others is taking a seat on the Board of Directors for Rugby Canada. Yup, rugby.
Burke returned to the Ducks, a team he was general manager for before Toronto, in a front-office position after he was fired just before last season began by the Maple Leafs and has remained out of a GM job since. He was also named to the staff for USA Hockey as it prepares for the upcoming Winter Olympics. So he will simultaneously be helping out two countries in different sports that are preparing for the Olympics.
It's OK though, Burke is a dual-citizen of Canada and the U.S. Plus, he does know a little about rugby. From Rugby Canada's release:
While few in North America can best Burke's hockey resume, his rugby history is impressive and relatively unknown to Canadian media and rugby fans.

"Brian has a deep understanding of professional sports in North America and, with his successes and contacts across the National Hockey League and beyond, we're happy to have him involved with Rugby Canada," said Graham Brown, Chief Executive Officer of Rugby Canada.

"We look forward to working with Brian in the build-up to our men's and women's Rugby World Cups and Summer Olympic Games in Rio de Janeiro," Brown added.
 
A dual citizen of USA and Canada, Burke played five years of rugby as a prop for Harvard Business School Rugby Football Club (HBSRFC) in the New England Rugby Football Union (NERFU) and is a passionate supporter of Canadian Rugby.
 
"When I was at Harvard in my first year of my Law Degree I used to walk by the rugby field and I asked around if I could join this exciting game and started shortly after," said Burke during Rugby Canada's Hawksworth Dinner earlier in 2013.

Now Burke will try to help the game grow in Canada where the other game which he is very involved in remains ever popular. Interesting juxtaposition of interests. Presumably, though, the new one won't prevent him from continuing to work with USA Hockey or the Ducks, it's just another title to add to the list.
The real question, though, is who in rugby can Burke threaten to fight in a barn? I'd probably stay away from any of the All-Blacks. They're scary.
Ontario's 2017 RBC Canadian Open plays host to some puck shots from the legendary golfer

The unsigned forward, still in search of a team, is campaigning for himself

The league shoots down a report that NHL players could still be permitted to go to the Oly...
The 45-year-old forward remains unsigned but has shown little desire to hang up the skates

Pittsburgh also has been linked to Matt Duchene and could be in the mix for Tyler Bozak

Nashville extends its 24-year-old restricted free agent with what could be bargain numbers