Brian Burke approves of Shanahan's work, compares playoffs to Woodstock
Brian Burke always has thoughts on hockey and so far he approves of Brendan Shanahan's work and compares the playoffs to Woodstock. Never a dull moment with the Leafs GM.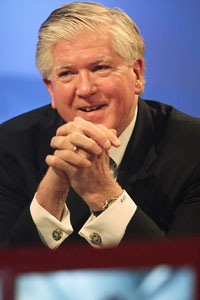 Burke compares this year's playoffs to Woodstock? Awesome. (Getty Images)
Did you think that just because the Toronto Maple Leafs are done for the season that you'd heard the last from Brian Burke? You should know better than that by now.
The Leafs GM always has an opinion on everything. I think he could take a stand on Tupac vs. Biggie with as strong of a conviction as anybody. On top of that, he usually has a pretty interesting way to put said opinion.
That leads us to his opinion on the state of affairs in the NHL at the moment and the job of chief disciplinarian, Brendan Shanahan. The man who earlier this season bemoaned the rats taking over the ice is standing behind Shanny, who holds the position that Burke himself once had, told USA Today that he approves of Shanny's handiwork thus far.
"I think he's making the right calls and he's attaching the proper weight [on his suspensions]," Burke said. "If you would give a guy six games in the regular season, how much do you him in the first round?"

Burke said he would give Shanahan the same advice he received from his predecessor Brian O'Neill when he took the job.

"You can't make people happy, so just do the job," Burke said. "And I think Brendan is doing that. It's impossible for fans to be rationale at this time of year. It's impossible for Detroit fans not to be outraged when Shea Weber wasn't suspended [for slamming Henrik Zetterberg's head into the glass]. But I don't think he should have been."
It's no surprise that Burke is defending the league and Shanahan in this spot. I'm not trying to say that he doesn't 100 percent believe what he's saying here, but I think it's a thin crowd he's joining on the Weber take.
But Burke does make a pretty good point about something else, something I've been saying in this blog through the first week as well. It's a damn shame what's going on with all of these hits and suspensions because it's distracting from the actual games, which so far have been excellently entertaining. Of course, Burke had his own awesome way of putting it.
"This is like people complaining about the rain at Woodstock," Burke said. "Yes, there was lots of mud, but it was the greatest music gathering in history."
Maybe he's righter than even he thinks. There was a lot of mud at Woodstock but that's part of what made it so amazing, isn't it? Maybe in some twisted way the nastiness is making the already-great playoffs even better, if at least only in the intrigue factor. When bad blood builds, it often does make for a more compelling series to watch.
I'm sure as the playoffs move along we'll have some more takes from Burke to read. I always look forward to them for some reason.
For more hockey news, rumors and analysis, follow @EyeOnHockey and @BrianStubitsNHL on Twitter and like us on Facebook.
Vladislav Yeryomenko was the Teddy Bear Toss goal scorer for the Calgary Hitmen

The Golden Knights are finally getting their No. 1 goalie back after a 25-game absence

Washington has won four straight, and the Kings are also on a tear right behind the Lightn...
The NHL says it's only interested in expanding to Seattle, but here's a look at all the moving...

The NHL says it is only looking toward Seattle for the next expansion team

The 33-year-old defenseman hopes to help find a cure for serious head injuries in athletes