Bruins ease through first round this year, set up matchup with Habs
The Boston Bruins finally got through the first round with relative ease, something they haven't done in this recent run of East dominance. Now they draw the Canadiens.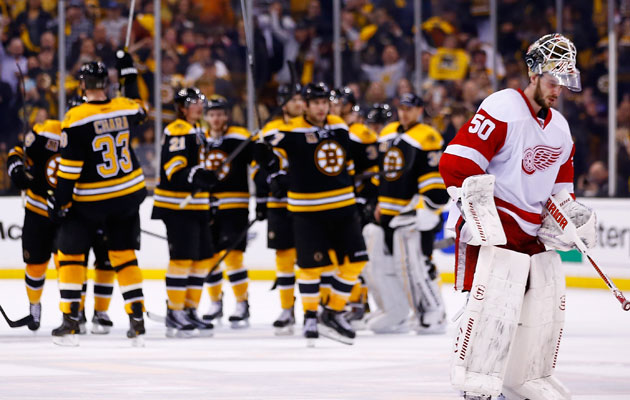 More Playoffs: Schedule, TV listings | Expert Picks | Bracket | Scores | Odds
Can anybody stop the Boston Bruins, that is the question.
The Bruins have become the undoubted beasts of the East, going to the Stanley Cup Final in two of the three past seasons before winning the Presidents' Trophy this season. They're good and seemingly only getting better.
One thing that was not there in the previous three seasons, though, was a comfortable first round, a warmup of sorts. In each of the past three years the Bruins needed seven games to advance, and in 2012, they didn't even do that as the defending champs. We all remember last season how they were minutes away from losing to the Maple Leafs.
For whatever reason the first round had been a dangerous time for the Bruins. Not for this team.
While they definitely did not breeze through the Red Wings in the first round -- Detroit was able to hang with the Bruins, they just couldn't get the same number of scoring chances -- they can certainly feel awfully good about their showing in the series. Boston played well but we've seen the Bruins play their best, and in this series they weren't at their best. Still, they're moving on in five games.
"That series was a lot tougher than maybe the results showed," Zdeno Chara said. "Detroit is a really good team with a great system and great players"
Undoubtedly it is, as history shows, but so are Chara's Bruins.
It's frightening almost how deep they are. The Bruins have three lines that can score and a fourth that is not a liability. If one line isn't clicking another can make up for it. In the first round it was a bit of a shared experience but there is still room for growth. How? They got nearly nothing from David Krejci against Detroit, a guy who was a monster in recent playoff runs. If (or when) he gets going, watch out.
Of course the Bruins still have a lot to do and though they are and will continue to be the favorite as they were head and shoulders better than every other team in the East, it only gets tougher from here. Because next up is one of the hottest teams coming into the postseason and a team that swept through the first round, the Montreal Canadiens.
What a treat this will be. For the 34th time these two Original Six squads will have a postseason clash, and it could be as good as any before. You have two teams that don't play the game the same way. The Canadiens aren't as tough as the Big Bad Bruins are portrayed and certainly aren't as big. But neither were the Wings and Boston did OK with them. The question is if the Habs can get more penetration into the Bruins defense, and chances are they can.
Keep in mind the Canadiens now employ one Thomas Vanek, a guy who has been known as a Bruins killer over his years in Buffalo.
That will be discussed a bit in the coming week, as both teams have off to prepare for this series. Certainly there are no shortage of stories for these two bitter rivals, and it won't be an easy task whatsoever for the Bruins. Looking ahead, this could be the toughest test the East can throw at Boston.
Well that is now that they have gotten through a first round that hasn't been easy for them recently. For once, it almost did look like a warmup. Except for Tuukka Rask, he's already in peak playoff performance as usual.
The first round has been a lot of fun in these playoffs and now with a guarantee of Canadiens-Bruins, it promises to be just as fun in round two.
The puck didn't go in the net but the skater did!

Another sign that Houston is a potential destination for an NHL relocation
The two teams combined for 111 penalty minutes and five ejections

The veteran Minnesota goaltender has recorded three consecutive shutouts

The historic start for the NHL's newest team has come largely from unprecedented balance in...